Chelsea's Challenge is a monthly post series in the Textile Design Lab, in which we share design ideas and inspiration to help our students build pattern collections for their portfolios. During the month of June our Chelsea's Challenge focused on the Graphic Statements trend that we spotted on the Fall '16 runway. We haven't done one of these posts in a while but with all of the beautiful, marketable collections that are constantly being created by our Lab members in these challenges and it was high time to share some! Here is just a small sampling of the work that was created around the Graphic Statements trend. Enjoy!
Annette Chatman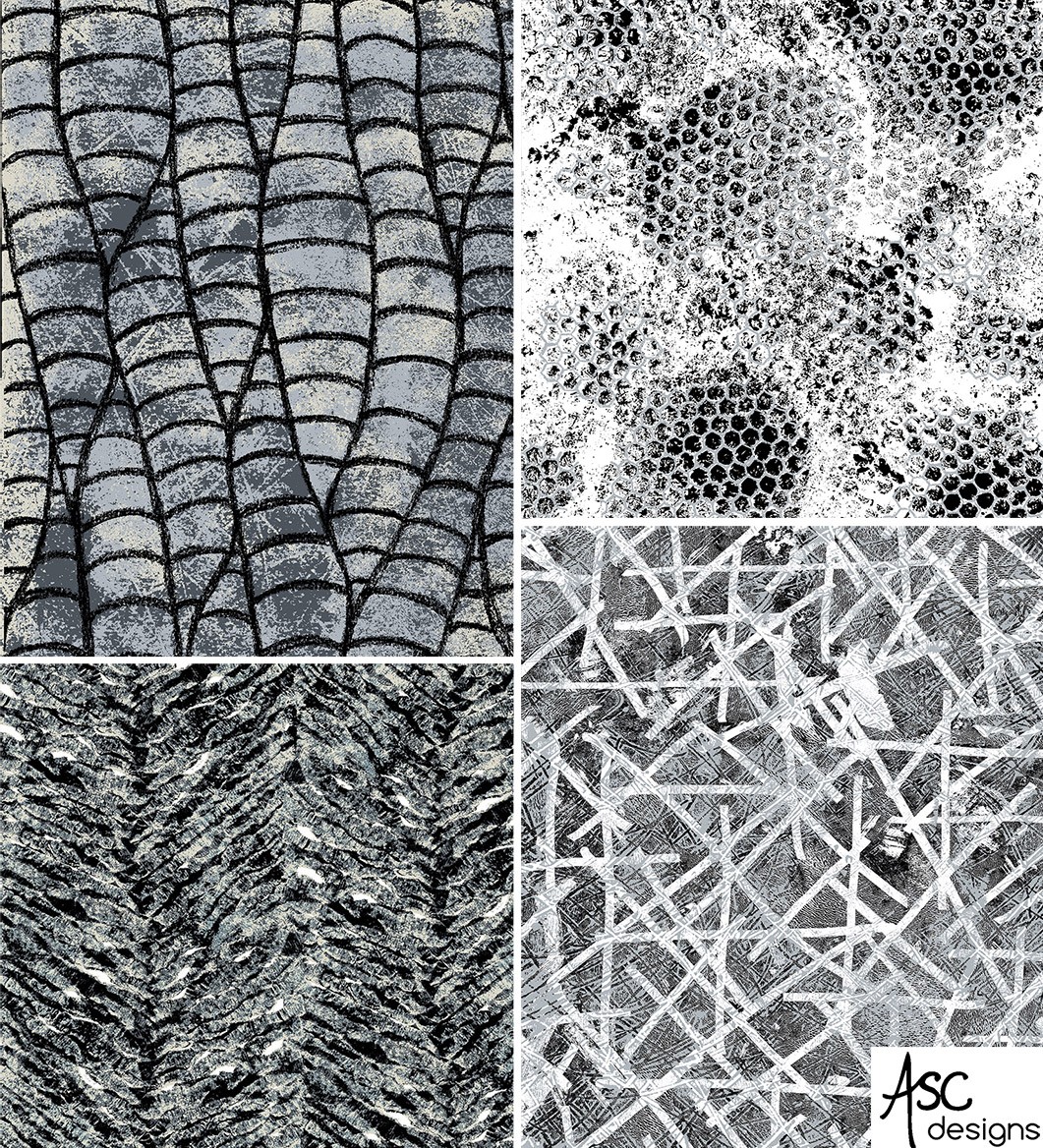 "My inspiration for this collection was the organic geometric patterns that occur in the natural world around us. I used mono printing, collage and wax crayons to create textural artwork which I scanned in to the computer before layering the images and simplifying the colour palette. The target market for this collection is women's fashion."
See more of Annette's work at ascdesigns.co.uk.
Sarah Nussbaumer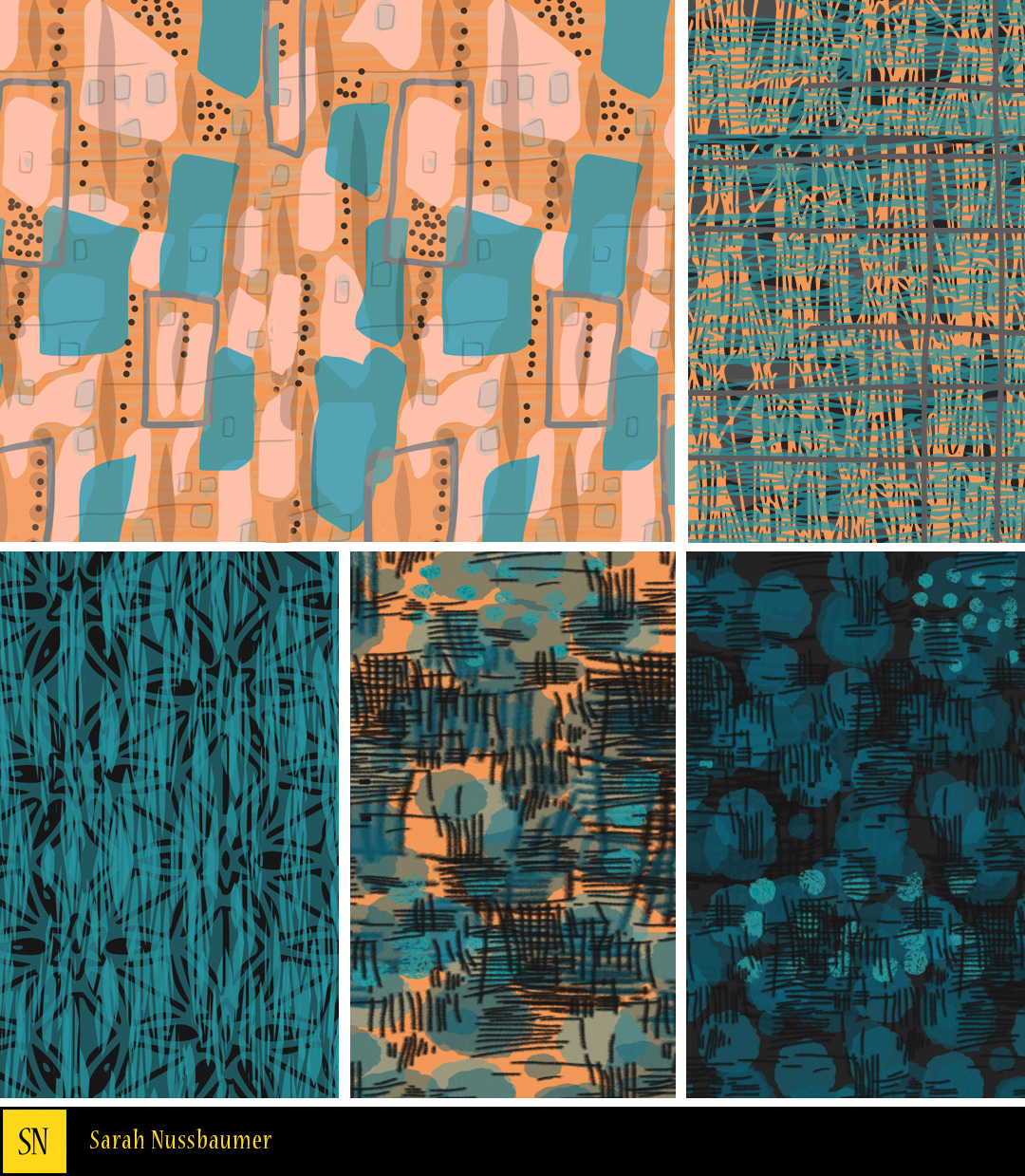 "Chelsea's Challenge "Graphic Statements" offered three ways into the topic. I explored the trend that focused on organic textural patterns simplified by a monochromatic color palette. My inspiration was patterns from woodland views, animal textures as well as the weathering patterns on abandoned painted structures. I worked in Adobe Sketch, Adobe Draw, PS Touch, Adobe Capture and Concepts apps before moving to Photoshop and Illustrator. With the apps I explored many textural ideas and experimented with the features of each app. Finally I started to select areas that became motifs that helped to develop the collection. The patterns would be suitable for the apparel market, especially active wear. The collection appeals to women in the color range presented and men with a shift to a deeper richer color palette."
See more from Sarah at her portfolio site (http://www.s-nussbaumer.com/) or visit her on Facebook, Instagram or Behance.
Cynthia Jacquette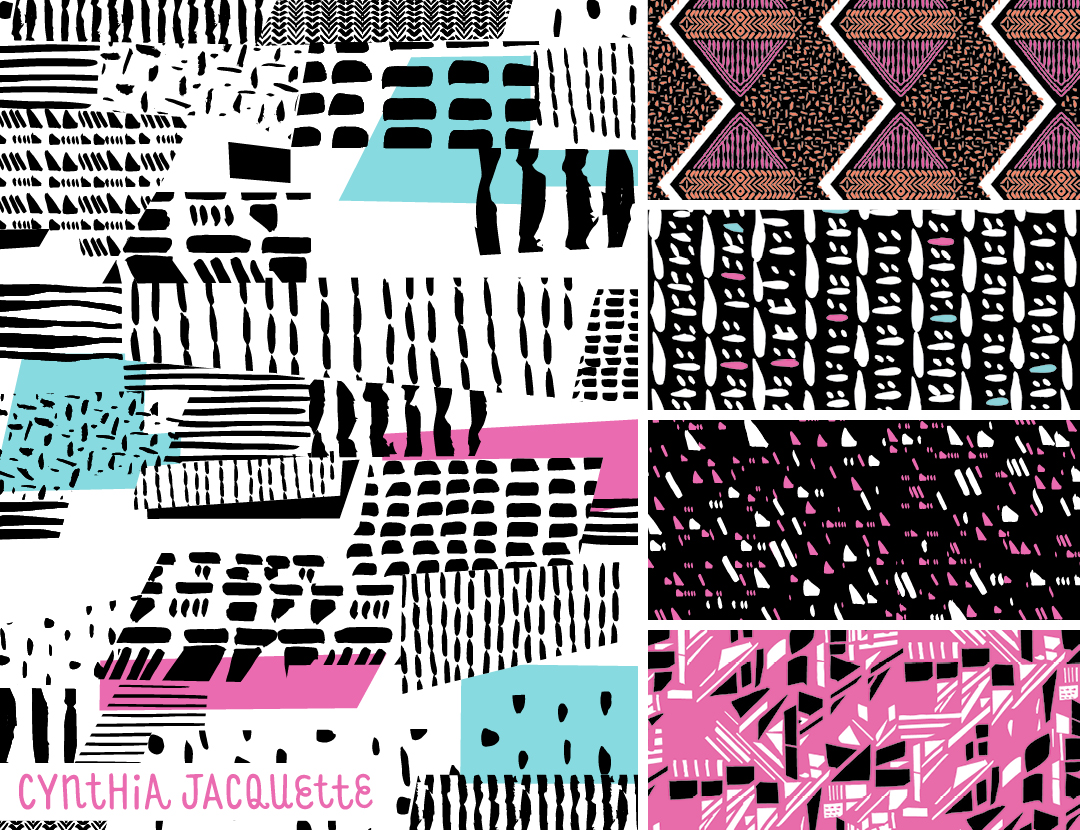 "My collection was developed from one of my greatest sources of inspiration—the graphic and angular shadows found in urban environments. To achieve a bold look with a handmade feel, I began by experimenting with black Pigma markers on white paper. In Illustrator, I combined the vectorized scans of the sketches and added pops of color. This collection is aimed at the women's activewear market, perfect for a customer who loves the fast-paced city life."
Visit www.cynthiajacquette.com, www.facebook.com/cynthiajacquetteartanddesign/, or www.instagram.com/cynthiajacquette/ to see more of Cynthia's work.
Catherine Wilson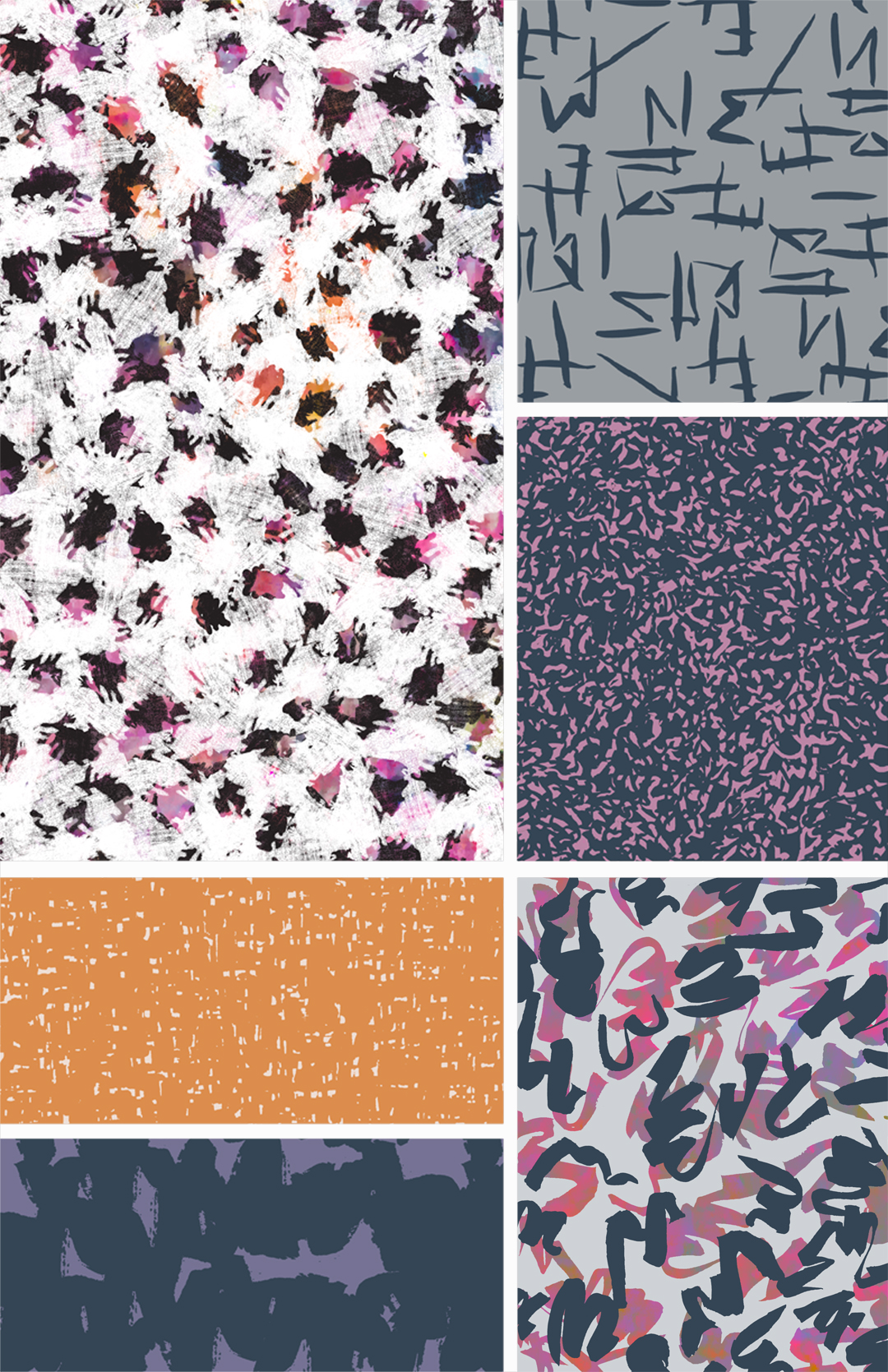 "For this challenge I tried to translate the movement and energy of Abstract Expressionism and calligraphic marks into wearable designs for women's fashion. I drew dozens of ink drawings before I made ones I really liked. I also incorporated scanned textures and a photo I took of an multicolored dyed piece of fabric. I assembled and tweaked everything in Photoshop."
Check out Catherine on Instagram at https://www.instagram.com/cathewils/.
Feeling inspired? We have over 70 challenges now available in the Textile Design Lab, with a new one released each month. Join us to participate and build your portfolio!
Check out more student responses to the Graphic Statements challenge and others on our Chelsea's Challenge Pinterest board.
Save