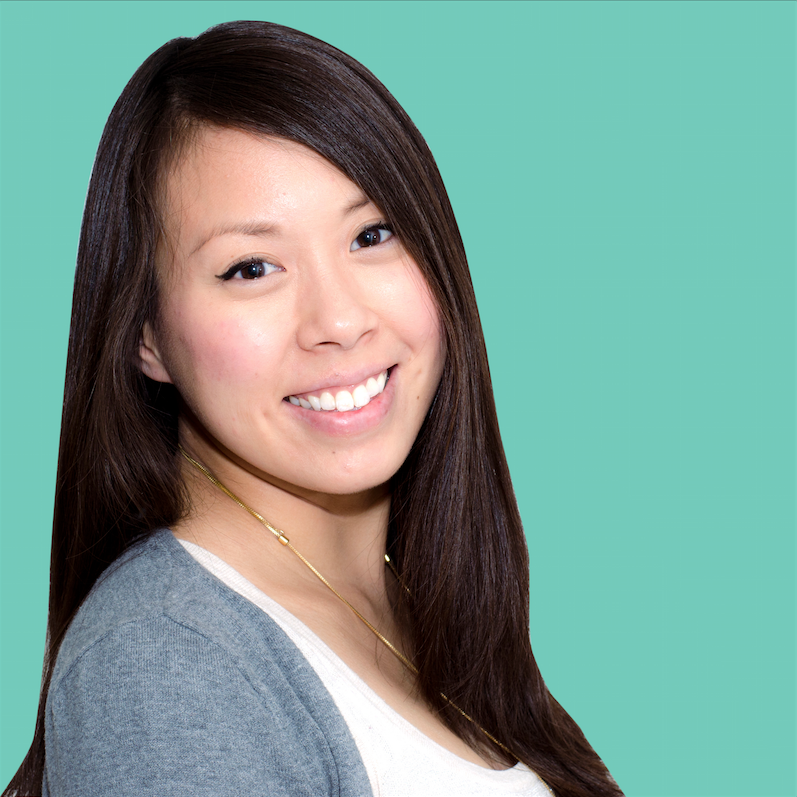 Jenn Coyle is a designer, illustrator and blogger at Hello Brio, and we are thrilled to have her on board as our guest expert this month! Jenn consistently supplements her income by selling fonts, illustrations and patterns on Creative Market. Jenn's Textile Design Lab tutorial, "Successful Selling with Creative Market," covers her experience selling through Creative Market and provides an in-depth look at how to grow that business. The tutorial is now available in the Lab and you can join here to gain access!
Now we invite you to get to know Jenn a little better in today's interview. Enjoy!
Please tell us a bit about your design background and career path. What led you to start your own studio, Hello Brio?
I graduated from college with a bachelors degree in Interior Design during the economy crash in 2008, and therefore my student internship couldn't be translated into a full time job because a lot of the full-time designers were laid off around the same time. From there, I happened to move to California and got a job in fundraising data. Because I needed a creative outlet, I started blogging while I was in California. From there I also started designing WordPress blogs and suddenly my blogging buddies were asking me for help designing and customizing their blogs. After a while, Hello Brio was born and my services have grown from a WordPress design studio to a more inclusive studio.
Can you tell us a bit about the different facets of your current business? What products and services do you offer?
Currently I offer pattern design, illustration, hand lettering, and digitized graphics.
Tell us a bit about your design process. What media/design tools do you like to use?
I love to use watercolor, ink, Photoshop and Illustrator.
What are your go-to sources for design inspiration?
My go-to sources for design inspiration happen to be social media. I'm always finding inspiration on Instagram from fellow designers. I also look towards fashion magazines for design inspiration.
Who are your design heroes (past or present)? What about them inspires you or influences your work?
I have a broad range of design heroes, listed below. I'm drawn to these designers and artists because of their color palettes and consistent work styles.
Surface Pattern Design: Bonnie Christine, Elizabeth Olwen
Illustration: Cat Coquillette, Caroline Kelso, Helen Dardik, Inaluxe, Willowmarkworks, Nate Williams
Lettering: Ian Barnard, Jen Mussari, Jessica Hische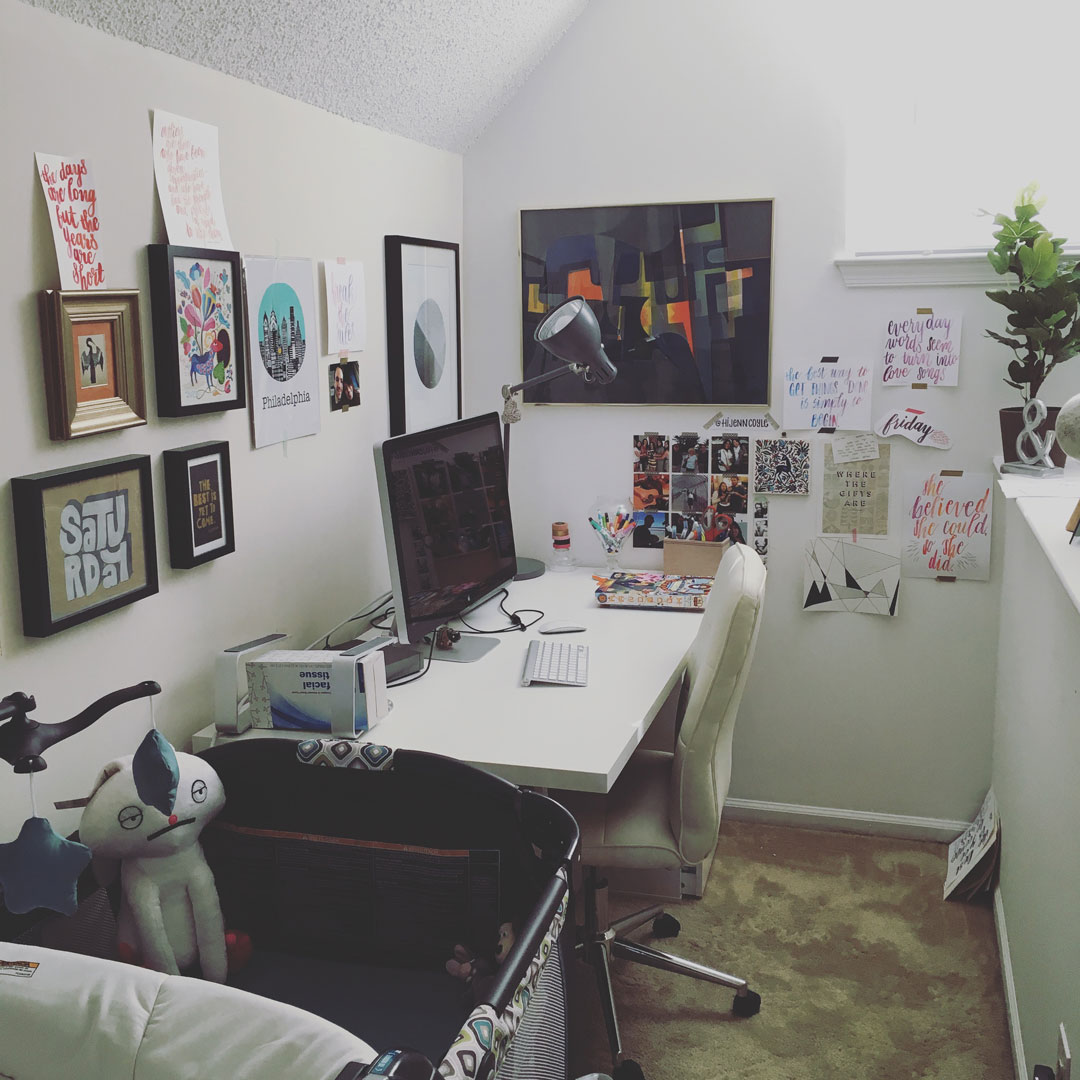 Jenn's workspace
Over the course of your career, what actions or decisions have made the biggest impact on your design business?
Deciding to stay at home and work for myself made the biggest impact on my design business. Without doing that, I'd still be juggling multiple jobs and responsibilities.
What have been some of the challenges you have faced in your design career and how have you overcome them?
Some challenges I've faced include working for myself and making sure I'm doing so efficiently. I've overcome these challenges them by re-evaluating how I spend my time and then applying observations. For example, I recently noticed I was spending too much time on Instagram, so I did my best to make sure I was only following the most inspiring accounts. Consistently re-evaluating how you're spending your time is key for managing your time efficiently when you're working for yourself.
What would you consider to be your most proud achievement/greatest success so far in your design career? What are your goals for the future?
My proudest achievement in my design career is what I've taught so far. I'm especially proud of my Skillshare classes, "Paper to Digital: Create Your Own Hand Drawn Font" and 'Watercolor Meets Surface Pattern Design". I'm also extremely proud of my e-book, Getting Started with Brush Lettering. In the future, my goals are to create more learning materials using techniques I love.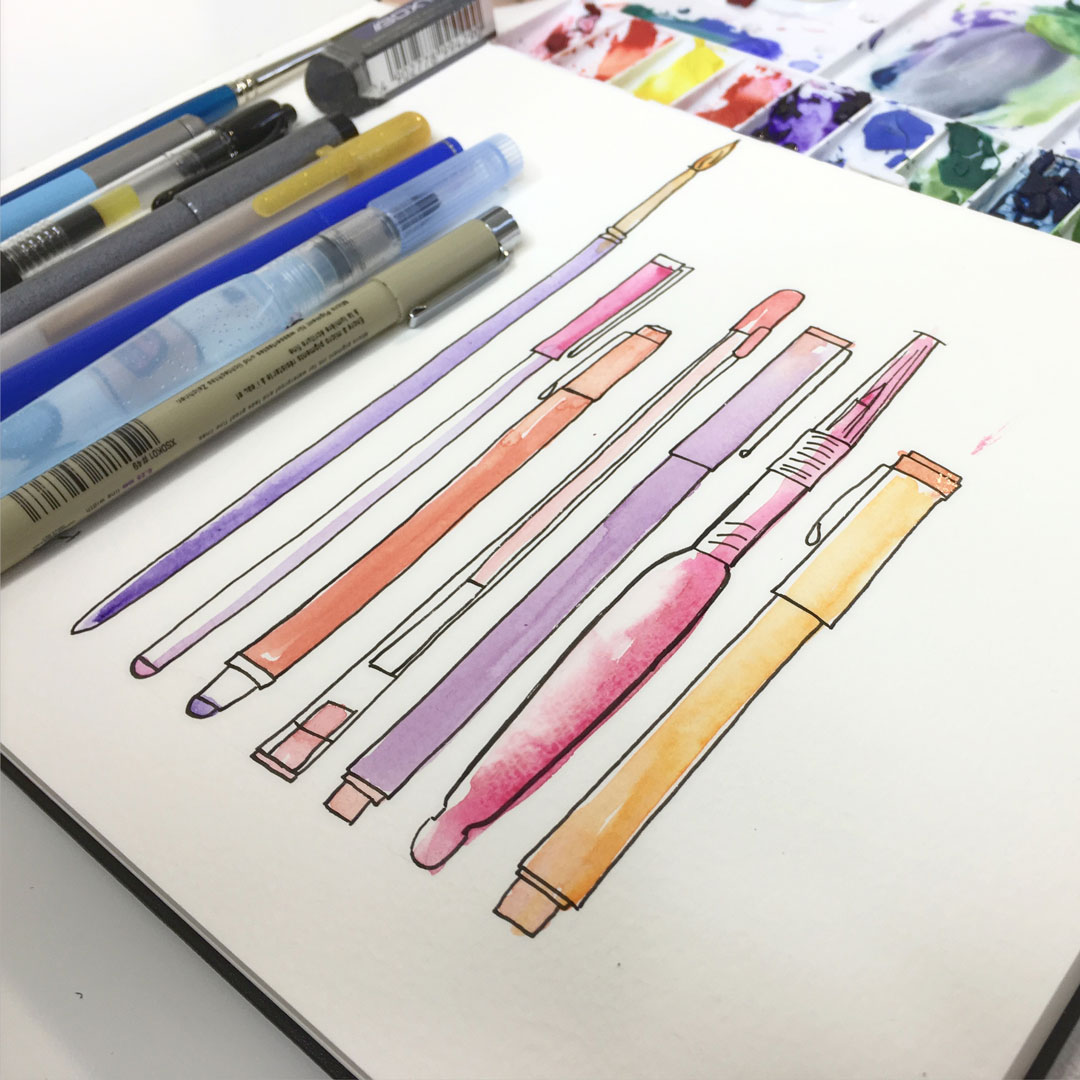 What advice have you received in your career that has stayed with you or influenced you? Do you have any words of wisdom for aspiring designers trying to build successful careers of their own?
I have to credit a lot of my business success to entrepreneur Sean McCabe. In the spirit of Sean: do what you love, work hard, and expect big returns.