It's an honor to welcome Four Corners Art Collective to the blog for this three-part guest post series on the workings of their collective, from its formation to their experiences at surface pattern design trade shows like Surtex and Premiere Vision. Read part one HERE.
One of the key reasons we decided to form our art collective, Four Corners, was so we could share the risk and costs of exhibiting at surface pattern design trade shows. Once we'd chosen our name, designed our logo and launched our website, we turned our attention to the big question: which surface pattern design trade shows?
In September 2015, we had a Skype call to discuss whether we would exhibit at Surtex in 2016. It's a big expense and the timing wasn't right for everyone but Beth, Emma, Kevin and Jocelyn decided to go for it. As it turned out, all seven of us ended up exhibiting at a major trade show this year.
Premiere Vision
First was Jane, who made her debut at Premiere Vision in Paris in January.
Jane: "There's no right or wrong way to approach selling at trade shows and I feel lucky that the collective has tried a few different approaches so we're able to share each other's experiences.
"My route was to test the waters before diving in. So instead of going to Surtex, I showed 50 fabric samples at Premiere Vision in Paris via the not-for-profit Scottish Textile Collective, Collect, who exist solely to nurture and support new Scottish textile talent.
"It was my responsibility to have each design printed on to fabric and then to trim them and add headers before passing to Collect. I paid for printing and also a small fee to Collect towards the cost of exhibiting."
Blue Print
In February, Julie was signed by Cinnamon Joe Studios, which meant she would now be exhibiting in New York in May 2016 too, but at Blue Print rather than Surtex.
Julie: "Blue Print was set up by my agent, Cinnamon Joe Studios, as a cheaper alternative to exhibiting in New York. Blue Print is a boutique show, with a more intimate atmosphere. The other major difference between the two shows is that companies come to Blue Print to buy designs outright. Surtex is a licensing show, so there's less expectation to make sales at the show.
"Because I'm part of an agency, all the costs of the booth, printing and promotion was covered by them, so I didn't have all the decision-making and to-do lists or the financial outlay the others were coping with. I could just concentrate on making new work. In the months running up to the show I pulled together 50 collection sheets for my agent to print for the show.
"I didn't even need to attend – my agent presented my work to buyers on my behalf. But I couldn't resist the chance to fly out to New York and see my work on display at Blue Print, and also to visit the rest of the collective at their Surtex booth."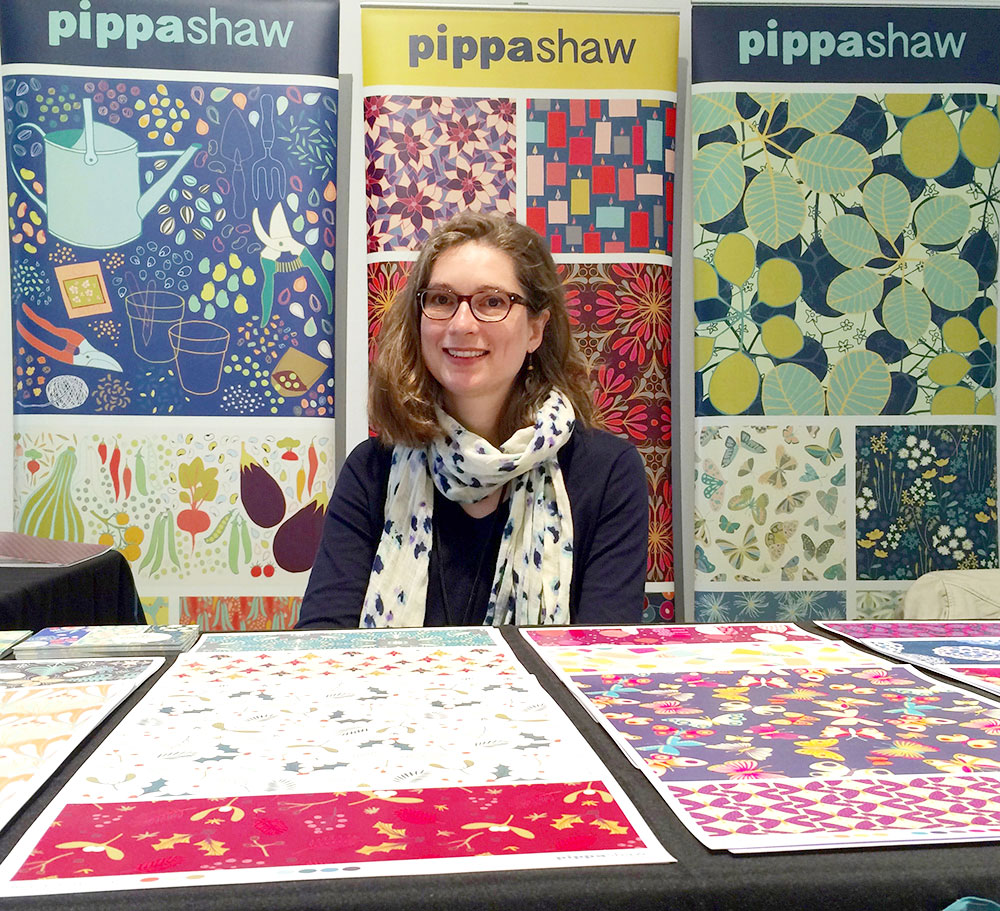 Meanwhile, in February, Pippa found out she had won the Blue Print Young Designer Competition so now she was preparing to exhibit in New York in May too!
Pippa: "I only had three months to get ready, which was an extraordinary experience. Fortunately I had an idea of the amount of organization involved from the conversations that Emma, Beth, Jos and Kevin were having about Surtex. Some decisions were easier because I didn't have to consult with everyone, but at other times I wished I had the team to share the big decisions with.
"For three months I lived my life according to the longest to-do list I've ever written, organized by completion date and priority: banners were designed, fliers made and sent out, a Blurb portfolio book designed and printed to showcase my licensing work, lots of new patterns designed and printed on to sell sheets, emails sent to art directors, social media updated daily, fabric printed to make bunting, pouches and pillows.
"To this day, I am still amazed that it all came together in time."
Surtex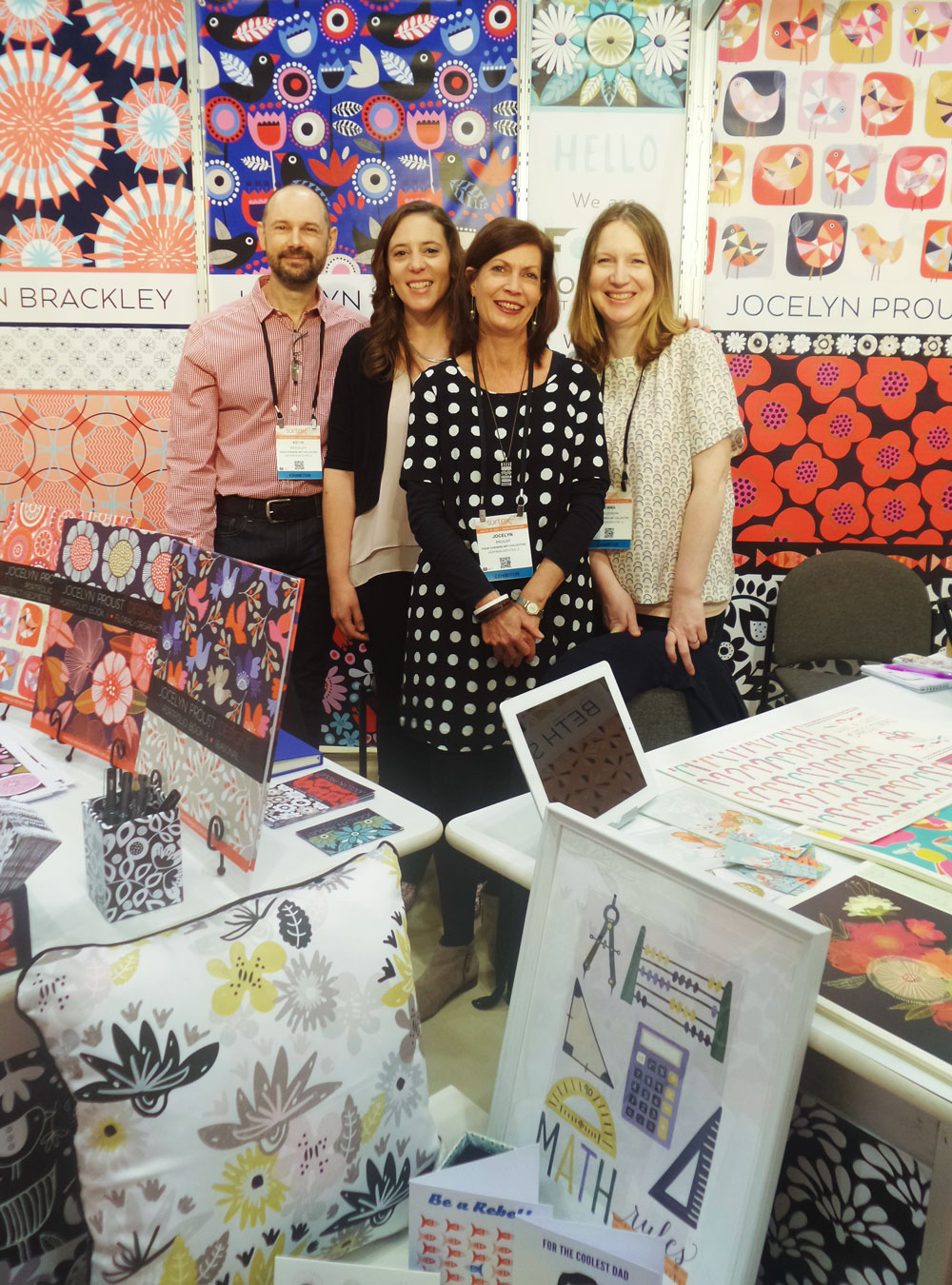 Meanwhile, the four collective members who'd decided back in September to exhibit at Surtex were deep in their own preparations.
Kevin: "Really from September onwards it was a mad dash to get enough work together. We read articles and blog posts from previous attendees, but it was still a huge unknown."
Jocelyn: "It was great to share the cost and organizing with the group. It takes a lot of time, effort and money to exhibit at Surtex without an agent: advertising, promotional material, banners, booth, products, furniture, displays, Blurb books etc."
Beth: "There were plenty of freak out moments and it was nice to have each other. There was always someone with a level head that could talk the other down."
Emma: "We sent out a lot of press releases and fliers throughout the run up to the show and got a lot of coverage as a result. I'd say really investigate free editorial opportunities and find an interesting angle to write about. People really responded to the fact that we'd all met online and that we were coming to New York from all four corners of the world, to meet for the first time!"
Necessary Tasks For Surface Pattern Design Trade Shows
As the show got closer, Beth, Jocelyn, Kevin and Emma were having regular Skype calls, working late into the night and making endless decisions. Tasks included:
Deciding on booth size

Finding and booking flights and accommodation

Deciding where to advertise

Designing and writing adverts

Writing and sending press releases

Designing show fliers and sending them to blogs such as Print & Pattern and Pattern Observer!

Getting products and fabric swatches made

Designing and ordering the banners for our booth

Planning our booth layout and deciding on additional furniture

Filling in insurance forms and other show admin

Reading hundreds of pages of (impenetrable) show manual

Chasing up show organizers for answers to questions – and chasing again!

Designing handouts and giveaways and getting them printed

Putting together press packs

Going through the attendees list and contacting companies to set up appointments

Naming and numbering every design and collection

Designing Blurb books and laying up collection sheets

Not to mention continuing to make new work!
Kevin: "We made lists of everything we'd need at the show so everyone knew what to bring. We had our banners printed in the US and shipped to Beth in Chicago, who shipped them on to our hotel in New York. Emma brought lampshade kits with her from the UK and we set up the booth on the Friday and Saturday, and made our display lampshades on site."
Emma: "I think one of the biggest challenges was figuring out our booth banners so they represented our individual portfolios of work but also looked good together. There were moments when I'm sure it would have been easier not to be making collective decisions, but they never outweighed the comfort of knowing that we were going to sink or swim together!"
Next week, in our final post in this series, we'll reveal what each show was like, what we'd do differently next time, and how things have gone post-show.
About Four Corners Art Collective
Four Corners is an international collective of seven surface pattern designers creating fresh, modern patterns for products and publications. Our work is available to license or buy outright and can be applied across markets – bolt fabrics, apparel, home décor, gift, stationery, quilting, and more. Clients include: Hallmark, The Guardian Newspaper, Dashwood Studio, Workman Publishing, Michael O'Mara Books, Proctor & Gamble, American Flat, and Leap Year Publishing.