As our guest expert this month in the Textile Design Lab, French Bull founder Jackie Shapiro kindly agreed to an in-depth interview on launching a brand and designing for the tabletop market. The full interview is available exclusively to Lab members–we hope you enjoy this excerpt!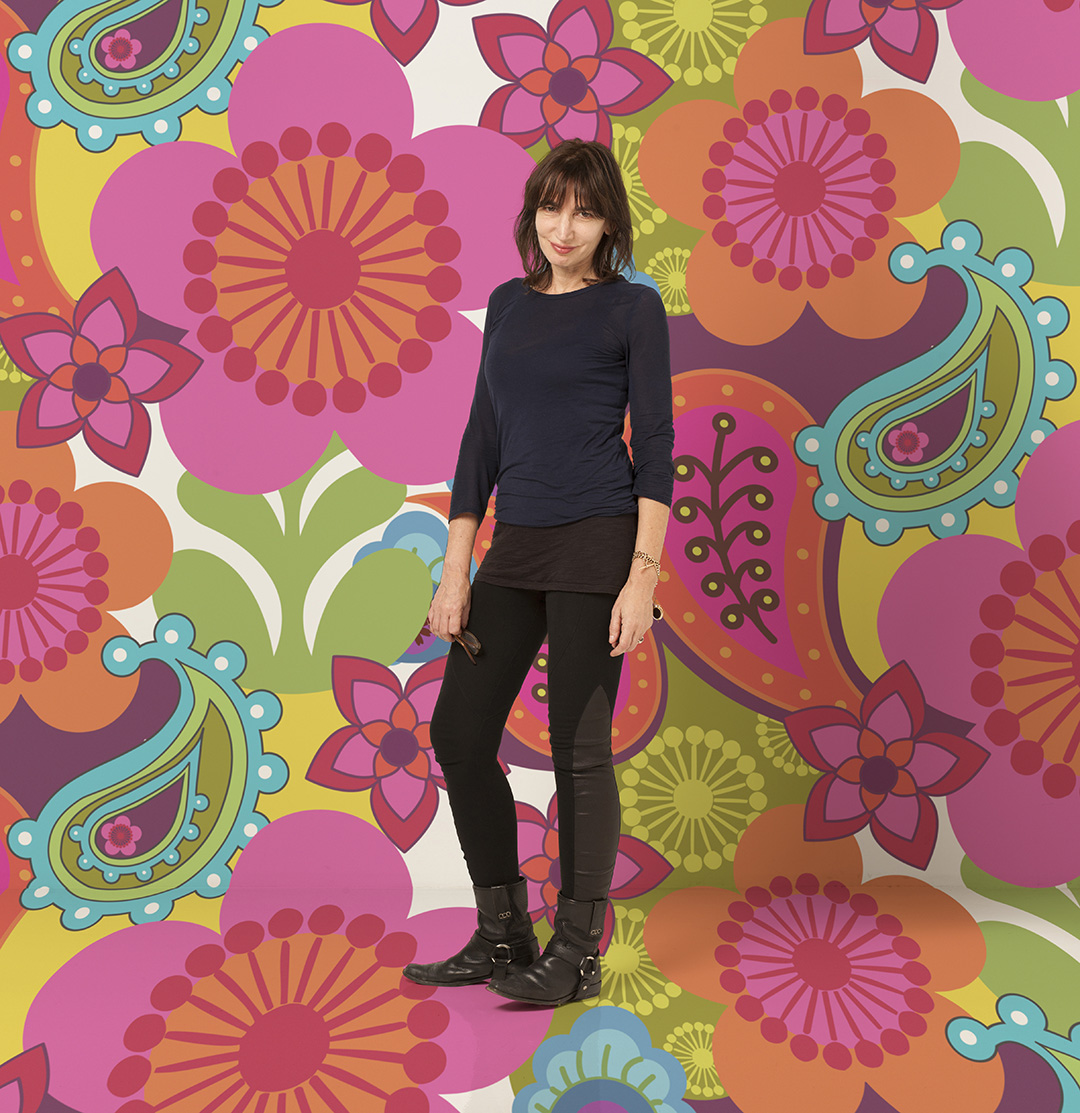 Could you talk a bit about your design background? How did you become interested in the world of patterns and surface design? 
My love of pattern, and fashion was an innate default.
My Hungarian Grandparents built one of Bucharest's most stylish stores on the elegant Calea Victoriei in the 1930s and 40s. They fled to Santiago Chile after the communist takeover of Romania to start anew with their daughters Eva and Gabriella.
My mother Eva, came to NYC in 1956 and went from fashion model, to fashion designer, to fashion entrepreneur marrying my father Oscar Shapiro along the way.
In 1963 she invited fourteen ground breaking Chilean artists to show their work in NYC's bohemian Greenwich Village, procuring the gallery and hosting the event and exhibition herself.
I have beautiful memories helping my mom as a little girl make chokers at our dining room table from a closeout lot of fantastically ornate shoe buckles she purchased at auction. These became the centerpieces of velvet, grosgrain, and leather ribbon chokers that she sold to earn extra cash.
Eva, was a founding partner of Eva for Robert Janan;  a company that throughout the 1970s and early 80s, made fashion headlines with what was to become their ubiquitous wrap dress and easy two-piece dressing philosophy.
The dresses were in beautiful patterns printed in Como, Italy, at a factory Diane Furstenberg would also come to share.
She'd take me on work trips.
At the factory technicians meticulously monitored silk screens insuring the pattern and color was being produced to perfection. At Antiquarius in London, she'd show me how the English marked their silver creations, and walk me through flea markets in Paris negotiating her way through. In Hong Kong she took me to the Peninsula hotel for high Tea. In Spain she exposed me to Gaudi. Tango in Buenos Aires, and back to the flea markets and antique shops in NY.
We lived in a divided townhouse on the upper east side in the scary New York of the 1970's, I studied Fashion at Parsons School of Design in a tiny department of 30 that included Marc Jacobs, Isaac Mizrahi, Narciso Rodriguez and Anna Sui.
After school I lived and worked in Italy for three years designing clothes. Back in the USA in 1984 I started using a Mac to design.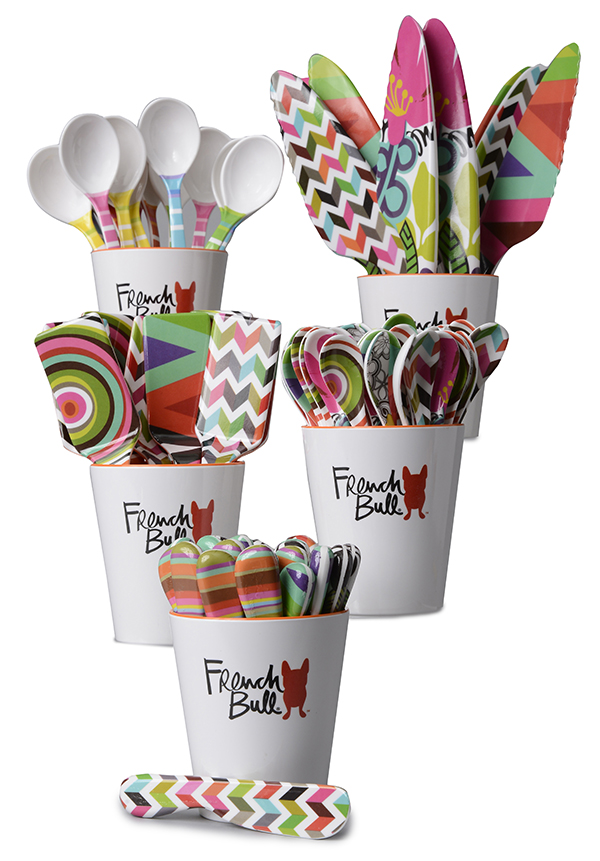 Tell us a bit about launching a brand and what led you to start French Bull.
Transitioning from fashion to surface designer after becoming a mom, I created a pattern collection sold through Splash Studios in NYC. My patterns became favorites of companies such as Le Sport Sac and The Gap. While super proud to see my patterns on many things like handbags, wrapping paper at Michael's craft stores, swimwear, pajamas, T-shirts, stationery, and active wear; I wanted to take a shot on myself.
I stopped selling my patterns to other manufacturers, found a factory that I still work with, created a tabletop collection using melamine, and In January of 2002 French Bull became a brand introduced at the New York International Gift Show. French Bull is a lifestyle brand devoted to creating compelling new uses for pattern and color.
Deeply steeped in energy that celebrates the everyday, the companies' earliest noteworthy achievement was to reimagine melamine tableware in pattern and color that has now become its iconic and immediately identifiable style. The brand has garnered extensive reach, with numerous touch points that consistently communicate its LIVE VIVID attitude and reinforce its lifestyle experience through licensing partnerships both domestically and internationally.
The French Bull name takes inspiration from the frisky nature, compact stature, and mighty will of the off beat, jolielaide French Bull dog. The French Bull mark illustrates our solid foundation, heady profile and alert bat-like ears that navigate us through any challenge.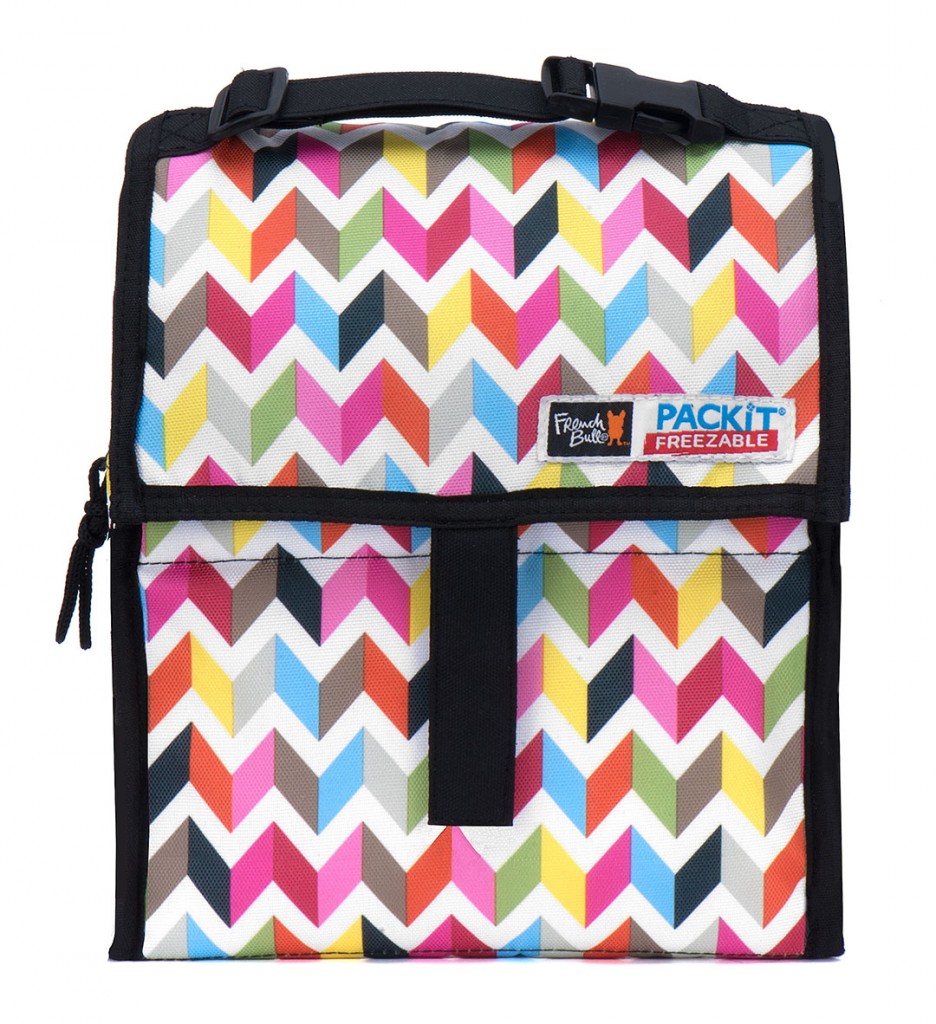 Please tell us a bit about the different products you design for. Are there any special considerations you have to keep in mind when designing for tabletop goods?
I am a commuter and see lots of folks carrying their lunch bags on the train, subway and street. I'm looking forward to bringing my lunch bag solution to market in early 2017 with pattern front and center.
French Bull has several licensing partners, and I value these relationships as a top priority. Our licensees are great at what they do, and my team and I are hands-on collaborators committed to being successful together.
There are no rules about scale, # of colors, motifs etc – It's all subjective.
Could you tell us a bit about your experience with tabletop buyers and what they are looking for? 
If there's one piece of feedback I've gotten season after season for tabletop it's that people prefer white space in the design for eating food. French Bull follows its own approach to pattern application and it has worked both for and against me.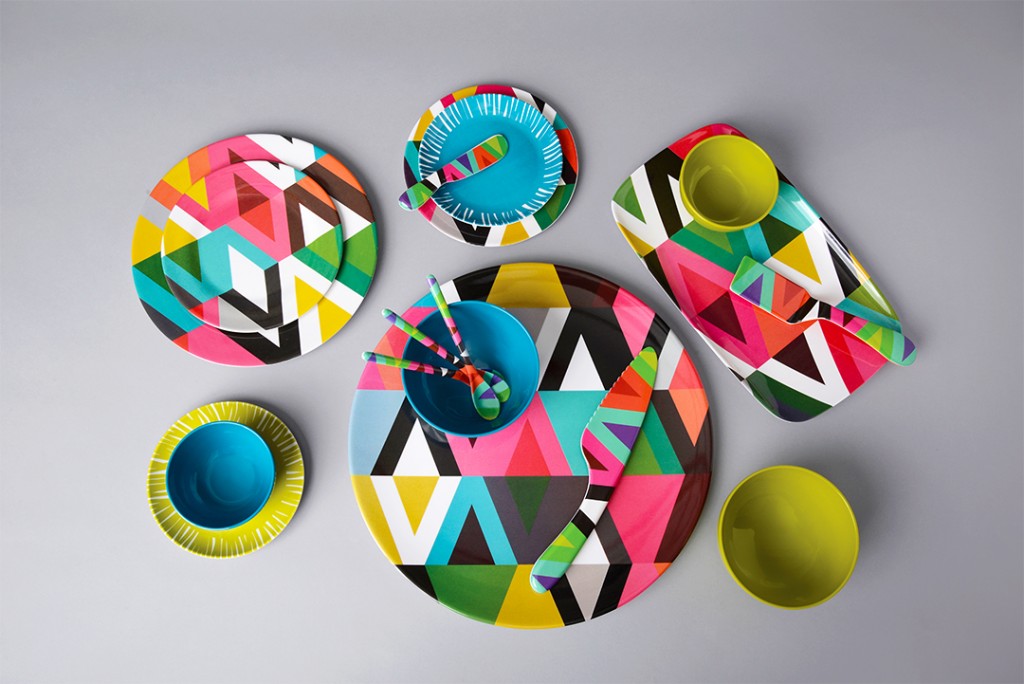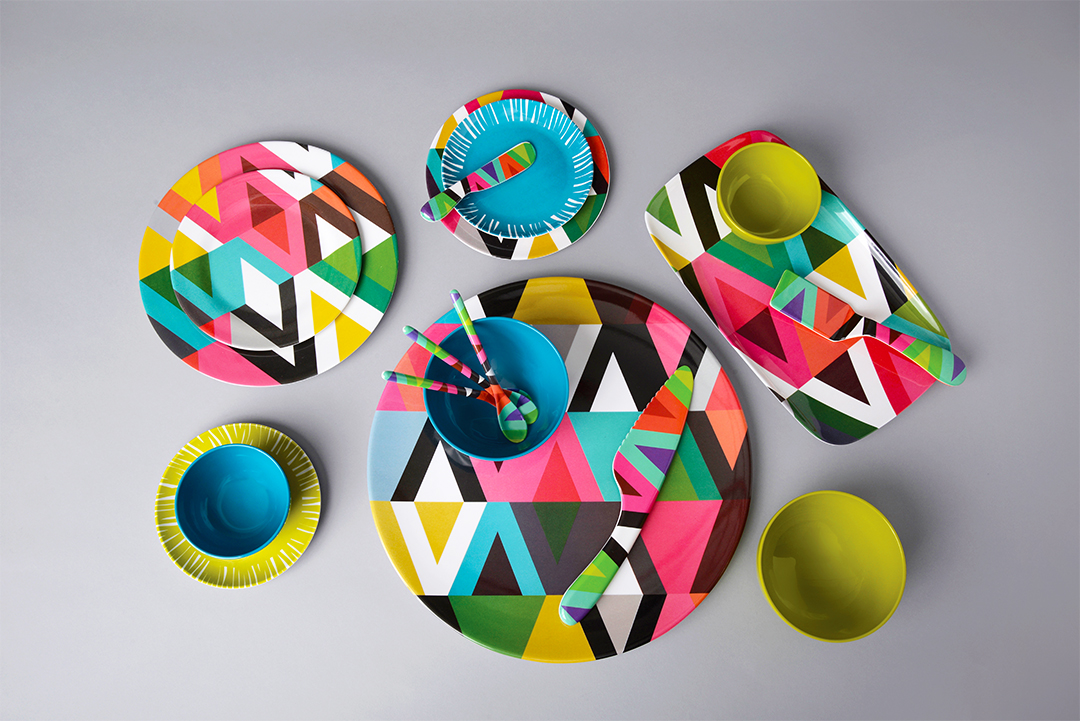 What are some ways a designer could distinguish themselves when launching a brand? 
Create a "look" that is identifiable, unique to you and consistent season after season. If you can manage to emotionally connect with the consumer with your design – you'll be golden.
If you want to design for a company that offers many on-trend or traditional "looks" then your design hand should be versatile – trends come and go and if you are comfortable embracing them all, it comes down to polishing your taste level and eye for good design.
Check out the full interview in the Textile Design Lab to learn about Jackie's experiences at trade shows, how she researches during the creative process, insights into French Bull's production process and launching a brand.
Visit French Bull around the web on Facebook, Twitter, Pinterest, Tumblr, and YouTube, or visit frenchbull.com.