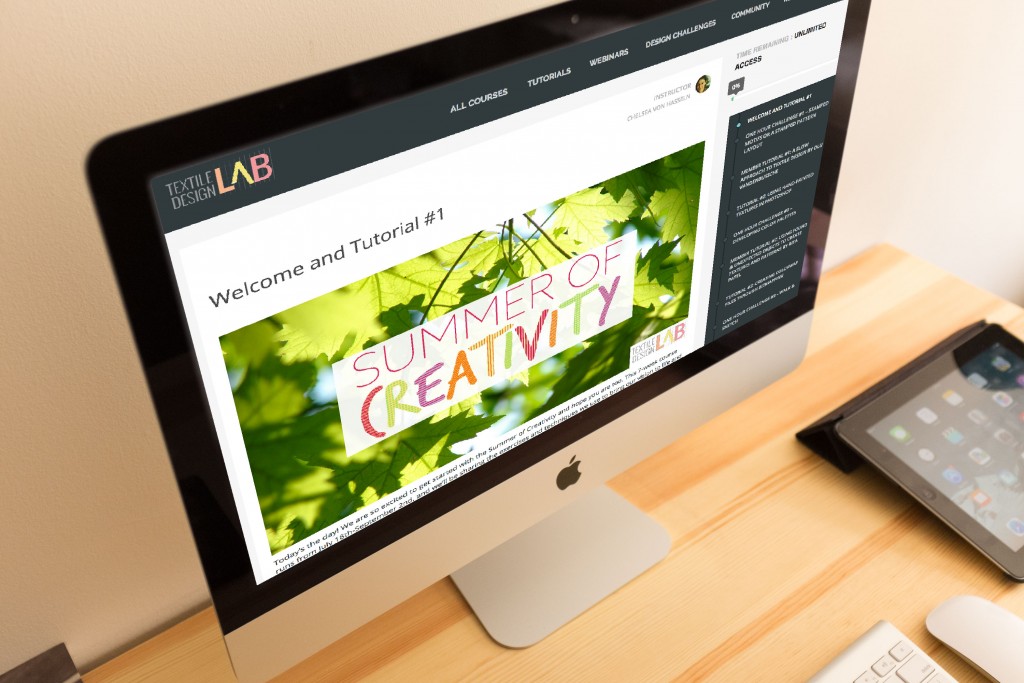 Do your patterns always seem to fall short of your vision? Before long you start doubting your work, trying too hard to make something happen, and eventually you end up losing interest in the entire project.
It doesn't have to be this way.
In our new Summer of Creativity course we're sharing the exercises and techniques we use to bring our vision to life and create the patterns we see in our mind's eye. This 7-week course runs from July 17th-September 1st and highlights include:
*weekly design tutorials: pulled from our popular Mastering Your Market Workshop (no longer offered), these tutorials cover techniques from Developing Photorealistic patterns in Photoshop, to creating dynamic patterns using cut and paste techniques, to using Blending Modes in Photoshop.
*weekly One Hour Challenges: fun, bite-sized tasks that can be completed in just one hour. If you find yourself in a design rut these challenges will offer quick ways to pull yourself out and can be used time and time again. Put these tasks into regular practice and you will develop habits that will make you a more efficient and creative designer!
7 weeks access to WGSN Fashion or Home for the first 290 registrants
our annual Collaboration for Designers group study: In this course you will learn the importance of working alongside other designers whether they be peers or clients, how to handle conflicts when they arise and how collaboration will enrich your design process. You will identify your strengths and what challenges you when working with others, and practice your new-found skills giving you the confidence to put them into action.
a two week repeat challenge: Want to add repeats to your list of services in your design business? Over the course of two weeks you will practice your repeat skills and get feedback on our private forum. Learn to spot a poor repeat and how to improve it, what you need to ask before starting a repeat for a client, and more.
The Summer of Creativity kicks off on July 17th in the Lab and we hope you will join in the fun! Lab membership also comes with access to all of our most popular courses including The Sellable Sketch and The Ultimate Guide to Repeats, weekly live artwork critiques, guest expert trainings, and lots more. Learn more here.
Save
Save
Save
Save
Save