Chelsea's Challenge is a monthly post series in the Textile Design Lab, in which we share trends and inspiration to help our students build pattern collections for their portfolios. During the month of June our Chelsea's Challenge focused on the "Bloom" trend that takes its cues from the amazing floral patterns we are seeing coming up in the Spring '19 season. Lab members spent four weeks working through the pattern development process, which resulted in some truly stunning floral collections. Today we are sharing a small sampling of these collections that were created around the Bloom trend. Enjoy!
Véronique Jacquart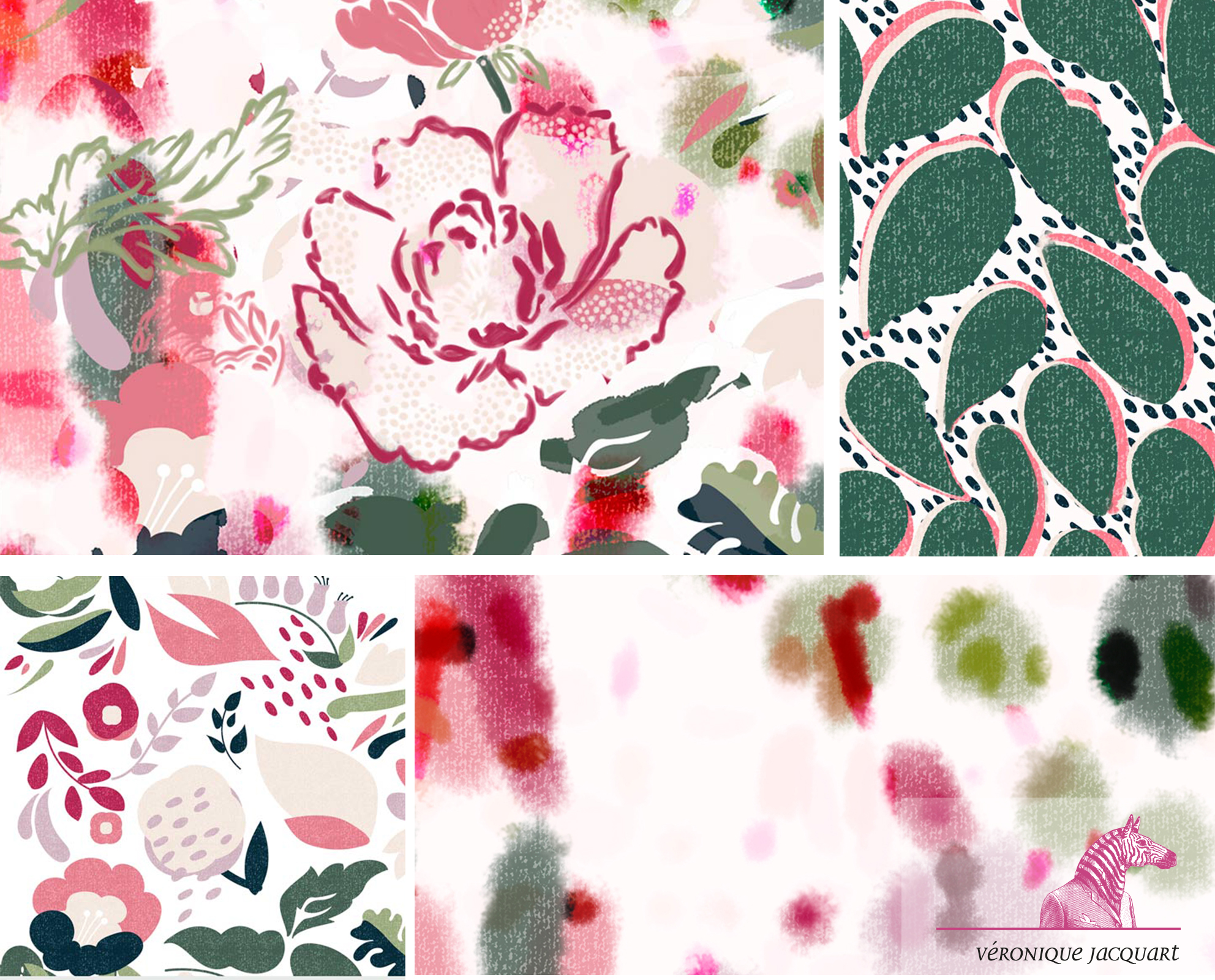 "This is my BLOOM collection. This topic was very inspirational for me because it represents a huge trend in home decor and I want to develop BOLD BLOOM collections for my portfolio.
I have tried to make a joyful and colorful pattern collection. I have used my own color range because I believe in great coloration for AW18. I have used my iPad Pro for the bloom and watercolor stains and I have used some Photoshop effects also.
The big leaves and the digital flowers were created on Illustrator.
I love the mix of styles. I think it is trendy and it can be very useful for the home decor buyer. Today, the customers want to develop a product range with very different coordinates and this collection's success is due to the link between the topic and the color harmony."
Visit www.veroniquejacquart.com or @veroniquejacquart on Instagram to see more!
Kelly Lahl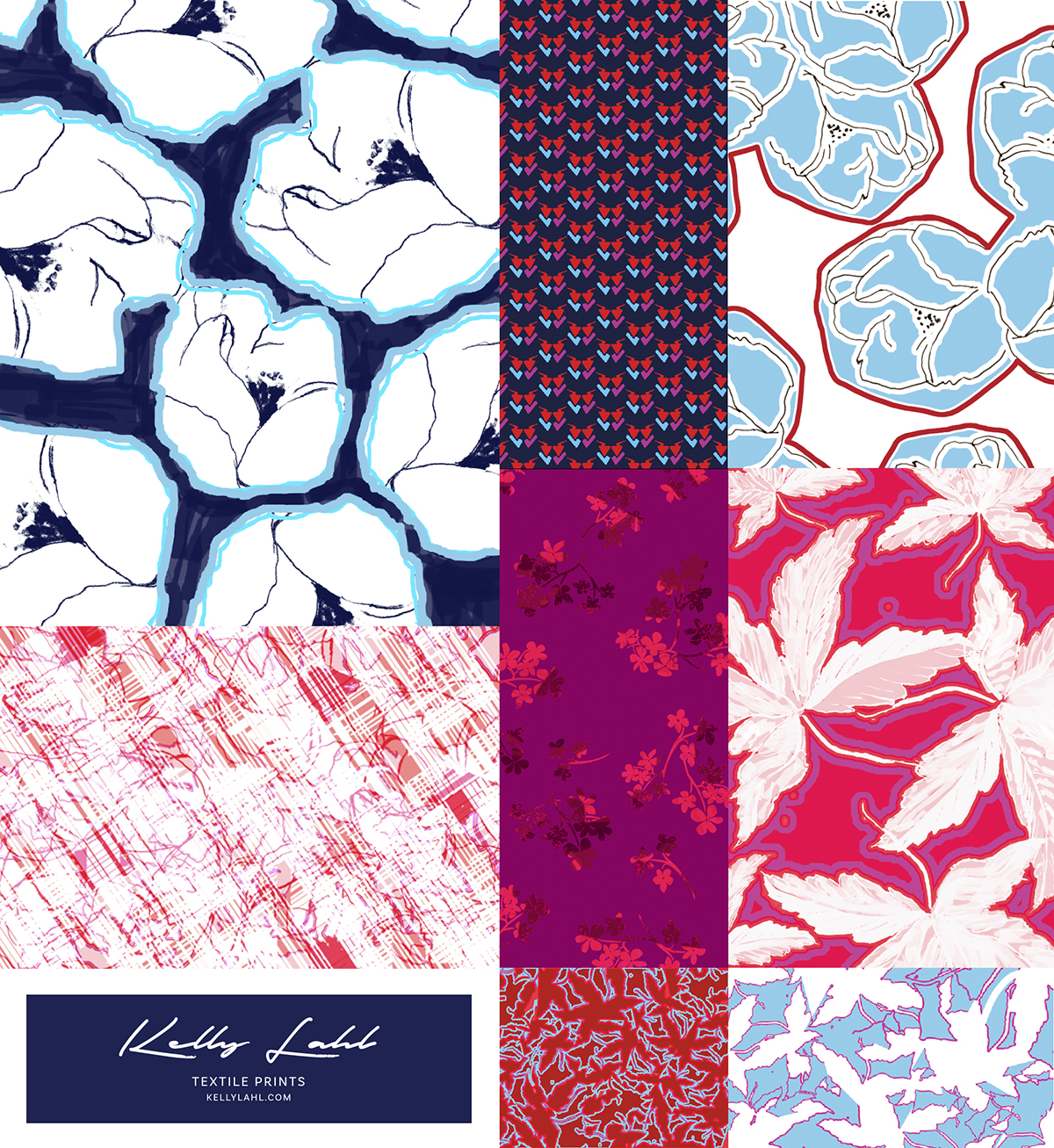 "The Bloom collection is for SS19 fashion market and is targeting a confident woman. It is loosely inspired by etched glass, lace appliqués, and experiments with bold outlines, negative shapes, and the recent color clashing trend. The designs were created using hand drawn ink and pencil elements that were digitally manipulated, colored, layered, and sometimes drawn over a second time."
See more from Kelly at www.kellylahl.com or on Instagram @kellylahl.
Marielle Davis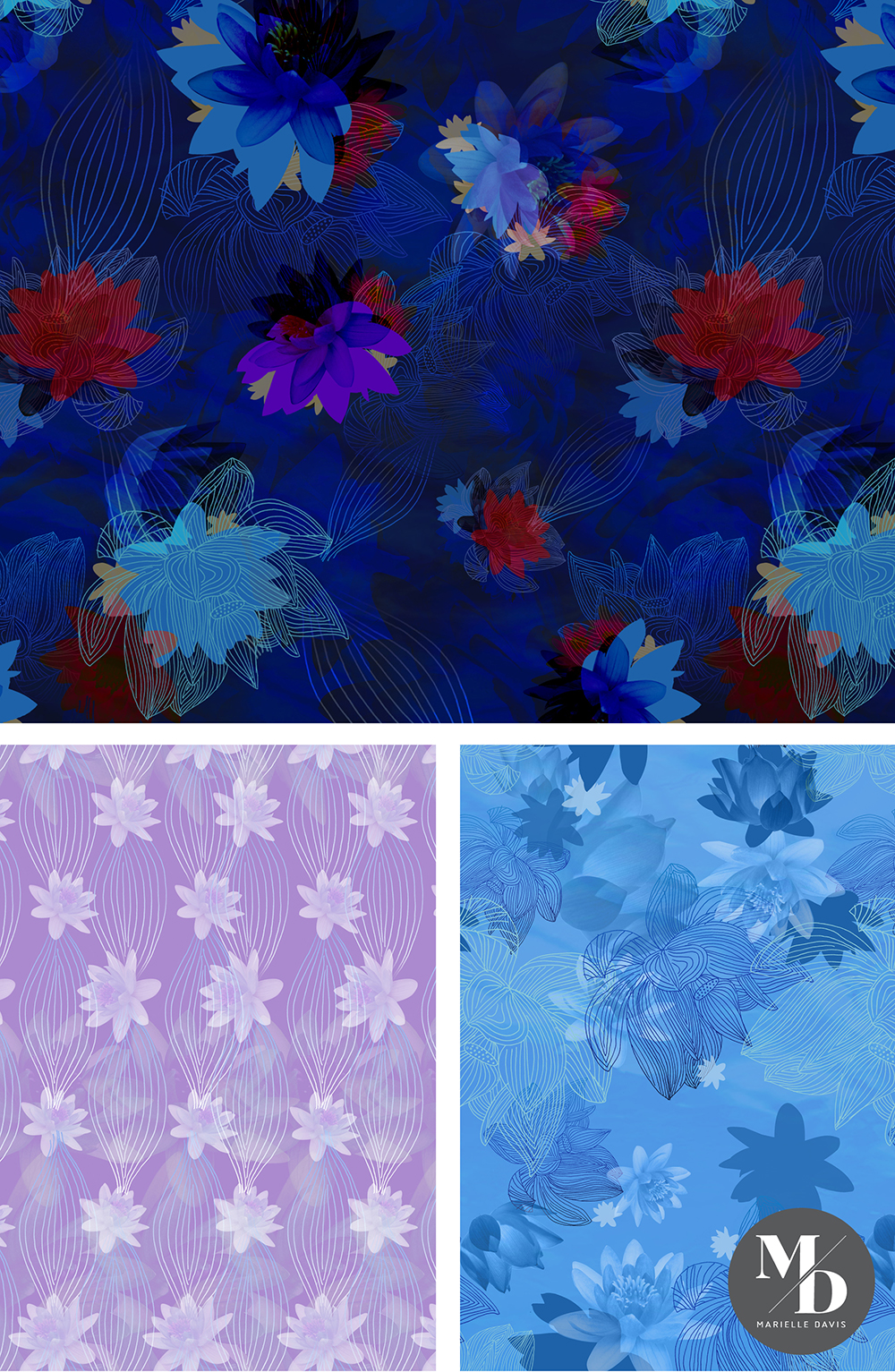 "The target market for this collection was high-end activewear customers such as Lululemon, Seafolly, or the Upside. My inspiration was water plants such as lotuses, and water ripples. I combined a range of techniques to create a free-flowing collection. These techniques included hand drawn linework, and digital manipulation of photos of lotuses and other flowers. I included a deep blue feel to the main print to achieve a watery aquatic feel.
Marielle is currently in the process of starting her website – 'Patternluxe', to showcase and sell her textile designs. In the meantime you can view her graphic design portfolio here.
Caroline Sarrette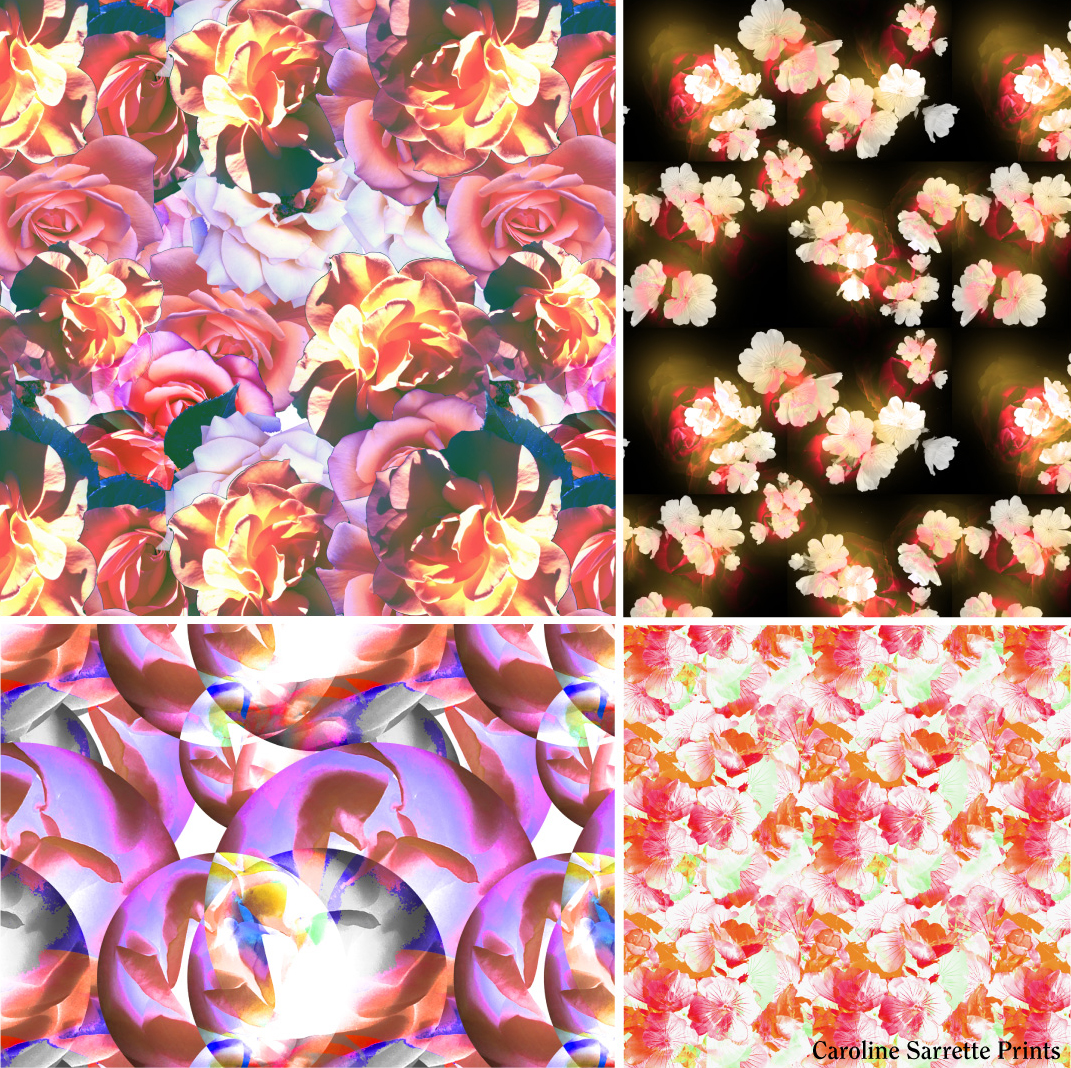 "My collection is called "Infinite Digital Bloom".
My Inspiration and concept idea – I walk around NY a lot and love going upstate also. So I take a lot of pictures of flowers since this is the perfect season. I never get tired of photographing flowers and then start thinking about how to incorporate them into new patterns. In this case I used photographs and played with many blending modes and juxtapositions. I also researched how to create nebula and cosmos effects in Photoshop and incorporated these effects into the patterns. I am targeting young trendy women and would see these patterns work very well in fashion, for high end beachwear and activewear but also expandable to many other fashion items."
Visit Caroline online at her portfolio website, on Instagram @ccsarrettprints, or on Pinterest.
Feeling inspired? We have over 80 challenges now available in the Textile Design Lab, with a new one released each month. Join us to participate and build your portfolio!
Check out more student responses to the Bloom challenge and others on our Chelsea's Challenge Pinterest board.