With the support of SURTEX, each month a new post will be highlighted on Pattern Observer, featuring the work of one of our Textile Design Lab members. This month we are thrilled to feature these playful textile designs created by one of our TDL members, Claire Mounier. Claire was a recipient of our 2018 Jane Lewis Scholarship and we have had the privilege of watching her flourish in the community. Her work is polished, but unique; simplistic, but interesting. Woven within it is always a wonderful story to tell.
We asked Claire to share a bit about her journey that brought her into the exciting world of textile design:
"I studied history at university, and then worked in Vietnam for several years in the field of cultural heritage preservation. In 2015, I became a freelance copyeditor, which allowed me to telecommute for French publishing houses while travelling throughout Canada for a year.
"While I enjoyed everything going on in my life, during this time I also felt like I needed some creativity in my life, to compensate from my quite intellectual job. I had discovered screen printing in Vietnam, and realized I had always been attracted to beautiful fabrics, stationary, and home decor products. I did my research and discovered the online world of surface pattern design, to which I became addicted! I enrolled in many online classes and haven't stopped practicing since then."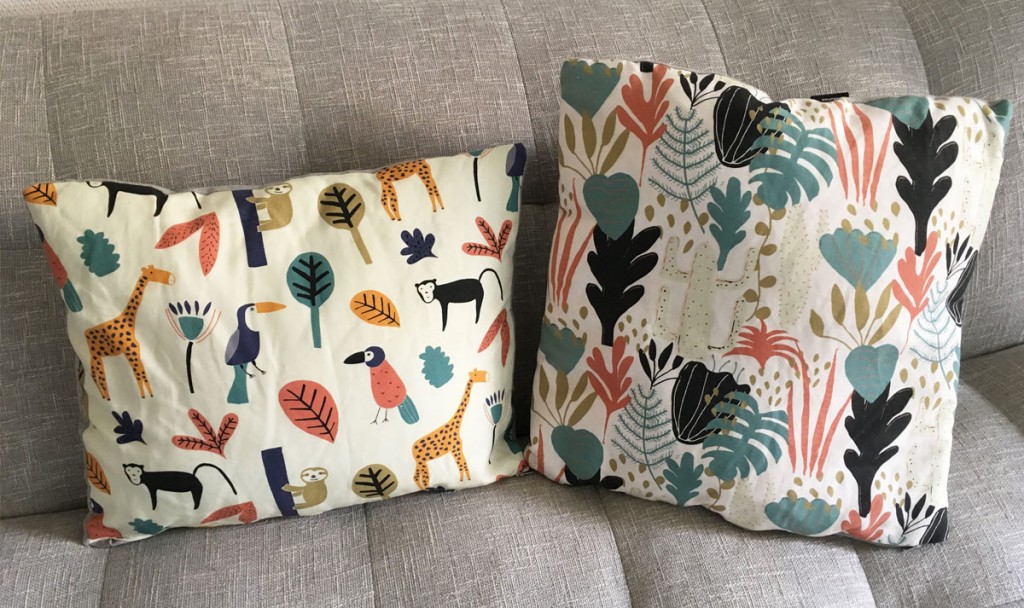 Since this time, a lot has been going on in Claire's life and the playful textile designs that she creates:
"2018 have been an exciting adventure. I had the great surprise to be selected for the Jane Lewis Scholarship and I am so grateful for this. It has really helped me improving my skills and gain confidence. I have followed a good number of the classes, learned new approaches, techniques, and skills. I have also received the opportunity to present some of my patterns to Surtex, thanks to the Pattern Observer Studio. This has led to some great connections and opportunities.
"When it comes to the support and advice of fellow designers and experts in the Lab, they have been invaluable to me and have helped me push forward my work and override my impostor syndrome (but I still have to work on that, ah ah!). I love having a place to go where I know I can interact with people who share my interest. It helps a lot to stay focus and motivated."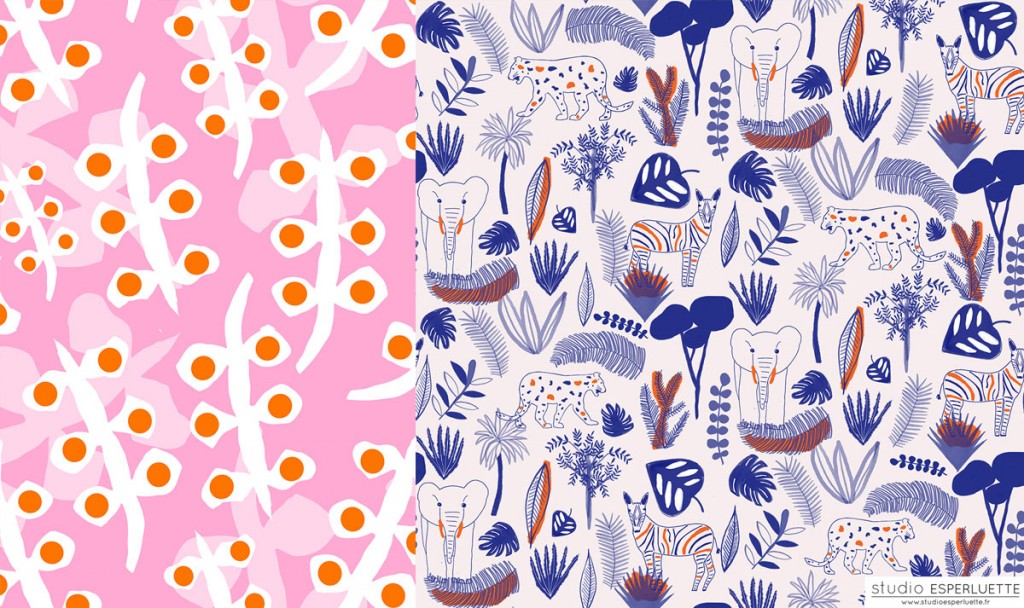 When it comes to what's currently going on with Claire's exciting growth, she told us this:
"In the past few months, I have worked on setting up my online portfolio and I am now planning to reach out to potential clients. One of my main concerns is to ensure I only work for ethical and sustainable brands. I'd love to see my designs on kids' products, home products, and stationary."
Here's Claire's thoughts on her playful textile designs:
"My style is playful and quirky. I love to draw animals and flowers. My inspiration usually comes from a picture, a book, my travels… I try to follow the trends and to incorporate them in my own style. Most of the patterns I'm sharing and showing here were created within the past months. I always start to draw on paper and then color my motifs and create the repeat either in Illustrator or Photoshop. I have been using Photoshop a lot recently because I love the textural effect that I can get with the different brushes."
Thanks for sharing your playful textile designs with us, Claire! Please visit Claire's website to see more of her lovely work.