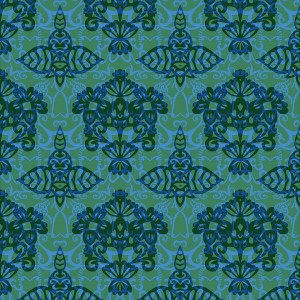 Our Surface Pattern Design Mastery course is starting on October 23, 2017 in the Textile Design Lab. That means that this week's focus is on the four most popular layout styles within the textile and surface pattern design industry. Why do you need to know this? It's simple—knowledge is power. When you know the pattern layout options available to you it's easier to find the perfect layout for your motif more quickly. So let's dive in.
First up—set layouts.
A set layout is when motifs are arranged on a grid, in either a straight or half drop repeat. While popular in all markets, set layouts are most common for use in home decor, wallpaper, quilting, and paper products. To create more dynamic set layouts you can layer patterns, like Samantha has done, or you can experiment with color pops. Set layouts are the first pattern layout style that we cover in our upcoming Surface Pattern Design Mastery course, because they are the easiest to create using the Illustrator Pattern Making Tool.
I love this set layout by Samantha Wheatland. What makes this pattern so beautiful is that Samantha has actually layered two set layouts.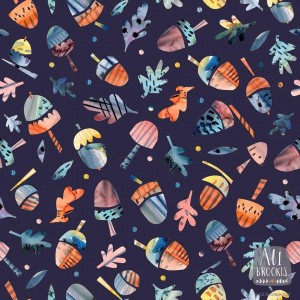 Next—tossed layouts.
A tossed layout is one in which motifs are arranged in a scattered, but balanced way. Imagine that you toss a handful of autumn leaves up into the air, watching them fall to the ground. They land in a scattered pattern. Some facing up; some facing down. Some turned to the left; others to the right.
The tossed layout is one that I recommend all designers begin to use. A great example is the one here by Ali Brooks. This is a tossed surface pattern design layout. While popular in all markets, tossed layouts are most commonly used in stationery, quilting, home décor, and children's. Adding texture, similar to what Ali has done, is a great way to add more depth and interest to your tossed layout. I love the rich earthy details and colors that Ali chose to accentuate her fall motifs. It's magical in a way.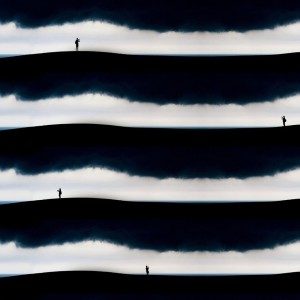 Third—stripes.
If you have attended one of our TDL art critiques you probably know that I am obsessed with creating new and innovative interpretations of classic patterns, such as stripes. So when I saw this stripe pattern by Jp Spanbauer I almost fell out of my chair.
Let's start with the stripe—it's beautiful! The subtle wave and the color gradients are stunning. But, I really appreciate the storyline that he has created for the customer. Where is this hiker? What is he seeing? Where is she going? Jp Spanbauer has taken a pattern layout style that we all know – stripes – and pushed it into something spectacular.
And lastly—allover layouts.
An allover layout is when motifs are arranged in a compact and balanced way. Motifs are often overlapping and there is very little open ground. Allover layouts is a catch-all category. If you see a pattern layout in your research and you cannot pinpoint exactly what style it is, it is probably an allover pattern layout. Allover layouts can be even further categorized into allover florals, textures, etc…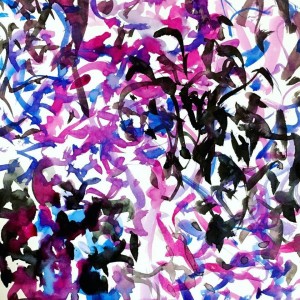 Take this lovely texture by Bryna Shields. I would call this a textural pattern, but it could also be categorized as an allover pattern. This is actually the reason why we cover both layout styles in Surface Pattern Design Mastery. They are both so popular. With this pattern, I couldn't help but be drawn to the bold color usage, movement, and dramatic expressiveness from the first time I saw it after it was posted to the #patternobserver feed. She could have spaced out the marks and brushstrokes, allowing for more room within each design, but she chose to layer the marks. This created a more energetic and engaging pattern.
These four layout options are all exciting for a designer; however, they don't always come naturally. Thankfully you can learn to master them all during our upcoming Surface Pattern Design Mastery course. In this 6-week course you will discover how to turn your sketches, paintings, and illustrations into eye-catching surface pattern design layouts in less time. Plus, you'll have access to our new surface pattern design layout templates, which allow you to create sophisticated patterns in minutes, not days.
To register for this members-only course, pay just $49.00/month to start your membership. No commitment. Cancel anytime. A small investment for a large return on fewer frustrations. Grab your spot here.
Save
Save
Save