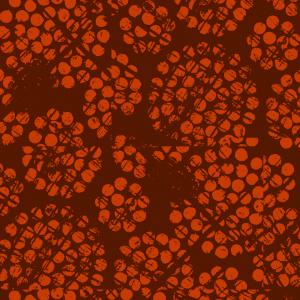 This week's Repeat Downbeat post is all about unique interpretations of one of the most popular motifs…the circle.
The circle patterns we are featuring today are not your classic polka circle. Each pattern features something unique—maybe a texture, maybe a unique layout style, or perhaps the addition of a second motif. These patterns push the idea of a classic circle pattern forward, but maintain the entertaining whimsy of many circle or bubble patterns that we are used to seeing.
I designed this circle pattern as a part of prairie-inspired collection that I created for the Pattern Observer studio. I was inspired by nail patterns found in old pieces of lumber and created this dot motif, which I used within a larger circular shape. I added one color texture to enhance the worn and weathered appearance of the pattern and dismantled the layout to add interest and variation.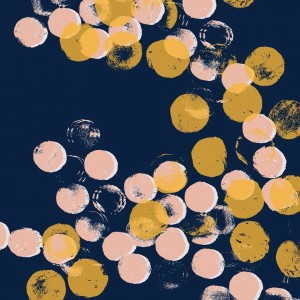 Using circles within unique layout styles is such a fun way to experiment with this classic pattern style. This is exactly what drew me to this pattern by Alexandra Michiardi. Alexandra is a
French designer based out of Sheffield, UK who is a part of our Textile Design Lab. The movement that she created with this free-flowing layout is compelling, especially when combined the texture and layered circle motifs.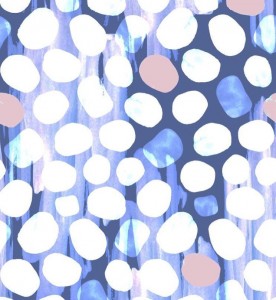 Texture also plays a key role in this pattern by Milena Zdravkova, a Textile Design Lab member based in London. Milena created this piece in our Surface Pattern Design Mastery course while studying the most popular layout styles used in the industry. The washed out color palette and texture work together to tell a really compelling story and turn what could have been a simple pattern into something that is so much more. I also appreciate that Milena used a variety of different circle shapes and sizes, which fits with the more organic texture and color palette chosen for this design.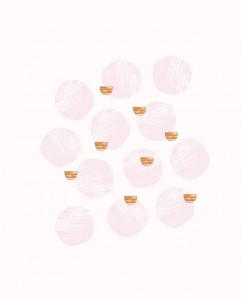 The addition of texture also plays a key role in this charming circle pattern by Brook Gossen. But what makes this pattern so special is the gold semicircle motif that is sprinkled throughout the layout in such a charming fashion. Brook is a really talented designer who is one half of @shopmorethanever, which is a wonderful shop featuring beautiful bedlinens and prints. I highly recommend checking it out if you are ready to up your bed linen game.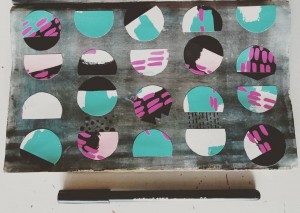 I'm wrapping up this week's Repeat Downbeat with this inspiring sketchbook photo from designer @jennimaensivu. Jenni is a Helsinki-based Textile Design student with a deep passion for fabrics, drawing, sewing, and sculpting. This piece was a creative exercise that Jenni worked through while trying to clear her head after turning in her final thesis. I love the addition of the semicircle motifs and all the various marks and textures that are a part of each circle shape. It's a dynamic piece that is exciting and comforting at the same time.
Want to explore more classic pattern styles? Download our free Surface Pattern Design Layout Chart here.