With the support of SURTEX, each month a new post will be highlighted on Pattern Observer, featuring the work of one of our Textile Design Lab members. This month we are thrilled to feature the work of TDL member Alexandra Michiardi. Alexandra joined the Textile Design Lab in October, 2017 and we were immediately took note of and were impressed with her passion for her craft, and her fresh use of color and texture. She is such a joy to have in the Textile Design Lab and we look forward to bringing her work to the SURTEX show in May.
Read on to learn more about Alexandra's background and what drives her to create.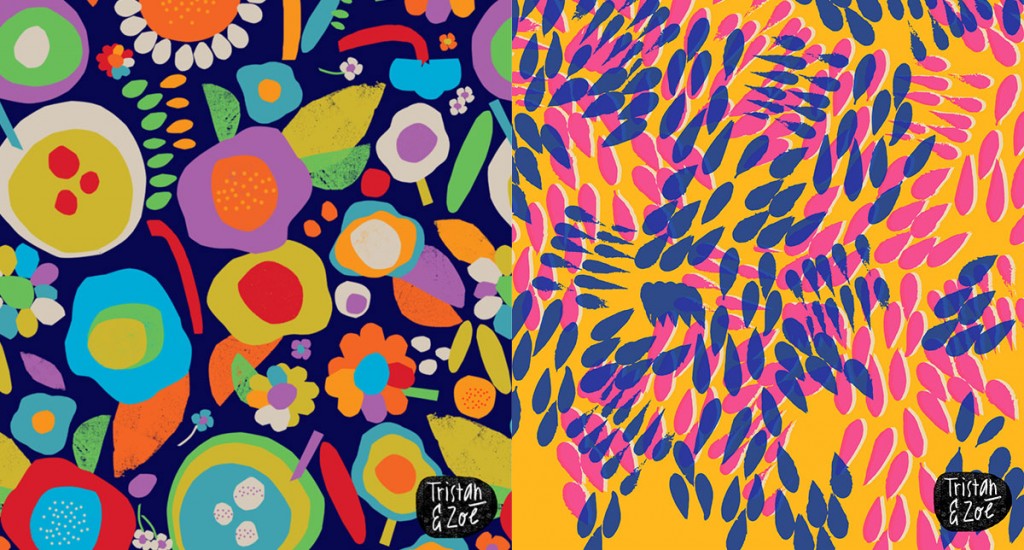 "Although I graduated in Science, I always wanted to be an artist. It was only two years after my PhD, at almost 30, that I decided to pursue my passion for art. I studied mostly painting, particularly portrait and human figure, but I was not ready to allow myself to be a painter. I had the impostor syndrome. Two countries, two businesses, and two children later, at 40, I decided it was time to do what I really want to do.
"For starters, I am pausing my Etsy shop (where I sell stamps for crafters under my brand méli-mélo) to give me permission to become a textile designer.
"Since I joined the Textile Design Lab in October last year, I have been working toward my goal, a couple of hours a day, every day, when my baby is sleeping. And I will have more time to work very soon! We just sold our house, where we have been living the past 6 years, so my husband could take a career break. We will be moving out of the UK in a few months. We don't know where we will relocate yet, but we do know why we willdo it! He will take care of our children while I focus on my art and business.
I feel grateful and excited (and a bit scared too!) to get a real chance to make my dream come true.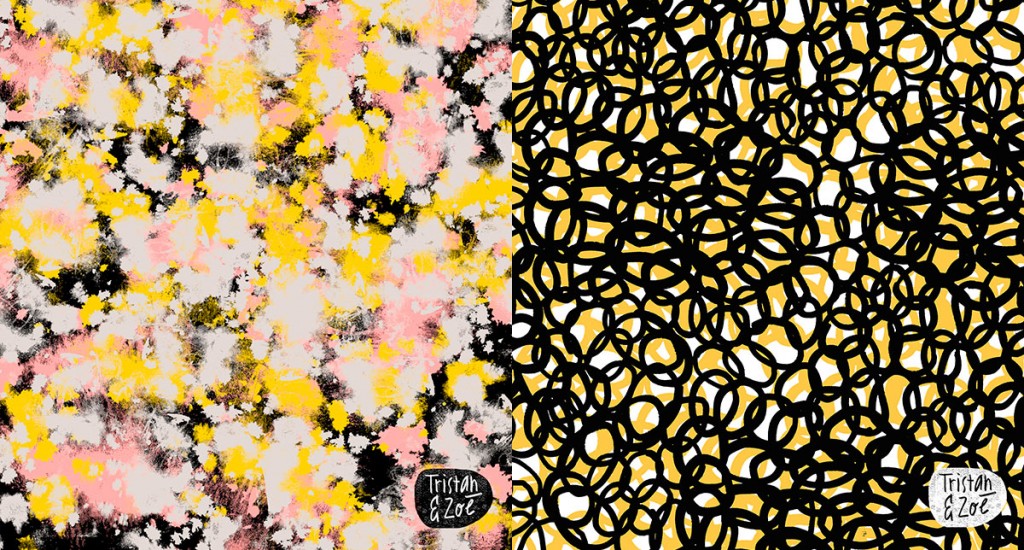 "All the patterns seen in this post were created in the past four months, and most of them have been inspired by courses and challenges I have taken in the TDL.
"They are mostly abstract, bold, and colourful prints. I have used several techniques to create my motifs (drawing with china ink, stamping with foams, using cut out papers, acrylic paint, and sprayed inks). Then I worked in Photoshop (I promise I will learn Adobe Illustrator this year!), mostly playing with layers, textures and of course colours!
"I aim to have a professional website and portfolio to start reaching out for my first clients later this year. I would love to work with ethical and sustainable brands who contribute to make the world a better place.
I want to be able to play with colours, shapes, and textures every day from anywhere in the world (we have big travel plans as a family this year), and make a living from my artwork. And I think the universe is conspiring to help me succeed!"
See more from Alexandra on Instagram and be sure to sign up for SURTEX's newsletter here. I send out helpful content through their newsletter each and every month.