If your goal is to have your textile designs make it into the fashion industry, you're in the right place. I've put together five guidelines regarding creating pattern designs for the fashion industry. These industry insights will help you to create stunning patterns that are perfect for whatever market you are designing for. I developed these guidelines after my 15+ years of experience in this industry and having the opportunity to work with some incredibly talented fashion designers and merchandisers along the way!
Guideline #1: Flatter the Customer
The first guideline is to create pattern designs that flatter the body and are consumer right. This guideline is mentioned first because it is very important to the fashion industry, but not applicable to other textile design markets (home décor and stationary, for example). It's important to make sure that your motifs are properly placed in the layout or repeat, because you don't want motifs to highlight the body in an unflattering way. Ask yourself, does the placement of your motifs create accidental stripes that take away from the movement of the design? Or does the movement within your pattern flatter the body?
Guideline #2: Consider your Market
The second guideline is to create pattern designs that are consumer driven.
You want to constantly ask yourself:
Are the motifs right for this market?
Are you using colors that feel like a good fit for someone in this market?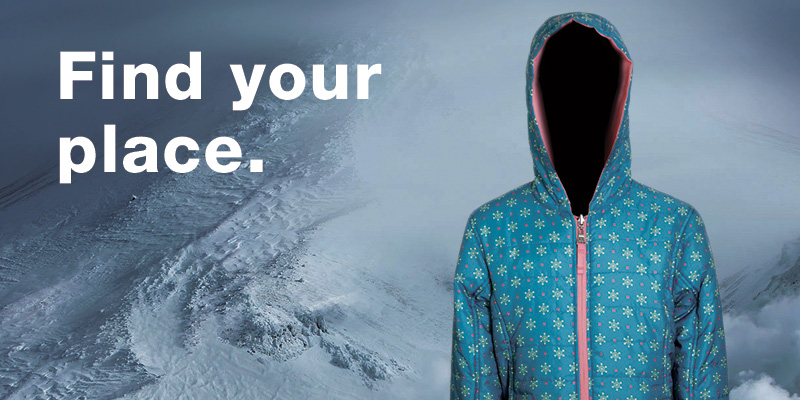 Guideline #3: Consider the Trends
The third guideline is to design patterns that are "trend right." Fashion trends are an important considerations for people in the fashion industry. As such, the designers who develop an eye for trends are the ones whose services are in demand in the market. Despite the importance of trends, there are still some hesitations. The largest hesitation is the fear that your style or creation will look like a knockoff runway look. I assure you, with the proper commitment to trends, this will not happen.
Incorporating trends into your work DOES NOT mean that you have to knock off designs that are on the runway. In fact, for the most part, buyers want the opposite. Buyers are looking for patterns that interpret the current trends in a way that fits with the brand image of the company he or she represents. They are also looking for something unique to their company, something that their competitors won't have.  These are the very reasons why trend interpretation is so important! It's your creative voice and mark of originality in a crowded marketplace.
Trend interpretation is important for:
Keeping your work fresh;
And, having a higher demand with fashion designers who are developing trends in which they need patterns that will work with their interpretations.
By following trends you are doing both of these things. Additionally, you can offer your buyers exactly what they are looking for when shopping for patterns for their next collection.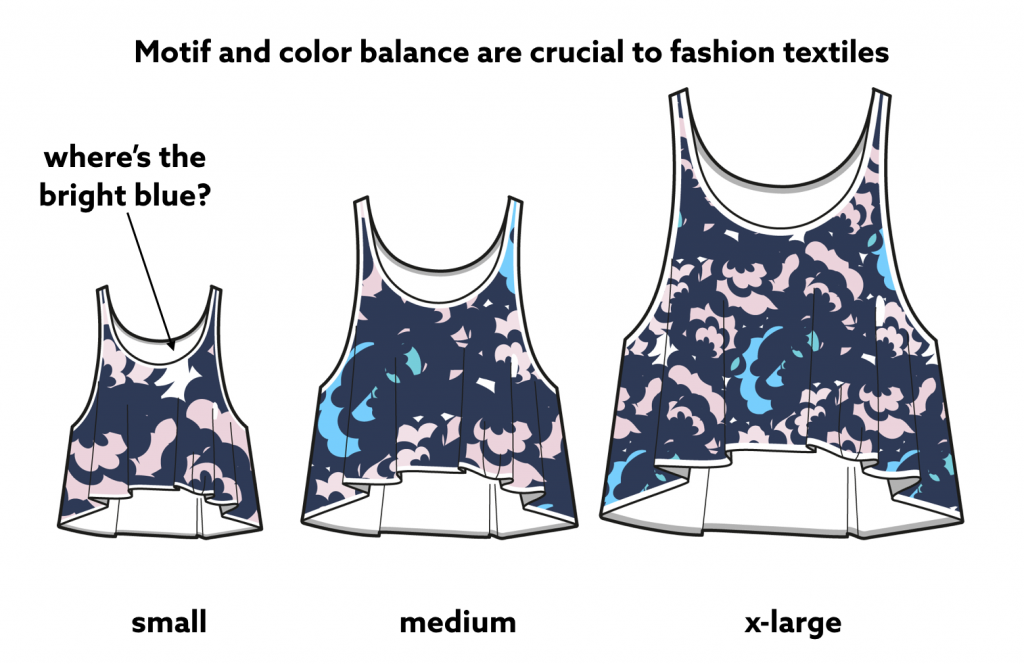 Guideline #4: Create Balance Within Your Pattern Designs
The fourth guideline is to design patterns that are balanced. Motif and color balance are crucial to fashion textiles. This is because each garment should look similar on the rack, regardless of size. Imagine browsing through a rack of shirts and realizing the extra large has bright blue flowers and the small only has navy blue. Retailers know that each garment should represent the pattern in the same way, creating an even balance of color and a visible motif in each garment on the rack. As a designer in the fashion industry, it's important that you keep scale in mind and make sure that all motifs and colors are used in a balanced way. In the women's activewear market this is especially important because much of the work is with smaller garments, such as tank tops and bras.
Guideline #5: Quality is Key
The fifth guideline is to design patterns that are of the highest quality. So what makes a pattern high quality? A few telltale signs include:
Avoiding obvious Photoshop filters;
Using a sophisticated repeat that is difficult to see;
And, using linework that has a thickness of at least one point so the details are not lost in the printing process.
The fashion industry can be an exciting market to design for if you understand how you can keep your beautiful individuality, while also creating styles that are appealing to buyers. Want to learn more about creating pattern designs for the fashion industry? Get started with this free training.