Each of us has a unique designer journey. Some of us went to design school and began working in the industry directly out of school. Others discovered design later in their lives. Some designers earn a living freelancing for clients. Some designers create patterns that align with their style and brand, while others prefer to teach and support the community in different ways.
In this month's Textile Design Lab guest expert presentation, designer and author Rachael King will be sharing her surface pattern design journey with our members. She'll share how she has designed a business that includes many income streams, including licensing, branded products, Spoonflower, book sales, tutoring, and guest talks. This presentation takes place on Monday, September 20th at 7 pm Eastern and is available to our TDL community, which you can join here.
In this interview, Rachael King shares insight into her journey and process. We hope that you find this post insightful and inspirational!
Rachael King's Journey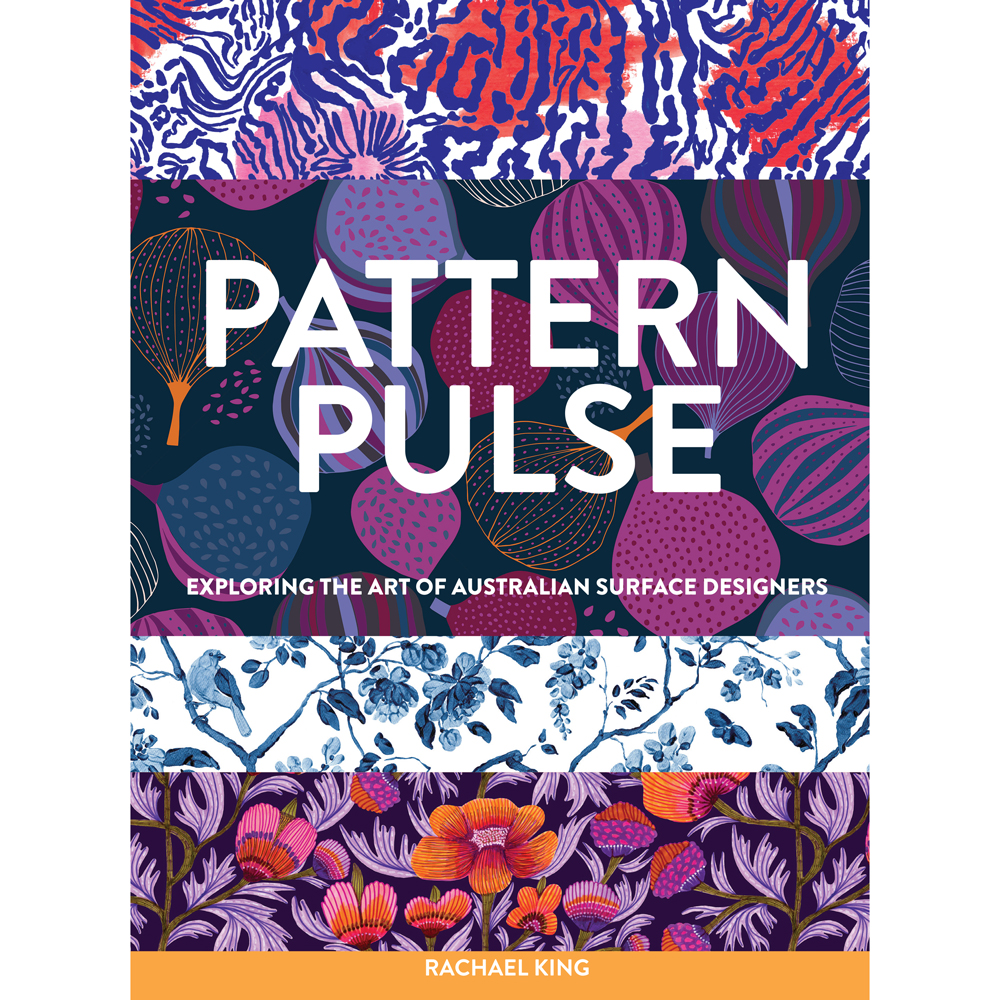 Tell us about your design background. How did you become interested in surface pattern design?
I was that child who lorded over the craft table at preschool. It was my domain. If you wanted to sit at
the craft table it would only be because I let you and even then there were certain things you couldn't
touch!
Amongst many things, my mother was a seamstress so my earliest memories are of watching her sewing
clothes for me and my siblings. I was so interested in how the patterns repeated out over the fabric she
used. I would sit and study them and try to work out where they started and ended. It was soothing for
me. Mum ended up owning a fabric shop in which I worked and I resolved to find out how to get my
own ideas onto fabric one day. Looking at patterns on people's clothing amazes and delights me daily.
Roll forward and art has always been part of my life but it was on the fringes. I thought I had to do a
business degree when I left school but all I wanted to do was a visual arts degree with the cool art kids.
Life and family happened and eventually, I got the opportunity to return to study Graphic design when I
turned 42. I had a defining moment that led me to truly engage in what it was I wanted to do.
After this, I did the 'Make It In Design' Modules, created a portfolio, and was fortunate to be represented
at Surtex, NY by Nerida Hansen. This is when I secured my first licensing agreement with the Australian
fabric company, Spotlight, and started my career as a Surface Pattern Designer.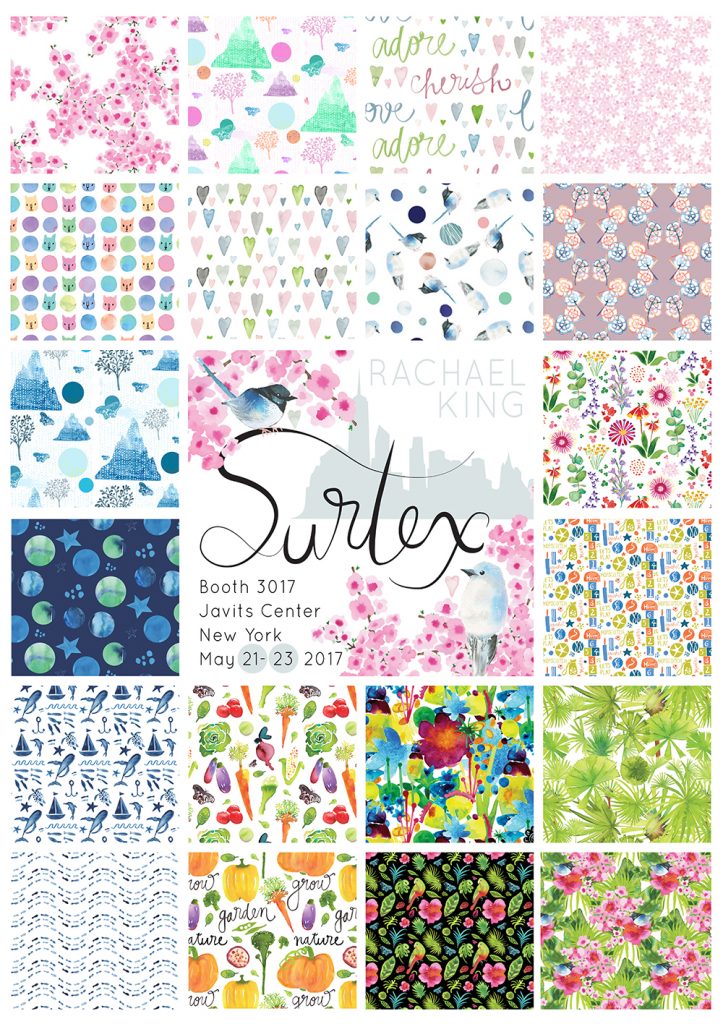 What does an average day look like for you?
The first thing I do each day is sketch, doddle, or paint with watercolour anything that pours out of my head
and I am set up for the day! (I read a book about Kikki K (stationery queen) that mentioned that the first
45 minutes of your day should be carved out for your creative time. That way it doesn't matter what
happens for the rest of the day because you will have something positive for yourself to reflect back
upon)
Next are emails, socials, and planning. I am in the midst of writing some workshops which help Visual
Artists in remote communities in Queensland (where I live in Australia) to get their art out into the
world. It is a gentle way to explain how to get your work onto a product without being overwhelmed by
technology. I am also working on client briefs, one is for a fashion label so will send ideas and
recolouring to my client for feedback. My planning time ends with me researching Australian Surface
Designers to include in the next Volume of Pattern Pulse which I will start in January 2022.
After that, it is creating time! I love nothing more than getting to my sacred couple of hours of scanning,
cleaning up, and starting repeats. It is the happiest part of my day!
I will finish my day by communicating with my manufacturers in India to make sure that the colours are
right on my latest tea towel order which I need for upcoming Christmas markets!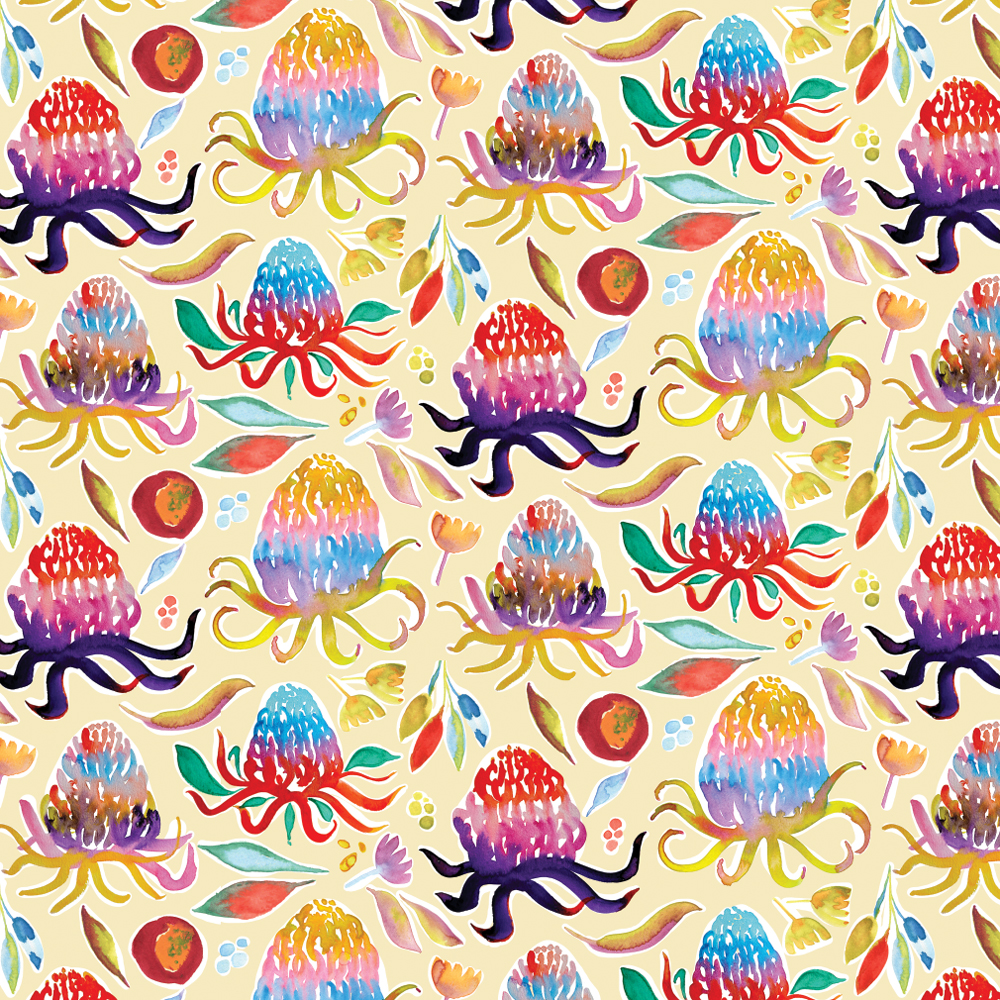 Tell us about your design process. What media/design tools do you like to use?
My designs start off with me looking at pictures in magazines, sketches, ink drawings and then onto
watercolour. Mostly florals in bright colours, I just cannot get away from these themes! Once I have
scanned the watercolours into the computer, I clean them up and use Photoshop to create my repeat
patterns. I have been using a half-drop diamond repeat method for years, but am trying to break out of
this into larger repeat tiles to avoid any obvious lines and colour stripes.
Where do you gather inspiration for your work? Are there any books, blogs, magazines, etc. that you recommend?
I have a stack of Australian flora and fauna books that are constantly being mined for ideas. I feel that I
need to be true to the glorious colours and shapes of my natural environment by including them in most
of my designs. I am keen however to do modern interpretations to keep it interesting and progressive.
I am a big fan of Uppercase magazine just for the pure visual joy it gives me, Print and Pattern Blog to
see what everyone is doing in the world, and listening to Margo Tantau's Windowsill Chats for the
gloriously inspiring stories of people in our industry.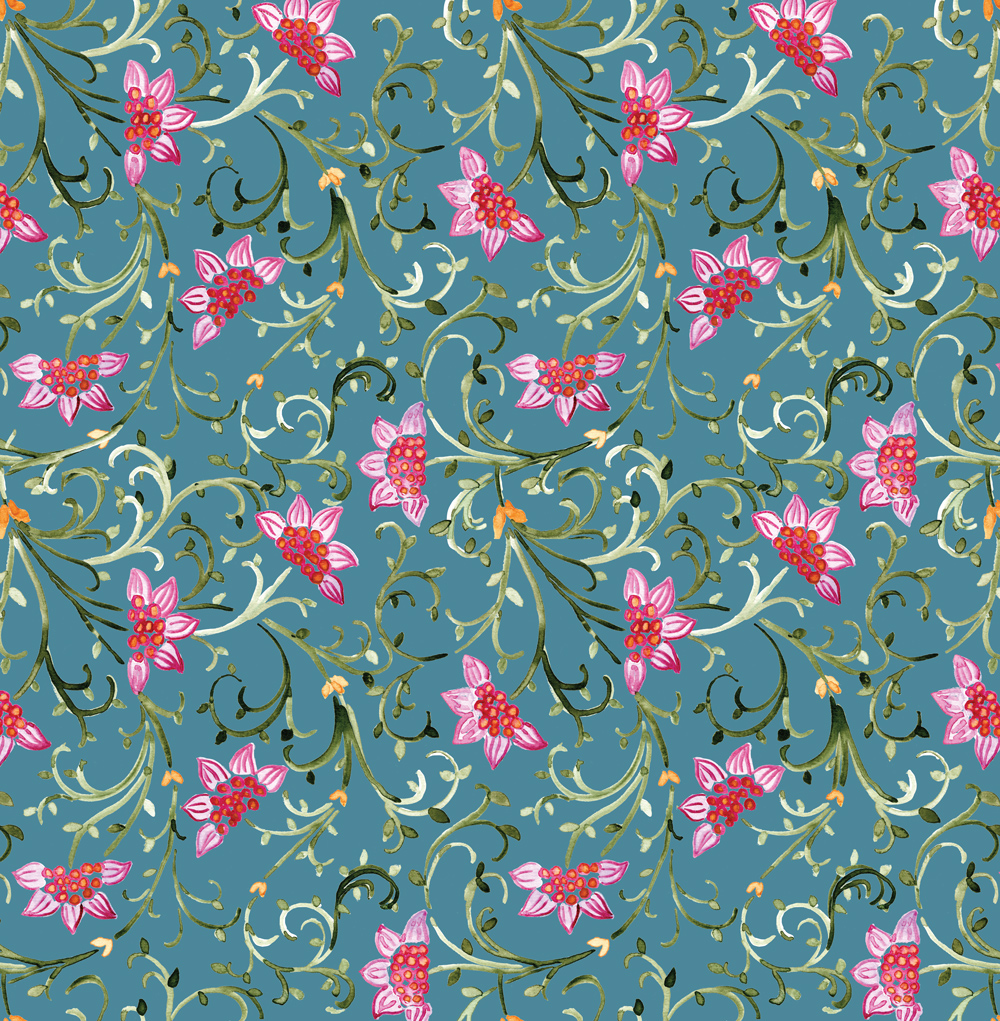 Do you have a favorite pattern style to create or a favorite market to design for?
This is a hard one for me because I absolutely love to see my work on fashion but I am also drawn to
traditional patterns like those of James Leman. I think my licensing work is more commercial, my
branded work is loose, bright, and uplifting and my personal growth work is studying the masters to see
how they did it before Adobe!
Are there any current pattern trends that are particularly inspiring you?
Oh yes! I just love the intensely layered and coloured florals that are out at the moment. I did this
pattern in response to this trend.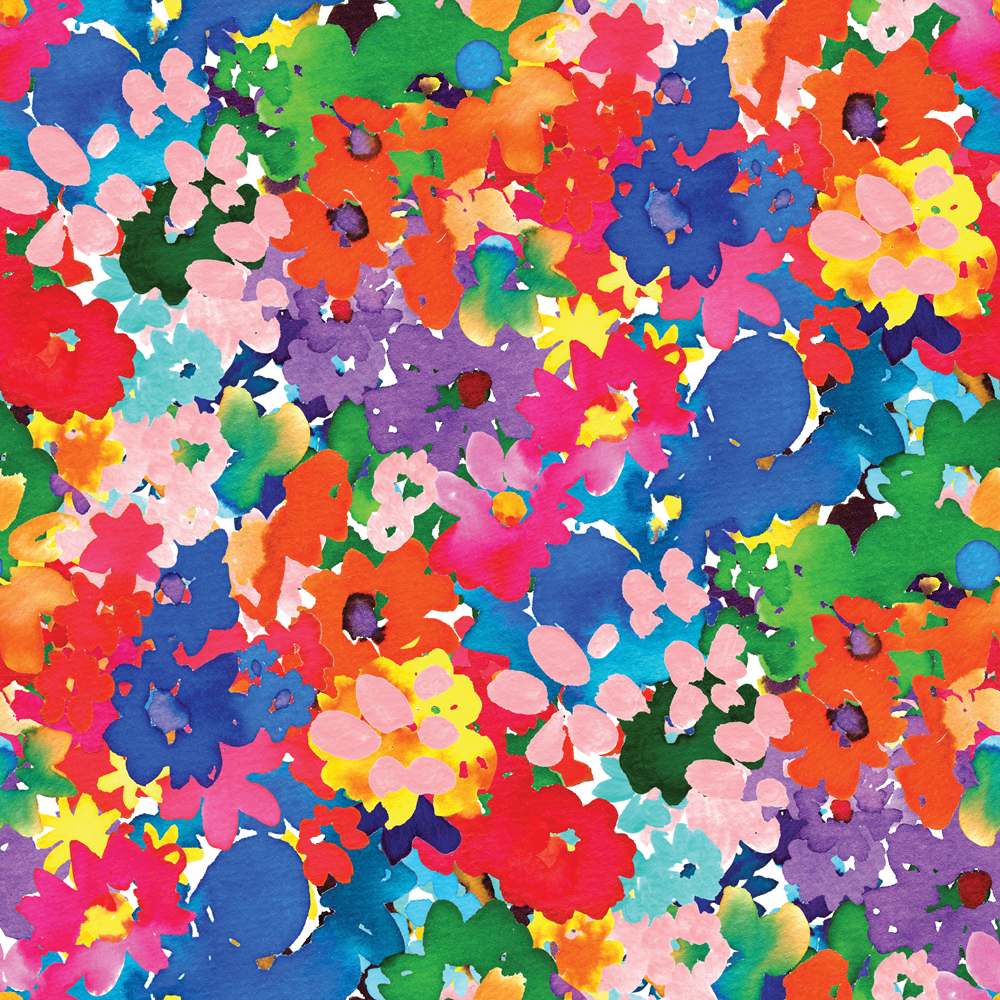 What have been your greatest successes so far in your business? What would you like to work on next?
Design-wise, getting a collection of fabrics printed with Spotlight, Australia at the beginning of my career
was such a buzz and gave me the encouragement that I could work at a commercial level.
Community wise, my greatest success was getting to self-publish a book about the incredibly talented
Australian Surface design community. On the back of Pattern Pulse, I have had the pleasure of meeting
so many beautiful women who support and lift each other up in our SPD businesses. Designing is my jam
but sitting around a table with like-minded women brings so much joy and encourages me to keep doing
what I love.
I would love to work on a quilting range in the future.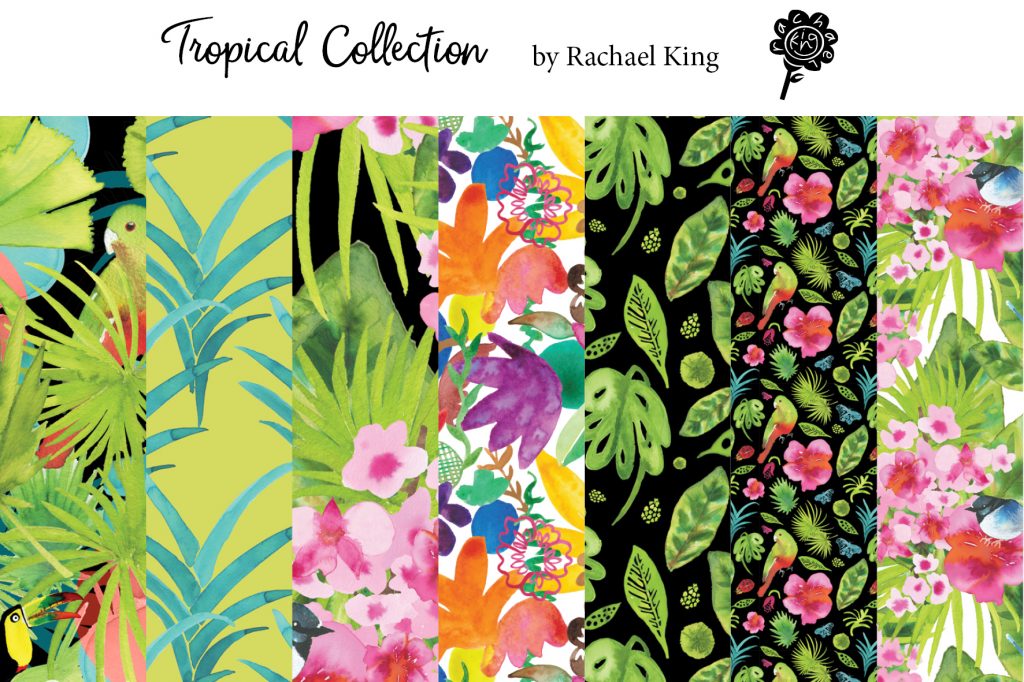 What advice have you received in your career that has stayed with you or influenced you?
To do your own thing and do the work – just sit and really knuckle down on what comes naturally,
intuitively, and makes you happy. Also, remember not to be afraid to change your style over time – that
our creativity changes as we do.
Can you give us a quick preview into the training you will be offering to our Textile Design Lab members?
I am really looking forward to sharing my story to illustrate how our Surface Pattern Design journey can
take us in so many directions and how I have shaped my business to offer many income streams
including licensing, branded product, Spoonflower, book sales, tutoring, and guest talks. I hope that it
will inspire other designers to find their way to making a credible income source from their art practice.
A big thank you to Rachael King for this interview! You can join our Textile Design Lab community here.