Last month, Michelle and I had the exciting experience of exhibiting for the first time at Surtex at the Javits Center in New York City. We brought the work of over 100 Textile Design Lab members alongside those of our Pattern Observer Studio designers. We wanted to share a bit about this experience with you, what it took to prepare, what it was like being at the show, and some of the insights we gained along the way. If you have additional questions that aren't answered here, please let us know in the comments below! -Chelsea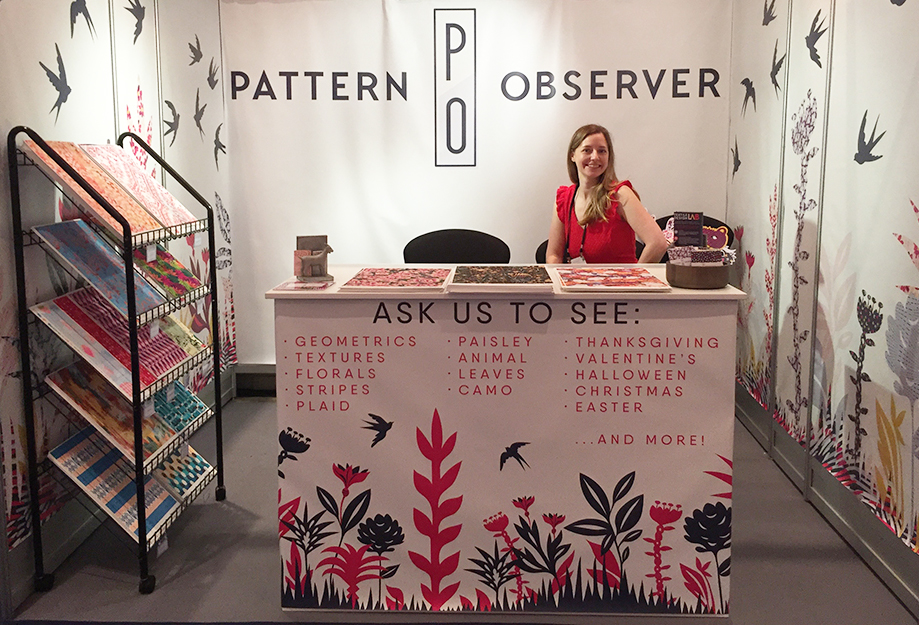 Surtex Preparation
Michelle and I started preparing for Surtex in January, starting with a big brainstorm in a shared Google doc. One of the first things on our mind was how we should set up our booth. We knew we wanted to keep things relatively simple/clean, taking into account the visual overwhelm that can occur at a trade show, with buyers seeing pattern upon pattern, booth after booth. We mocked up several ideas in Photoshop and finally settled on a large Pattern Observer logo for the back wall, and a playful garden theme for the side walls, with patterned flowers, flocks of birds, and plenty of open space. This theme carried over to all of our marketing materials for the show as we wanted to put out a consistent look that would stick in buyers' minds.
We printed our banners through smartpress.com and they turned out beautifully–crisp and with exactly the colors we intended. The process was easy and the Smartpress team was super helpful as we made minor adjustments to our banners before printing.
We had a small portfolio book printed through blurb.com featuring some of our past client work. Unfortunately this went missing early on in the show as someone thought it was a take-away (it was pretty small, about 8″x8″, so it was an easy mistake to make!)We used moo.com to print Michelle's and my business cards, along with flyers that talked about the Textile Design Lab and what we offer.
In the two weeks prior to Surtex we reached out to attendees via the Surtex exhibitor console, an online platform that allowed us to see all registered attendees, what companies they worked for, what positions they held, and whether they preferred to buy or license patterns. While this did not prove fruitful for us in terms of landing appointments, it was interesting to see who was going to be at the show and to familiarize ourselves with lots of new-to-us brands.
About a week before the show, Michelle shipped two large boxes to the Javits Center which were stored by the show contractor, Freeman, until they delivered them to our booth on Friday. She also shipped a large box of prints to our hotel. Everything went smoothly and arrived as scheduled, phew!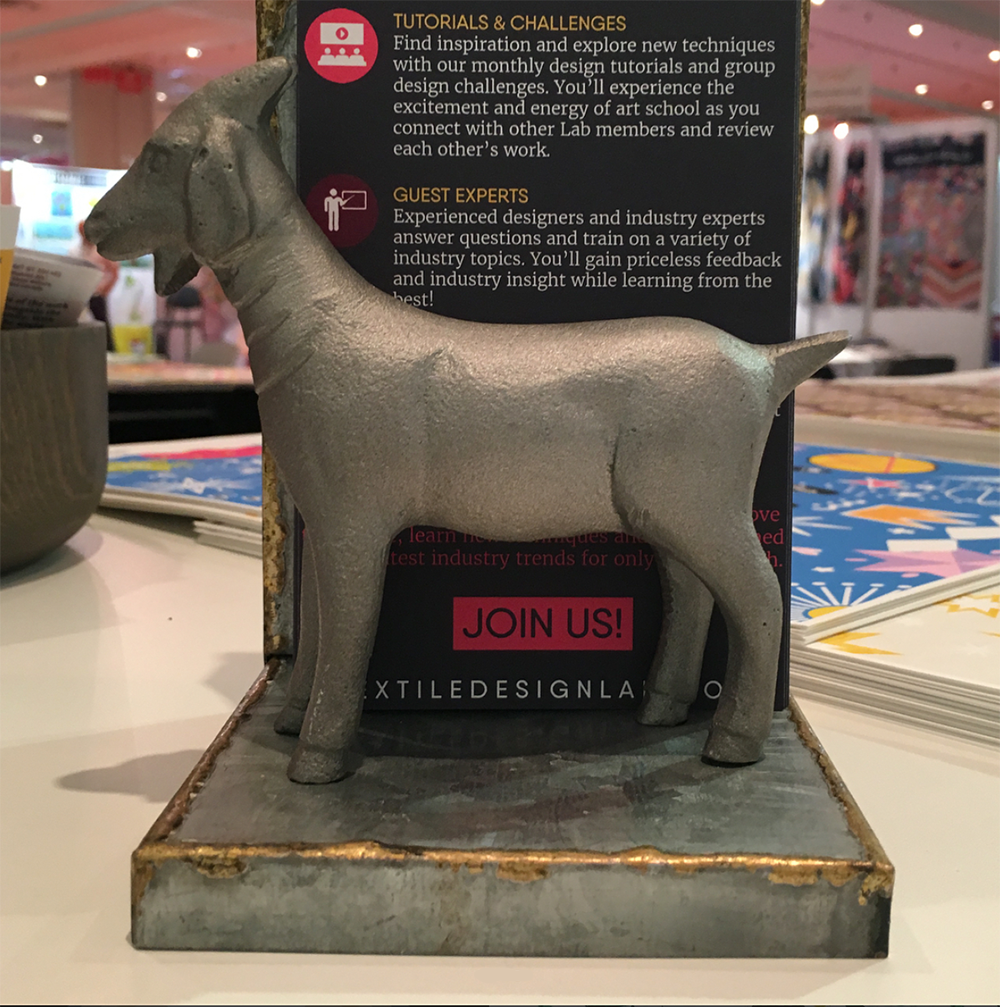 Our Pattern Designs
Then of course the most important part, was figuring out what artwork to bring! When looking through our existing pattern collection, we knew it was strong on abstract, textural, and geometric designs but lacking in certain categories that would be popular at Surtex, such as conversationals and holiday themed patterns. We also really wanted to get the Textile Design Lab students involved and offer an opportunity for their work to be shown at the show. This led to creating specific briefs for Lab members to design around, including florals, Halloween, Thanksgiving, and winter holidays. 
Lab members had certain requirements to meet in order to be involved, including:
Submitting their work to Textile Design Lab's private forum
Each design receiving a critique by the Lab's team of expert designers
Based on critique and feedback, the opportunity to revise work was offered
After additional review of member's artwork, including checking the technical aspects of the file in Photoshop or Illustrator, we made the decision of whether they were ready to be presented at Surtex.
The standards were high and we could not have been more proud of the collection of patterns we brought to the show. Our members really brought their A-game and while the preparation of over 800 patterns was a real bear to get done before the show, it was well worth it as the majority of work that got buyer interest at the show was created by our Lab members (including the two patterns we sold!)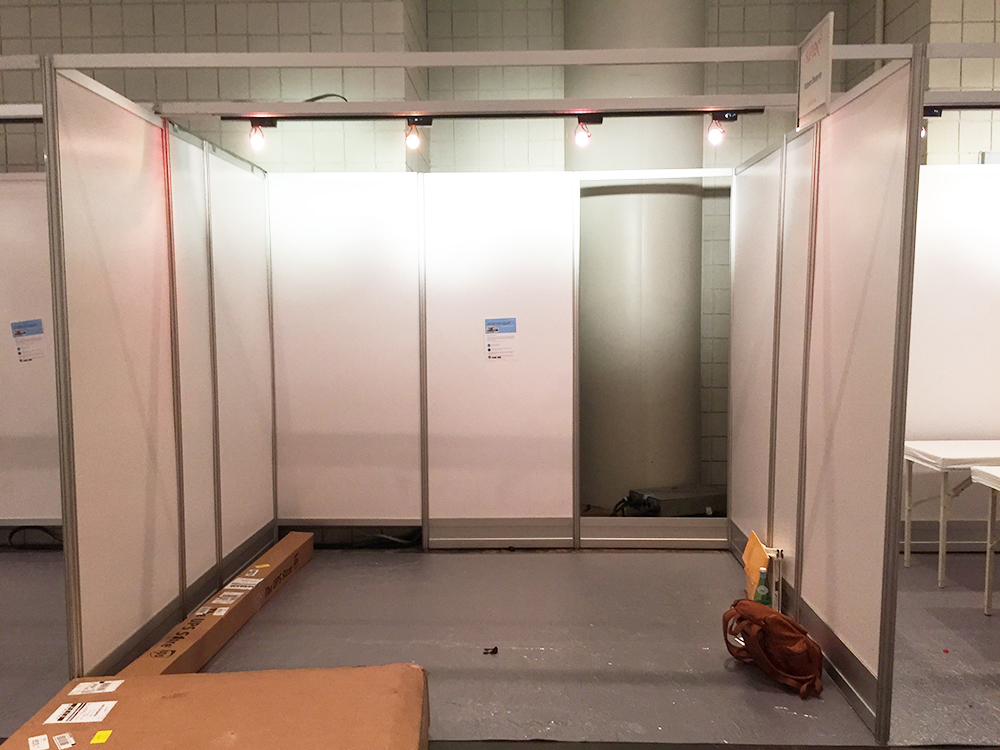 Surtex Pre-Show – Friday and Saturday
Textile Design Lab member Susan Brand met up with me at the Javits Center on Friday afternoon to help with our booth set-up and I couldn't have asked for a better set-up buddy, what a rockstar!! We had a great time chatting and hanging banners, and joking around with the Freeman crew as they went around to the booths setting up lighting, wall panels, and laying down carpeting for the show. We were one of the earlier booths to set up, and many did not start setting up until Saturday afternoon. Now that I know our booth set-up only takes a few hours, I would be comfortable setting up the day before, but it was nice to have the extra day since it was our first time exhibiting.
Freeman offered lots of customizable options for booth displays, but the basic options for our booth size (8 x 10 ft.) were a short or tall table and two chairs, and we opted for tall to allow us to either stand or sit at eye level and feel more active in our booth. The table and chairs were delivered to our booth shortly after Susan and I met up. I was surprised at how spacious it was under the table and we were easily able to store everything we needed, including a step ladder and the large suitcase I rolled over from our hotel on Sunday morning containing all of our printed patterns.
After Susan and I wrapped up at the Javits Center on Friday, I walked back to our hotel a few blocks away to meet up with Michelle who had just flown in. The next day Michelle and I put finishing touches on the booth and then worked most of the day at the hotel, organizing patterns into categories in Dropbox folders, with the royal wedding playing in the background. Michelle (aided by her precocious daughters Ruth and Cora!) had already organized our printed patterns into categories before shipping them to the hotel, but with the huge number of patterns we had to show some digitally as well.
We went around the corner for some delicious Thai food to wrap up our Saturday evening, then with the show starting at 9AM the next morning, tried to get some shut-eye!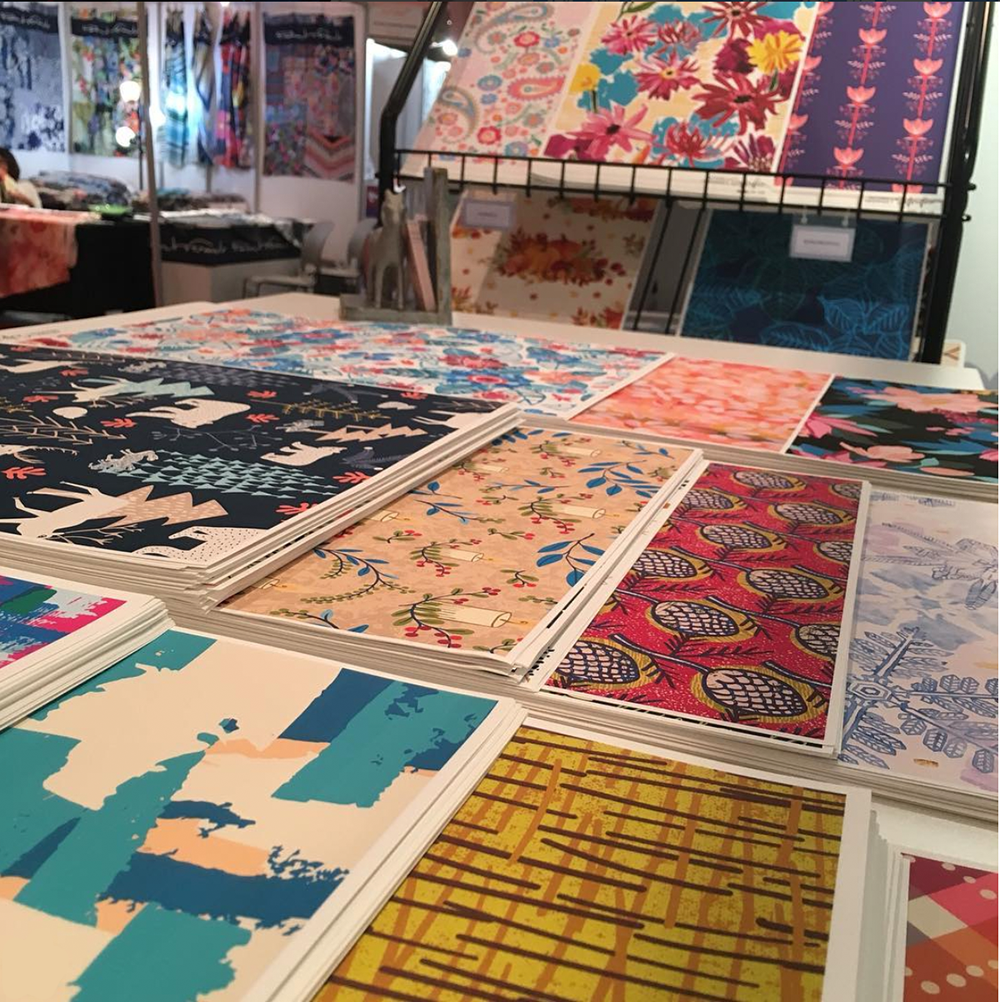 Surtex Day One – Sunday
We got up around 7:30AM and grabbed some coffee to bring over to the show (we found out later that the Starbucks lines at the Javits Center are loooooong!) Exhibitors were allowed on the sales floor starting at 8AM, but since our booth was ready to go we got there close to 9 when the floor opened up to buyers and other attendees. I rolled my suitcase over containing our printed pattern collection and Michelle and I set about displaying the patterns in categories on a metal rack we had ordered from Amazon, as well as some in stacks on the table. Throughout the show we alternated the patterns that were on top to try to attract different brands' styles, and to get different artists' work seen.
Michelle gave me a quick run-through of the Quickbooks software we would be using to invoice for any sold patterns, then we introduced ourselves to our neighbors in the Atelier section (where studios who typically sell rather than license were placed.) We were surrounded by Lili Graffiti to our left, Colwill & Waud directly across from us, and Plinto Studio to our right. It was wonderful to chat with our neighbors a bit when traffic was slower and to hear their take on how things were going, particularly Colwill & Waud who were show veterans and have been exhibiting since Surtex's early days!
We sold two patterns on Sunday which was a great way to kick off the first day of the show, and made several strong contacts to follow up with post-show.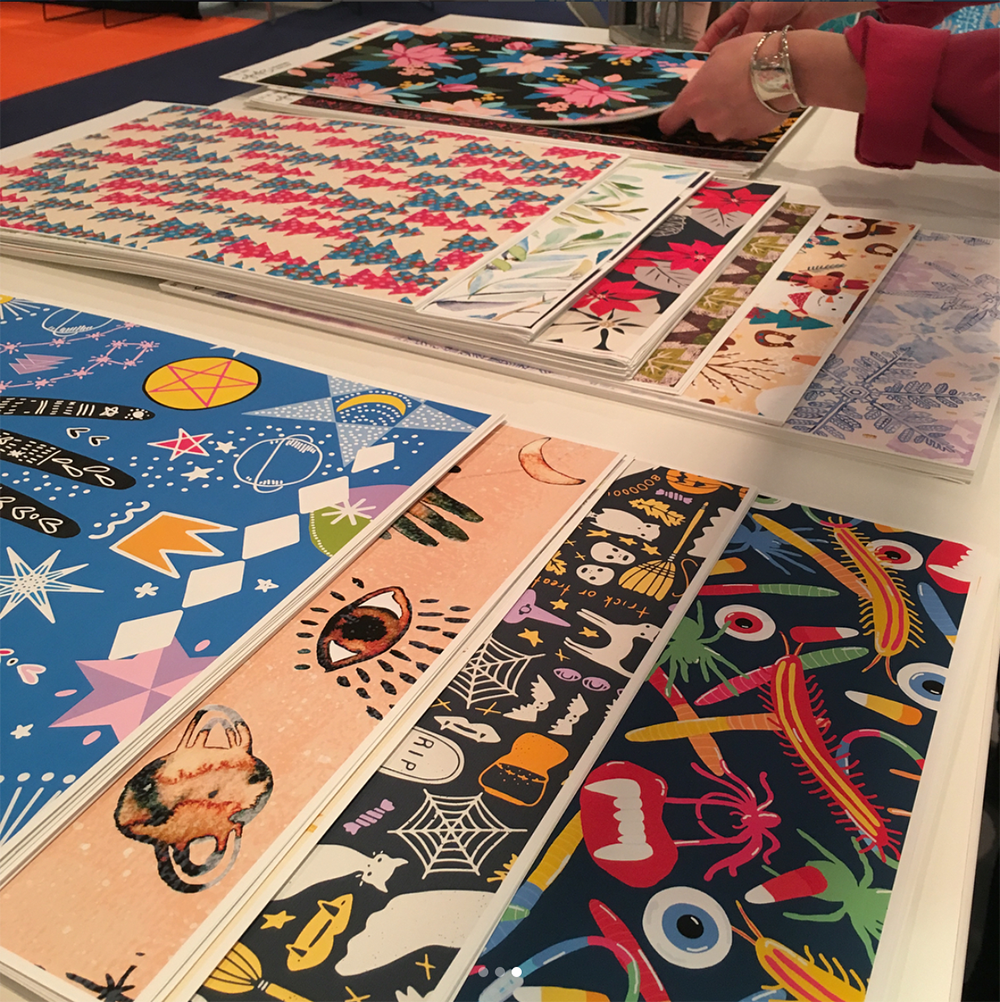 Surtex Day Two – Monday
Monday morning got off to a slower start than Sunday but once it got rolling seemed to have more activity over all. We made two really good contacts in a row who flipped through a lot of prints. We got a lot of interest in conversationals and holiday and autumn designs.
It was really exciting putting faces to names–meeting lots of our Textile Design Lab members in person, and others whom we've interacted with online for years but never met face to face. We chatted with students and recent grads walking the show and trying to get a feel for exhibiting next year, agents, and fellow exhibitors who came to our booth to introduce themselves. We had the pleasure of meeting artists from the US, UK, France, Mexico, Argentina, Australia, and more! We also had some people come to the booth who were pitching us on their products or services, which were interesting exchanges as well that we hadn't anticipated.
Surtex hosted a happy hour for the last hour of the day which was a nice way to wind down and socialize a bit with other exhibitors in the Atelier section.
Surtex Day Three – Tuesday
The last day of the show was the busiest one for us. We made several great contacts that we were really excited about, including chatting for a good 45 minutes with a team from a women's fashion brand. They were one of the only fashion clients we met at the show, and of course being from a fashion background, we instantly hit it off! They loved a particular conversational print from our "Mystical" category but weren't sure about the background color, so I pulled the pattern up in Photoshop on Michelle's laptop and was able to show them a new background color in real time.
We also had a great chat with an agent, as one of our goals at the show was to find a sales representative to help bring a continuous stream of sales for the Textile Design Lab community. (If you know of an experienced sales rep who might be interested in the job, please feel free to pass along their contact information to us at info@patternobserver.com!)
Lots of exhibitors started to tear down at 4PM. My assumption was that they had flights to catch as the show officially ran until 6PM, however there was not much traffic for those last hours so buyers likely got the memo! Michelle and I started to tear down somewhere around 5:45 and spent the better part of the evening in the booth getting things packed up and ready to ship back to Michelle's home in Asheville, NC. One of our shipping boxes got lost in the shuffle but the Freeman team was super nice and helped us fashion a new package out of a big piece of cardboard and lots of shrink wrap! They took care of shipping the banners and metal rack, and the next morning Michelle and I brought the print collection to FedEx to ship back to her house.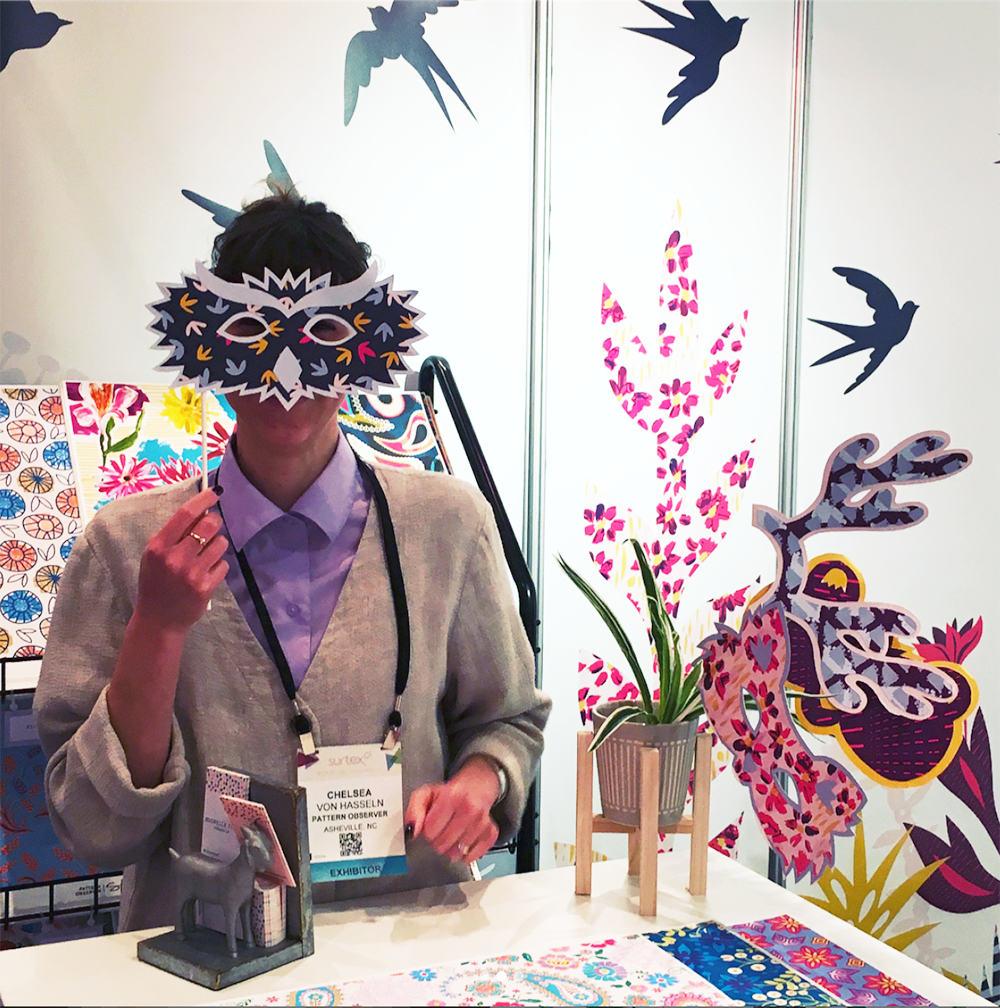 Surtex Takeaways
*Having never attended a trade show prior to Surtex, I had built it up to be something in my head that was intimidating and out of my league. I want to say to all of you out there considering exhibiting, it's not so scary! Yes it is a significant financial investment, but if you can get over that hump, there is a place for you there and you will make some wonderful connections (not just with potential clients, but with fellow exhibitors as well!) We found the camaraderie at this show to be so lovely and noticed that studios would refer clients to other booths if they knew their style wasn't the right fit, but someone else's was. I definitely felt a sense of community and an appreciation for the kind and talented people who make up our industry.
*It was so interesting to see the different ways people set up their booths. Some used peel and stick backing to mount images to the walls of their booth, others used double-sided tape, some hung banners from the tops of their booths using binder clips, and we used Command Strips to affix our banners to our booth panels. Most studios displayed paper printouts of their artwork, but there were definitely some booths who had their designs on fabric headers, and even artists whose portfolio consisted entirely of hand-painted designs. There were a few booths I noticed take down all of their artwork from their booth walls each night as an extra precaution, but most booths stayed completely assembled and we felt comfortable to leave the Pattern Observer booth assembled–we just pushed our rack of prints to the back of the booth and turned it around so the prints were facing the wall. Some booths covered their prints with a cloth or put them underneath their table. The point here being–there's no "right" way to do any of this–if you plan to exhibit in the future, do what feels right for you and will cause the least amount of stress! Booths don't have to be super complicated! Some of the most beautiful and striking displays were super simple. Our neighbor, Plinto Design Studio, had just a black backdrop, two large potted plants, and a sign with her studio logo, and it looked absolutely stunning!
*Some buyers liked flipping through the patterns at their own pace and some wanted to be more guided. For these buyers we would either pull specific patterns out of the stacks for them that we felt would be a good fit for their brand, or we would flip through particular categories for them that were of interest and let them just take it in. When a pattern caught their eye we would set it aside and write down the pattern name to follow up with them after the show. For each person we talked to I tried to write down notes about what we talked about, what categories they were interested in, and whether they preferred to buy outright or license. I also took down their contact information and paper-clipped their business card to these notes. This was really helpful to refer back to when working on follow up emails as all of the conversations we had would have been hard to keep straight after three days of networking!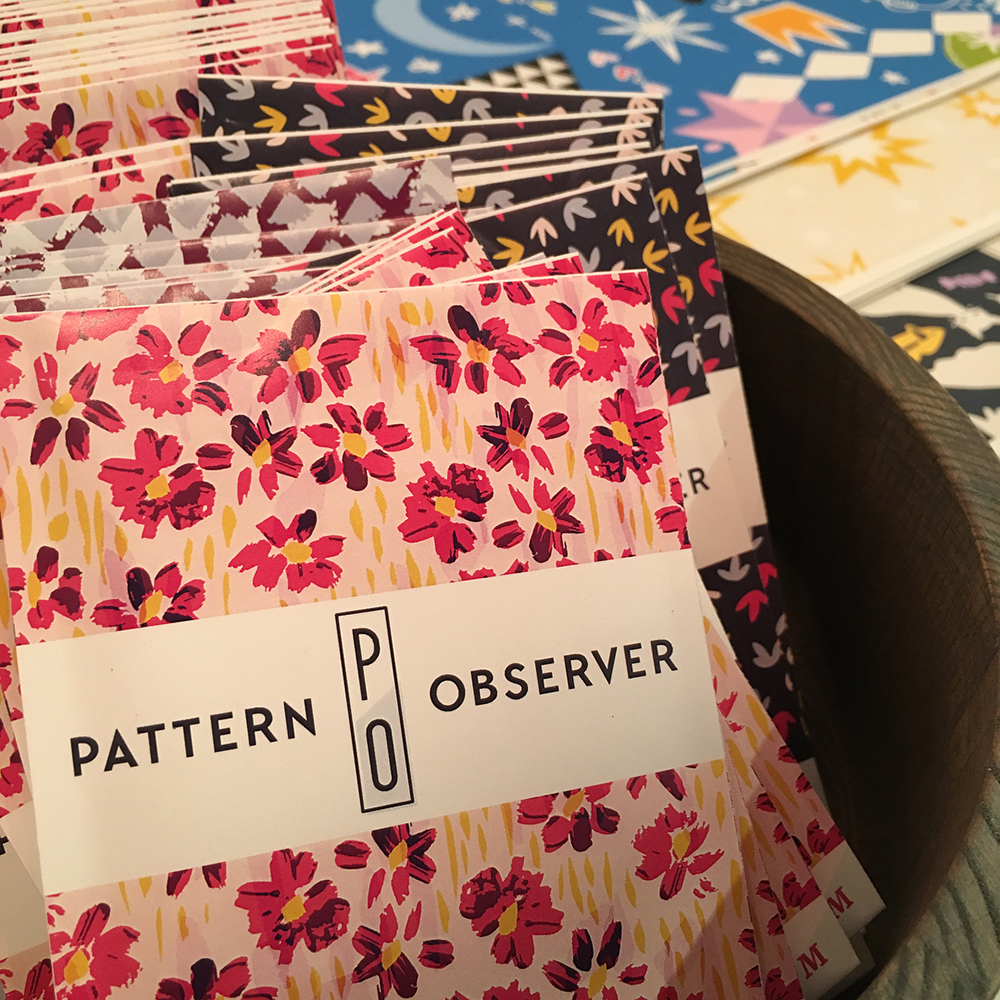 *We handed out custom printed seed packets, containing wildflower seeds as a giveaway. These seemed to be a big hit and were a fun way to draw people into the booth. As people walked by and had a "just browsing" face on, we would often catch their attention by offering them a seed pack. This was a quick and easy way to hand out information about Pattern Observer as we had a little blurb about the company written on the back. Lots of booths were handing out candy, and there were some other beautiful items being given out like coasters, stickers, magnets, and postcards.
*If there's anything I might do differently next time it would be to get out of our booth a bit more and be more proactive about introducing myself to other exhibitors. Michelle was great about this and made lots of new friends at the show. Being a bit more of a homebody I was most comfortable planting myself behind the counter at our booth and greeting people who walked by, but the balance between Michelle and I worked out well! We had a great time at Surtex and plan to come back next year.
If You're Considering Exhibiting…
*Watch the Surtex webinars. They put these presentations together to help first time exhibitors, and the pointers provided by the presenters definitely helped guide some of our decision making throughout our show preparations.
*Try to attend some of the presentations on "The Boulevard." This was an area of the floor between Surtex and the National Stationery Show (which shared the lower level of the Javits Center with Surtex,) behind all of the booths, that was set aside for presentations by industry experts throughout the three days of the show. Michelle and I each went to two presentations and found them to be really informative and inspiring. It's also nice to step out of the booth for half an hour and get a change of scenery to feel refreshed before returning to your booth. (This was definitely a benefit to having two of us manning the booth–if you are flying solo it might be more difficult to get away for that period of time.)
*Read as many blog posts as you can about other exhibitors' experiences. This helped us SO much in preparing and making decisions prior to the show. Here are some of the posts we found to be really valuable:
http://shannonmcnab.com/blog/2018/2/18/surtex-2018-the-importance-of-smart-marketing
http://shannonmcnab.com/blog/2017/5/12/surtex-2017-recap-part-one
http://shannonmcnab.com/blog/2017/7/7/surtex-2017-recap-part-2
http://shannonmcnab.com/blog/2017/8/20/surtex-2017-recap-part-3-the-cost-value-of-exhibiting
http://www.nicoletamarin.com/blog/surtex-prep-and-planning-counters.html
http://www.nicoletamarin.com/blog/surtex-2012-i-came-i-saw-im-so-coming-back-next-year.html
http://www.shannonhays.com/partygirl/2017/7/31/surtex-2017-review
http://www.happyhappycollective.com/blog/2015/5/25/surtex-2015-recap
http://www.corinnehaig.com/blog/2016/8/20/top-10-surtex-lessons-learned
http://creativeconceptsdesignstudio.blogspot.com/2013/04/10-thoughts-about-surtex-experience-by.html
http://blog.kimmoulder.com/2014/05/i-did-it-my-first-surtex-experience.html
http://blog.kimmoulder.com/2014/07/more-about-surtexthe-nitty-gritty-part.html
I also spent a lot of time combing through the Surtex photo galleries from past years trying to get a feel for how people set up their booths, even what to wear (by the way, at this year's show it ran the gamut from jeans and tee shirts, to business professional, to custom printed ensembles–we even saw custom printed sneakers featuring an artist's designs, which were so cool!)