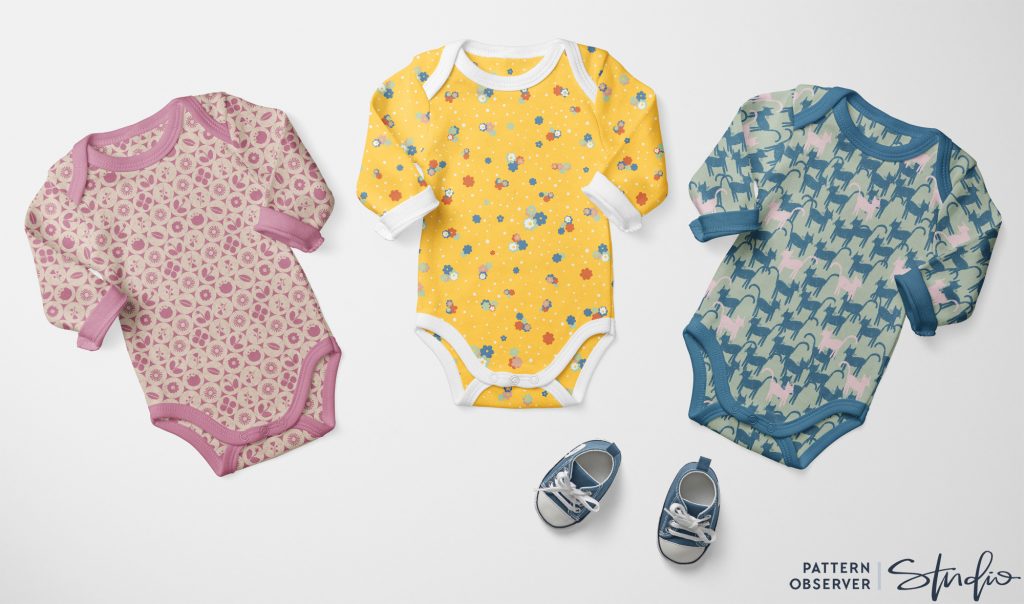 As you may know, Pattern Observer Studio exhibited at Premiere Vision and Surtex this winter, and we are delighted to announce that we will be returning to Premiere Vision New York this July. At both PV and Surtex we spoke to a number of manufacturers in the kids/babies market, and returned home from the shows excited and inspired to grow that category within the studio's collection. What's cuter or more fun than a pattern for a tiny onesie, right?! So, over the past month the talented designers in our Textile Design Lab have been hard at work developing patterns for kids and babies based on these fun trends for Spring/Summer 2020:
Energetic: Playful, cheerful motifs in a bright color palette, including rainbows, suns, toys and building blocks, dinosaurs, magical creatures like unicorns, dragons and mermaids, and candy, ice cream, and popsicles
Soft and Sophisticated: a more minimal, subtle approach with a softer color palette. This trend is great for both baby and older kids. Motifs include forest animals, farm animals, small scale florals, retro influences, and coastal/nautical themes
Tropical: jungle animals such as elephants and monkeys, tropical birds paired with flora and leaf motifs, reptiles (don't worry they look cute and friendly, not scary!)
After a rigorous selection process we were able to approve around 130 beautiful new patterns that met our aesthetic and technical standards, which will be added to the studio collection. These patterns will all be coming with us to Premiere Vision in July, so if you are a kids or baby brand, you can email us at info@patternobserver.com to secure an appointment to view the collection at the show. Or if you're antsy to get a jump-start on your shopping for the S/S 20 season, shoot us an email to see the full collection in advance and get first pick from our fresh new patterns. We look forward to showing you what we've been up to!