Chelsea's Challenge is a monthly post series in the Textile Design Lab, in which we share trends and inspiration to help our members develop pattern collections for their portfolios. The challenge was created to help our members feel motivated, inspired, and supported throughout the pattern development process. This is one of the most popular events within the Lab and we are always floored by the amazing work that is created each month!
Today we are excited to share a few stand-out collections from our latest challenge, in which we invited members to "choose their own adventure" by developing a theme around whatever they are currently interested in or curious about. This idea was inspired by a recent guest expert presentation in the Lab by Sisters Gulassa and offered such an interesting opportunity to explore motifs and pattern styles that were unique and meaningful to each designer.
Emma Bresola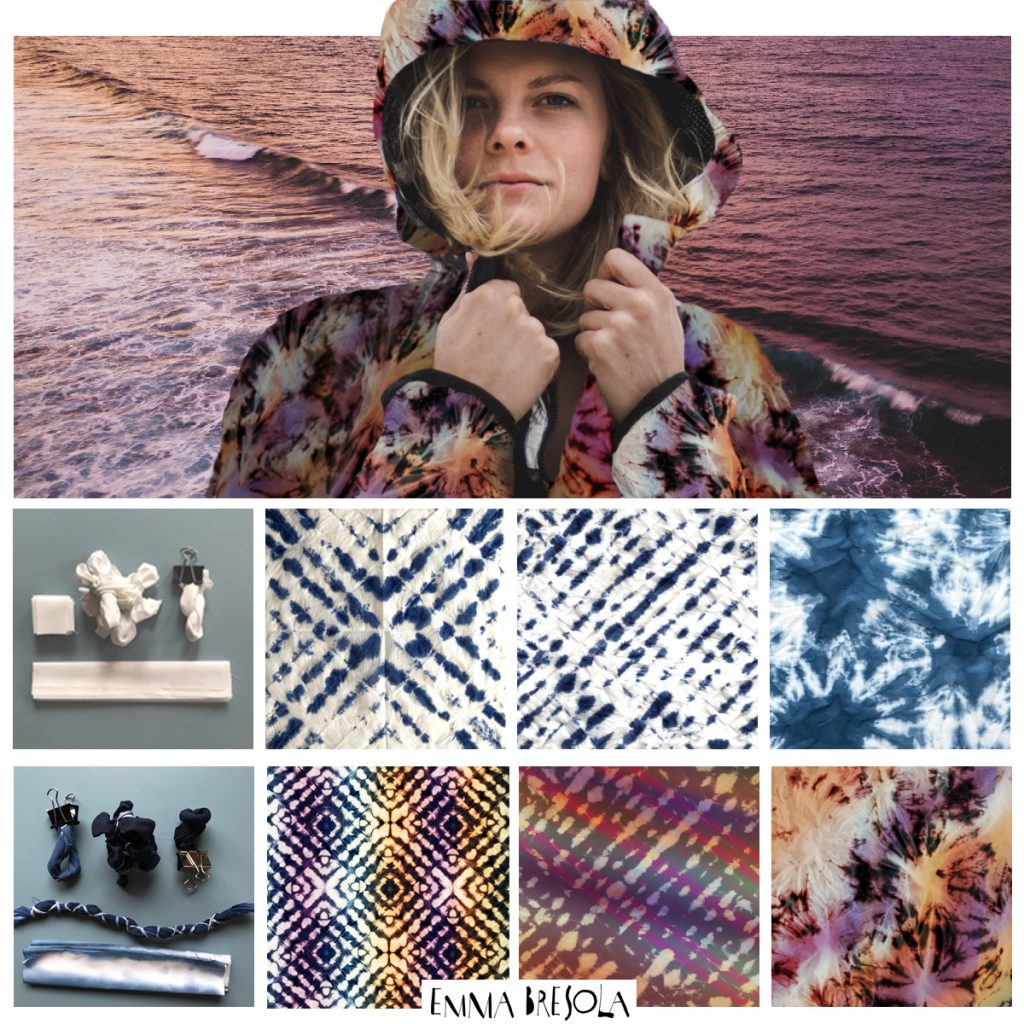 "In May, my own adventure was exploring the indigo shibori technique. A Japanese traditional dyeing technique of folding fabric for creating patterns. Following Eva Carlavilla' s tutorial provided by the Textile Design Lab, I started experimenting with this technique. Then, I photographed, rearranged, and recolored in Photoshop the patterns obtained. I ended up developing several soft, sophisticated, abstract, and textural designs for the Tie Dye trend, combining the handcrafted imperfection with the digital rendering. This trend is suitable across the markets, seasons, genders, and ages. Specifically, I am visioning the prints on lightweight outerwear."
You can find Emma around the web at www.emmabresola.com, on Society6, Redbubble, or Instagram.
John Wylie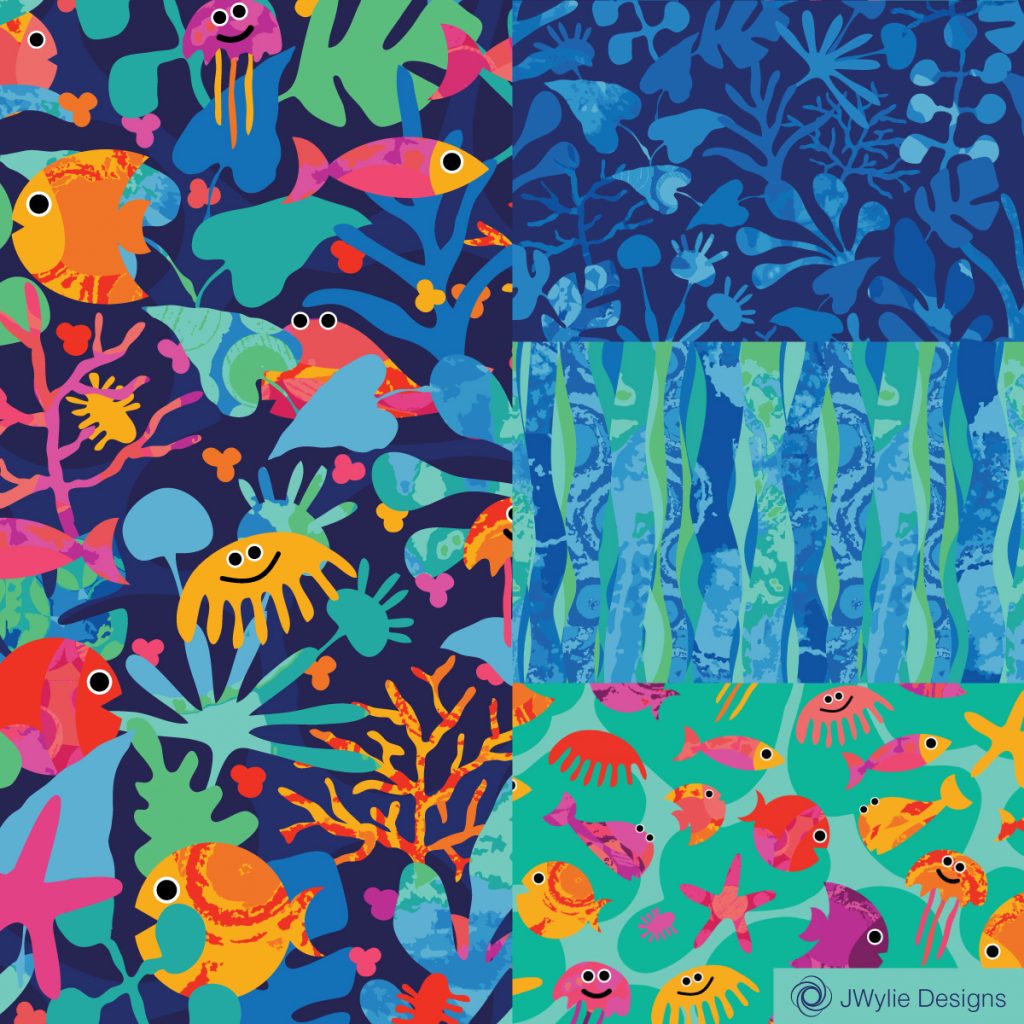 "For this challenge, I wanted my adventure to occur under the sea. I was inspired by hand painted papers used in collage, Matisse's collages using cutout shapes, kelp forests, and the murals of the San Francisco Maritime Museum. Since this collection was to be for the children's home decor and fabric markets, a bright, bold, and saturated color palette was used with simplified images of real and imagined sealife and plants. To add texture, abstract watercolors were painted and imported into Adobe Illustrator where the Under The Sea collection was developed."
See more from John at www.jwyliedesigns.com and on Instagram and Pinterest.

Jill Craig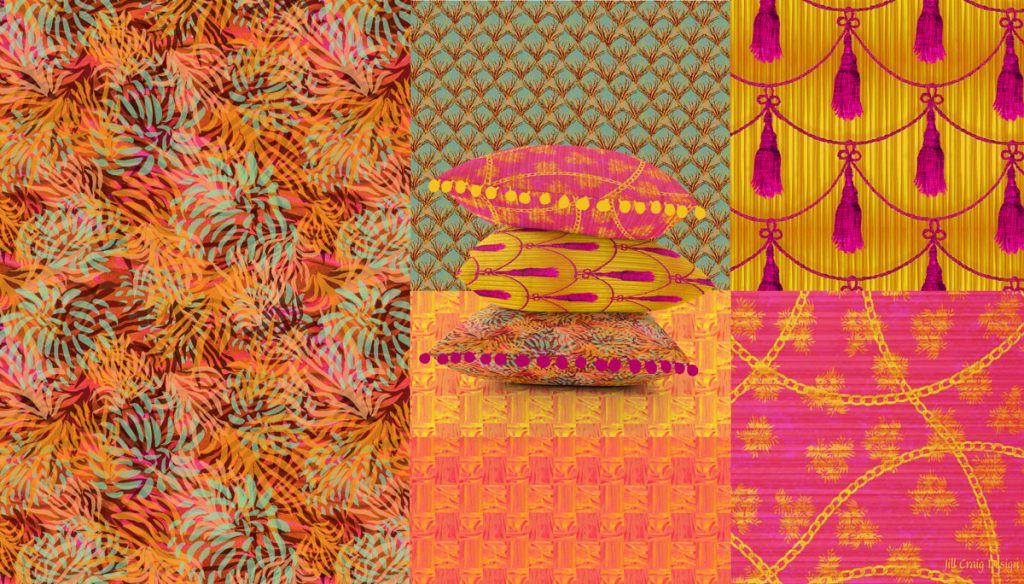 "This collection was inspired by fashions seen on the red carpet of the recent 2019 Met Gala, an annual fundraising event for the Metropolitan Museum of New York. "Camp: Notes on Fashion" was the theme for this year's opening of the Costume Institute's fashion exhibit for the Met Gala. The fashion designers captured the essence of the theme with fantasy, eccentricity and exaggeration, expertly defining "Camp". Based on this inspiration my concept was to design a collection that had an edge of "over-the-top"
sensibility that might add an exclamation point to textiles for the Home Décor market.
My process included making marks resembling feathers with movement, creating draped gathered fabric effects in Photoshop and combining line drawings of tassels and chain accessories. I also wanted to keep the color palette neutral enough for Home Décor but also add electric pops of color.

Behind the inspiration for this collection was the valuable insight gained by the Textile Design Lab's presentation of The Creative Process hosted by Sisters Gulassa. Their suggestion to examine the world and creative process "without a frame" lead to unexpected pearls of inspiration for me. This collection was the result of taking their advice!"
Jill can be found at jillcraigdesign.net or on Instagram.
Feeling inspired? It's not too late to take part in our June challenge in the Lab–join us here!