Chelsea's Challenge is a monthly post series in the Textile Design Lab, in which we share trends and inspiration to help our members develop pattern collections for their portfolios. Last month our theme was "Storytelling In Design", inspired by one of our wonderful guest experts, Maria Ogedengbe, and the idea of telling our family story, or the story of our community through motifs and patterns. This theme really struck a chord with our members and the results were so stunning that we just had to share! Please enjoy this sampling of the beautiful collections that represent storytelling in design:
Alexandra Michiardi
"This collection was inspired by the sunny Spain of my grandma (and called Antonia after her), who crossed the Pyrenees by foot and illegally to go and marry my grandpa in France.
It's about my Spanish heritage and my French roots, celebrating a rich cultural background mixing symbols and colours related to both countries and my family story.
I designed this collection with the home décor market in mind for women who love bold and graphic prints, Spanish folklore (like flamenco) and love art (specially Matisse and Miró). And it all started as a cut and paste, and stamping session with craft foam!"
See more from Alexandra on Instagram @tristanetzoe.
Cynthia Jacquette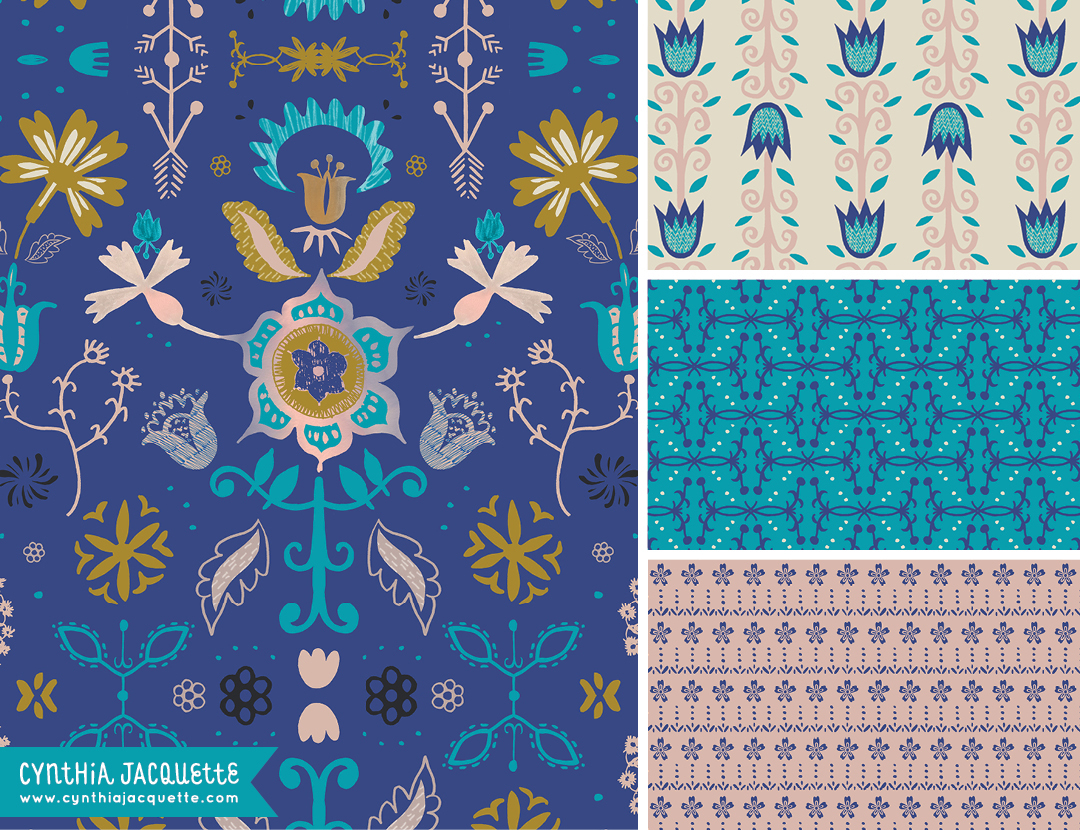 "My collection is inspired by the visual motifs of my lost Polish ancestry. As I started the visual research for my initial idea—to weave together motifs from my backgrounds of French, German Italian and Polish—I realized I had no familiarity of the rich Polish visual history, just as I have the least information about that part of my lineage. So, I went on a quest not to tell a story, but in search of a lost one, piecing together watercolor and marker studies of Polish-inspired icons. I combined them in a way that is imperfect and not quite symmetrical, similar to a story that has missing pieces. I imagined my collection for the home decor market." Find Cynthia online at www.cynthiajacquette.com, on Instagram or Facebook.
Cindi Goguen
"The theme for this collection began from an old treasured family photo of my great-great-grandmother with her family in Calabria, Italy. Some of the supporting designs were inspired by fabrics used to make their clothing. During my research of Calabria, I discovered the annual spring flower festivals which led me to the inspiration for the main pattern. For this collection my design process started out on the iPad where I sketched my flower motifs then imported them into Illustrator to color and design each pattern, after which the final designs were copied into Photoshop to add the blends and textures. My vision was to create a fun, youthful, and colorful collection for the younger quilter with a touch of vintage; combining the past with the present."
Sonya Percival
"My Sirin collection was largely inspired by the rich tradition of Russian arts and crafts, folk painting, and block printing. I used these influences such as a Sirin bird motif, florals, and geometry to create a hand-printed, folk style feel. My workflow always includes watercolor and often ink to paint and refine the initial elements. Later I define original designs in Photoshop and them put them in repeat. This collection is intended for home décor market; creating it I sought to invoke the feelings of coziness, warmth, and the joy of recognizing the familiar in old traditional themes." See more from Sonya at http://www.sonyapercival.com/ and on Instagram.
Renea Lynzee Design
"Sweet Home Chicago" collection was inspired by memories I have made in my home town as a child and adult. I experimented with the shapes and lines in Chicago's architecture and created my looks with Adobe Capture and Illustrator with the apparel market in mind." To see more, visit Renea's portfolio site or check her out on Instagram or Facebook.
How do you use storytelling in design? Please let us know in the comments below! Here's another post on storytelling that you might enjoy.
Curious to know more about what it's like to be a Textile Design Lab member? Click here learn more about the Lab and access some of our favorite resources – for free.