Today's challenge is based on one of my favorite assignments when I was in school, and I wanted to share the concept with you because it really stretches your brain and your creativity! The idea is to take two completely dissimilar inspiration sources and integrate them into one cohesive pattern concept.
In the example below, I combined elements of two completely unrelated images of a ceiling fan and stacked dishes, and worked to integrate qualities from each into one print. I drew inspiration from the shape of the fan blades and paired it with the twisty lines formed by the stack of plates. I also liked the shadows and highlights within the plates and tried to bring some of that contrast into my print through use of color and layering motifs.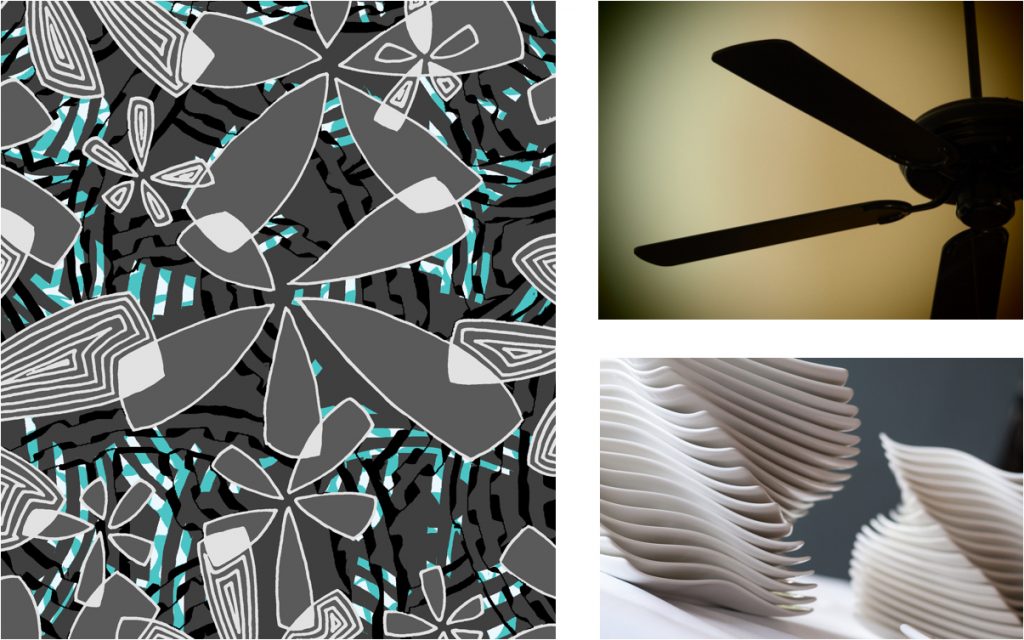 This is an exercise you can come back to time and time again, choosing two new images as your starting point each time, or if you really want to challenge your creativity, see how many different patterns you can develop based around the same two images! You might even find you have enough fodder to build a whole pattern collection. Working through this exercise over the years has really has made me realize that any image can provide a grain of inspiration that can grow into a full-fledged print!
I usually find the most successful designs come when the reference is broken down into bits and pieces that are less recognizable, rather than taking an object and using it in whole in your print (for instance, if I had made a print that combined a realistic drawing of a fan, with a set of plates.) I'm not saying it's completely impossible to make a great print consisting of fans and plates! But it would probably only work for very specific clients who use quirky, unconventional conversational prints. The intention of this challenge is to pull out qualities from your reference images, like shape, line quality, texture, and color, and use them to create something completely new, rather than combining two images in a literal way.
Now for the one hour time limit… it's a lot to ask to find reference images, create sketches and develop a layout in one hour, so the goal of this One Hour Challenge is simply to find two unlike objects, and start sketching ways they could be combined. If you get further along in the pattern development process that's great, but the point here is just to develop some rough sketches and ideas for pattern concepts that can then be fleshed out later on. If you're like me you probably have lots of these little starts of patterns in your sketchbooks that can be revisited when you are feeling stuck, or perhaps finding yourself short on time to start a new pattern from scratch. They are a great resource to have around!
How to Take Part in the One Hour Challenge
We aren't setting any particular deadlines for the One Hour Challenge, this is meant to fit into your schedule whenever you have the time or need a creativity boost. If you would like to share your results of this challenge on social media, please use hashtag #patternobserver. You may see your work shared on the Pattern Observer Instagram feed or Facebook page! 🙂