I almost jumped out of my chair when I saw the new collection of custom printed tote bags from Minted. Yes, I get excited when I see one product with three patterns options, but fourteen? Color me happy.
And $30 for a personalized printed tote bag? That made me even more delighted. $30 puts the tote bag in the category of gift giving and those enjoyable "treat yourself" sort of moments.
Cool patterns? Check
Affordable and thoughtful gifts for yourself or someone else? Check
Supporting artists and designers? Check
For this post, I've chosen my top 6 favorite printed tote bags to feature. This wasn't easy because they are all fantastic options, so congrats to all these talented designers! My job was tough—but fun. Some links used within this post are affiliate links, which means I'll receive a small commission if a purchase is made on their site. Thanks for your support and I hope that you enjoy this product spotlight!
Basic by Bethania Lima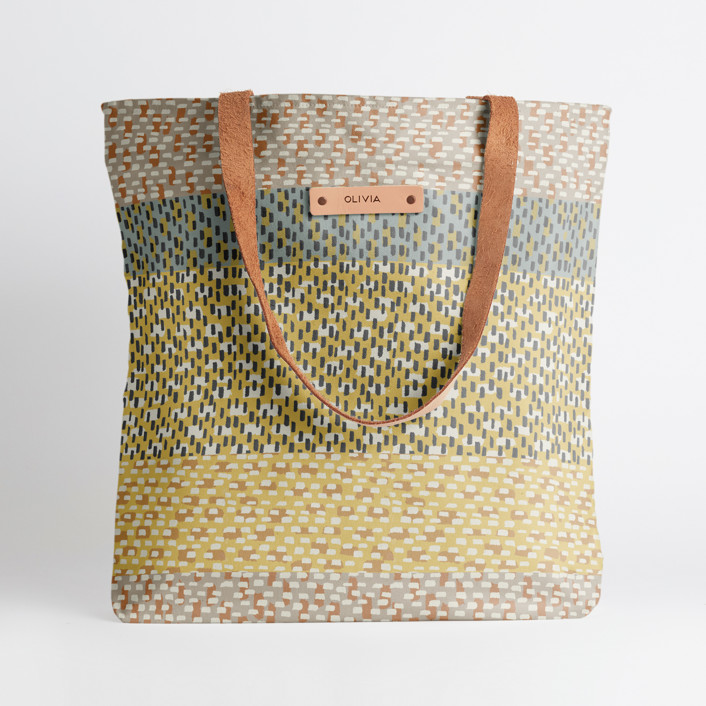 I love this stripe/geometric pattern which was designed by Bethania Lima. The layering of the stripes and marks is done beautifully. Bethania is a Brazilian surface designer who is currently living in Chile. She says, "I am passionate about pattern, colour, and design. After 20 years working in a completely different area back in my country, I grabbed a relocation opportunity to take the plunge and go after my passions, facing the ups and downs of a freelance career. None of this would have been possible without the great support of my lovely family and friends." Shop "Basic" by Bethania Lima.

Spring Bloom by Amy Hall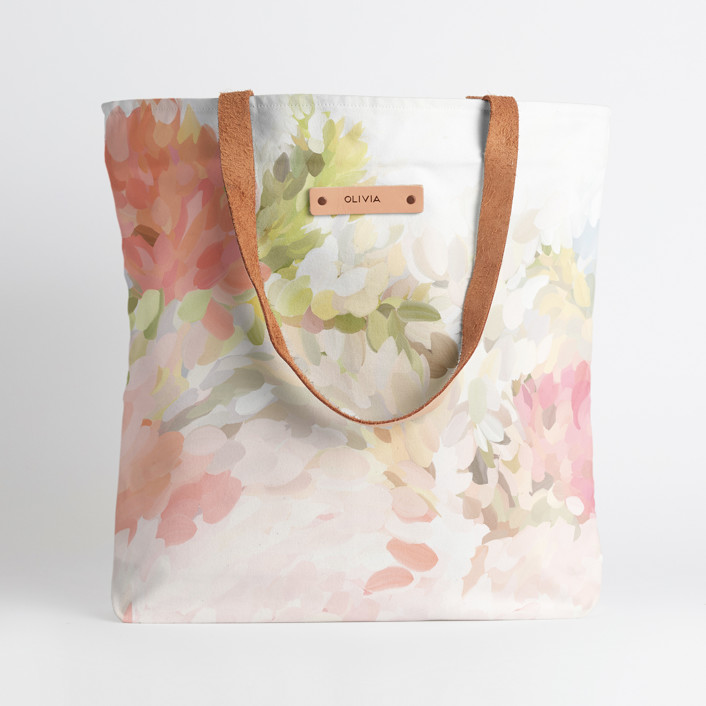 Abstract floral patterns always speak to me, so this gorgeous pattern from Amy Hall was an instant "yes!" The scale of the floral and the placement on the bag is perfect. I love how the pink flowers appear to "hug" the bag and bring emphasis to the personalized tag. Amy says, "I love to paint, doodle. and design. Designing and creating has always been my passion. My design ideas are constantly evolving through the inspiration of my husband and 3 children." Shop "Spring Bloom" by Amy Hall.
Playground by Iveta Angelova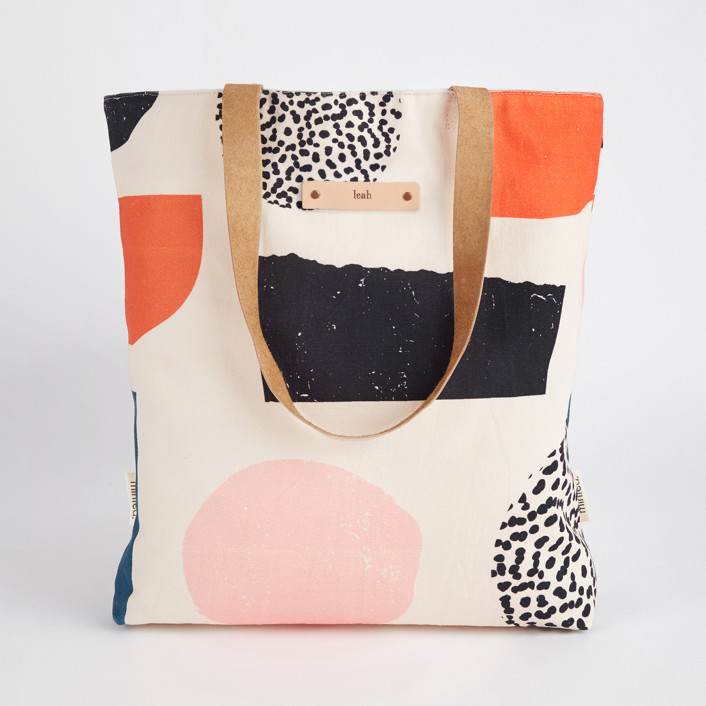 I love the bold and impactful quality of this pattern which was designed by Iveta Angelova. Iveta is a surface pattern designer, abstract artist, and illustrator from Bulgaria, based in Spain. This is what is stated about her work: "Her work is mainly inspired by abstractions and patterns found in nature. It features unique color palettes, cut paper, and hand drawn shapes and textures." Shop "Playground" by Iveta Angelova.
Ink Line Leaves by Cass Loh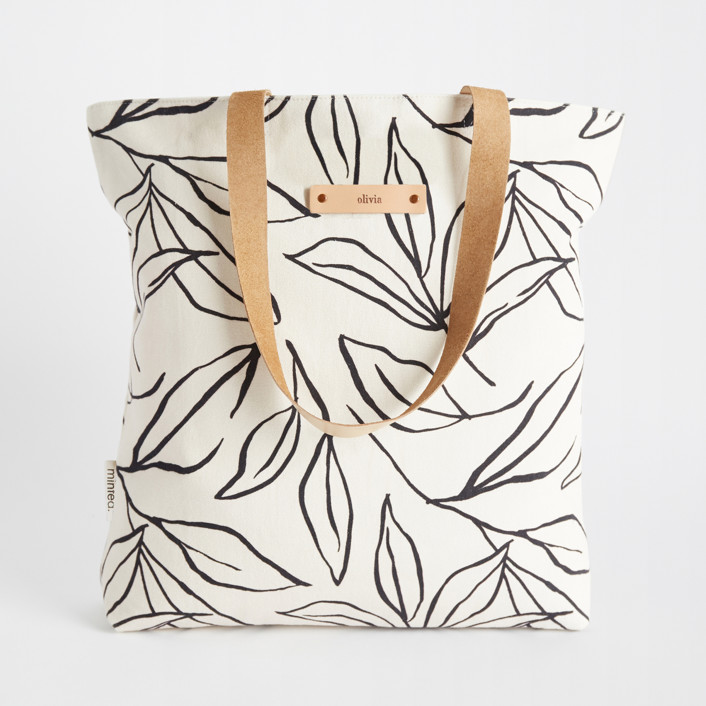 I love the expressive quality of the line work in this beautiful pattern by Cass Loh. It's one of those timeless patterns that you'll love for years to come. You'll find yourself always reaching for it when heading out the door. Cass is a mother of three daughters and "loves the rainforest, beach, desert, flowers, animals, green and coral, moon and stars." Shop "Ink Lines" by Cass Loh.

Dachshund Snap Tote by Katja Ja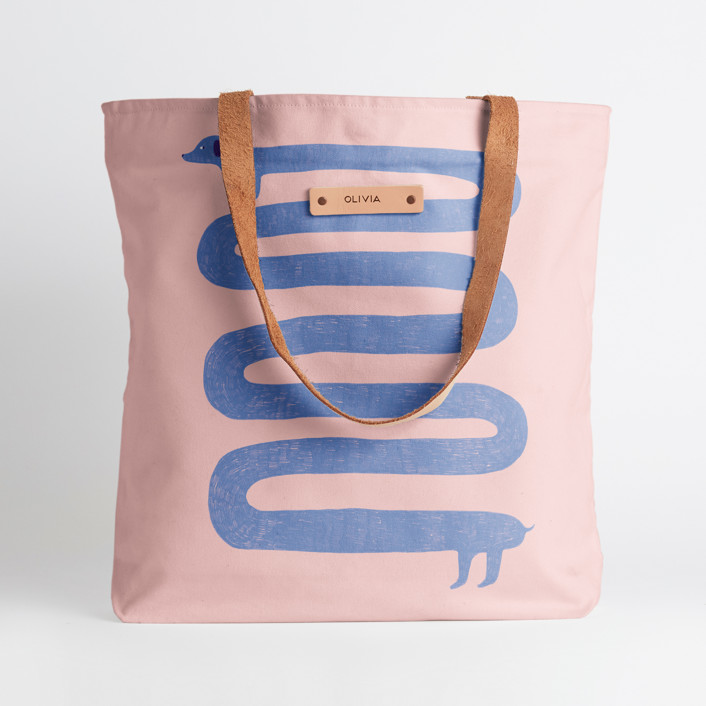 We all need a little humor and fun in our lives right now! This bag delivers. I instantly loved the color palette and line work in this bold design by Katja Ja, but I loved it even more when I realized that it was a dachshund! How cute is this! Katja Ja is an artist from WIEN, AUSTRIA, and I look forward to seeing more work from her through the Minted community. Shop "Dachshund" by Katja Ja.

Abstract View Snap Tote by Monika Drachal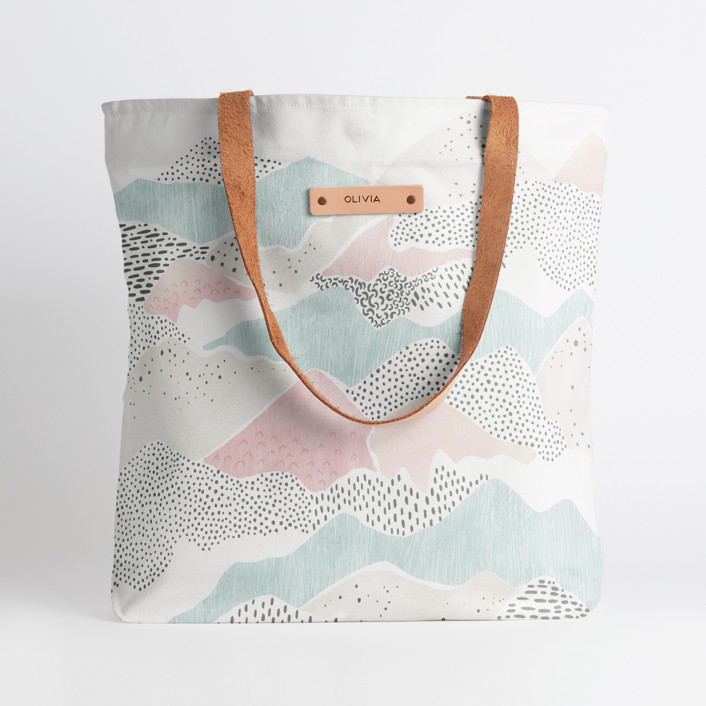 And last but certainly not least, I had to highlight this gorgeous pattern by Monika Drachal. I love the soft color palette mixed with the black marks and textures. It has a beautiful movement to it, and I think it's a perfect pattern for a tote bag. Shop "Abstract View" by Monika Drachal.
I want to offer my congratulations to the Minted community for curating a gorgeous collection of printed tote bags that touch on a variety of trends, but yet is cohesive and stays loyal to their brand style. Even if you are not in the market for a tote bag, head over to the collection and observe the selection. They are offering different pattern layouts, artistic techniques, and the way the color palette is being used, but yet bring consistency through color and style. Curious about collections? Check out this blog post.
If you snag one of these bags, please be sure to post a pic to Instagram with #patternobserver!