Some links used within this post are affiliate links, which means I'll receive a small commission if a purchase is made on their site. Thanks for your support and I hope that you enjoy this post featuring my picks for the top 5 desk calendars for 2021.
Who's ready for a new year? I think we all are! New calendars are beginning to be released and it is such a treat to see what these talented designers and illustrators have been busy working on. There are so many beautiful calendar options available and they serve as art just as much as reminders of the date. This means they are great additions to not just one room in a house, but multiple ones.
For today's post I've chosen my top 5 desk calendars for 2021. Desk calendars are usually placed on mini display easels, on a small clipboard, or within a small frame. Some of the calendars listed here come with stands and others do not, but what's consistent across all of my selections are the joy they bring. They offer a chance to celebrate the month at hand and make wonderful gifts, either for yourselves or for your loved ones.
2021 Desk Calendar by Jenny Bova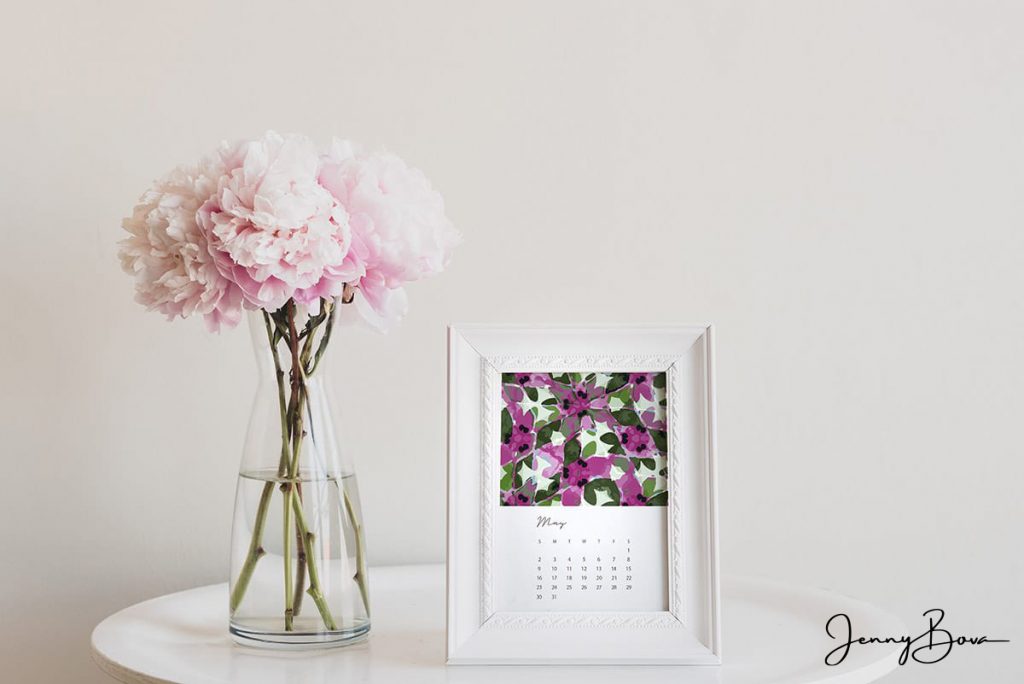 I am a huge fan of Jenny Bova's work, so it's no surprise that her annual desk calendar is at the top of my list. This desk calendar is printed on high quality coated card stock and fits perfectly in your favorite 5×7″ frame. Each month features one of Jenny's beautiful patterns. From flowers to abstract geometrics and textures, Jenny's signature touch is felt throughout the year. Her patterns are soothing, layered, and beautiful. If you're looking to add something lovely to your life in the new year, this is it! Shop for this calendar here.
Abstract 2021 Desk Calendar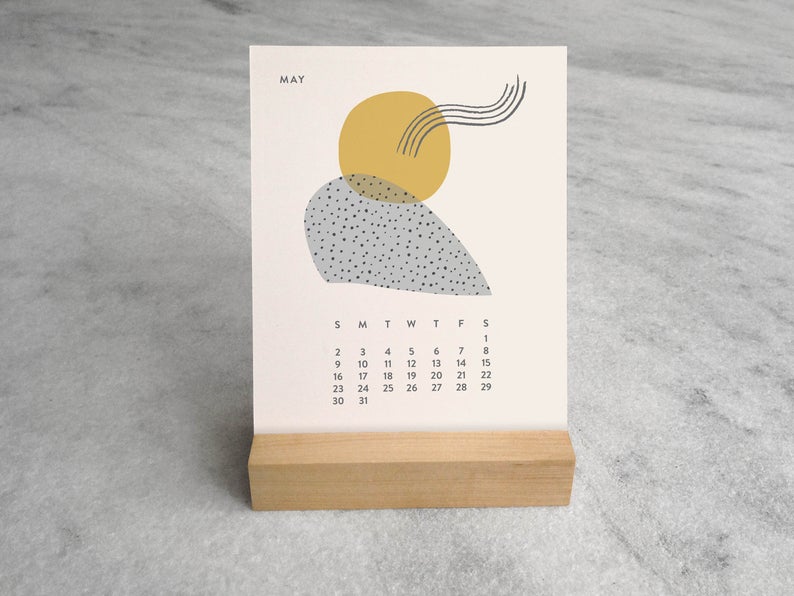 This illustrated calendar by Favorite Story is also a stunner. Each month features an abstract illustration in a beautiful palette of greys, oranges, reds, and blues. I love the simplicity of each month's illustration and the use of small marks and geometrics. This desk calendar is 4.25″ x 5.5″ cards and is printed on sturdy, 120lb. cardstock. Shop for the Abstract 2021 Desk Calendar here.
2021 Stay Home Stay Safe Calendar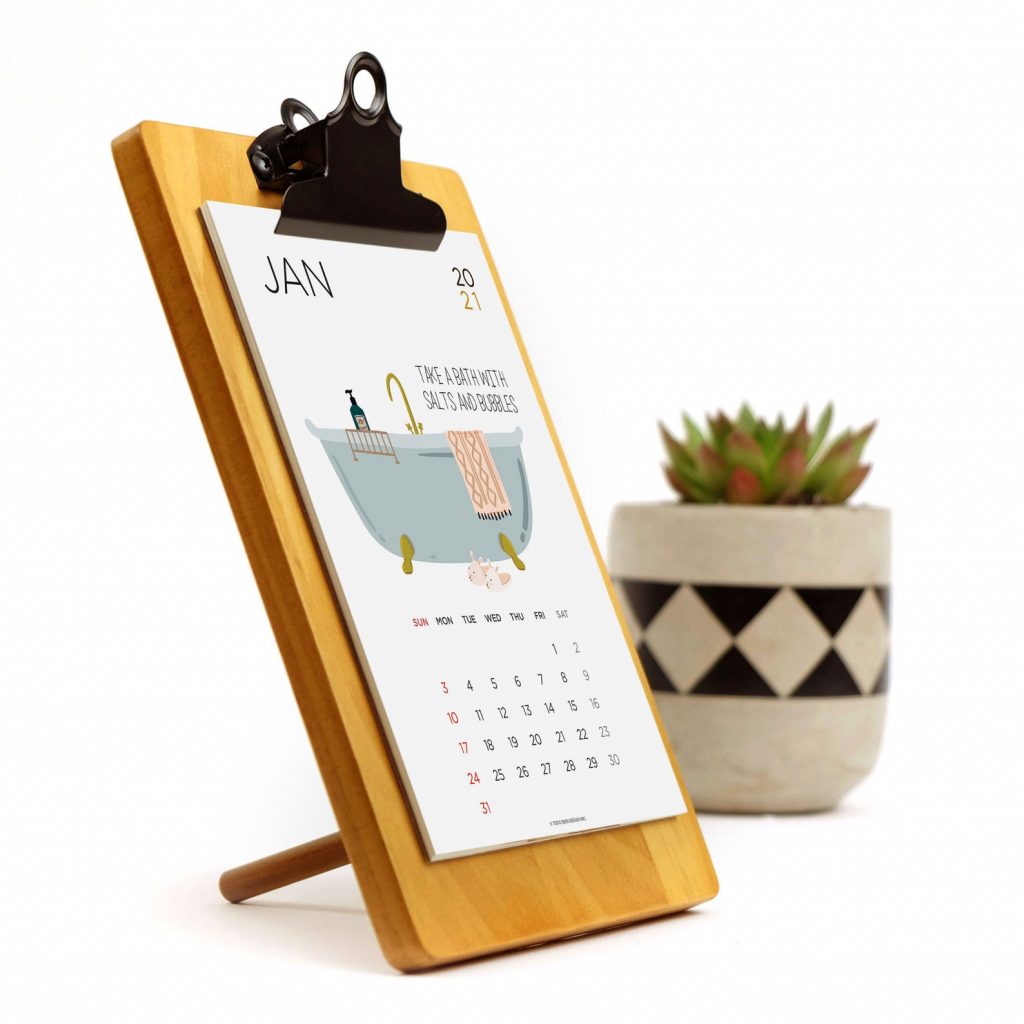 Each month of this 12-month desk calendar features an activity to do at home to keep you safe and well during this pandemic. The illustrations are heart-warming and are such a wonderful reminder to be kind to ourselves during this time. This calendar is designed by Todo Bien Design, Inc., who has partnered with One Tree Planted to plant a tree for every plant product sold. It is 5″ x 7″ and is printed double-sided on sturdy, 80lb. Premium Card Stock Linen Paper. Shop the Stay Home Stay Safe Desk Calendar here.
2021 Desk Calendar from the Patterned Peacock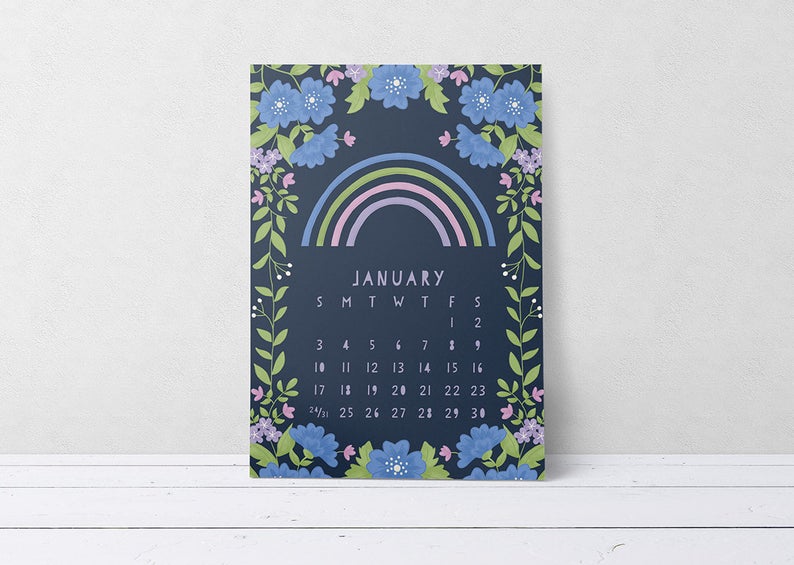 If you are looking for a desk calendar that is cheerful and uplifting, this option from the Patterned Peacock is the perfect option for you! How cute are these illustrations? I love all the beautiful motifs and the way they surround and celebrate each month. This desk calendar is 5"x7" and is printed on textured white cardstock. Shop from the Patterned Peacock here.
2021 Mini Desk Calendar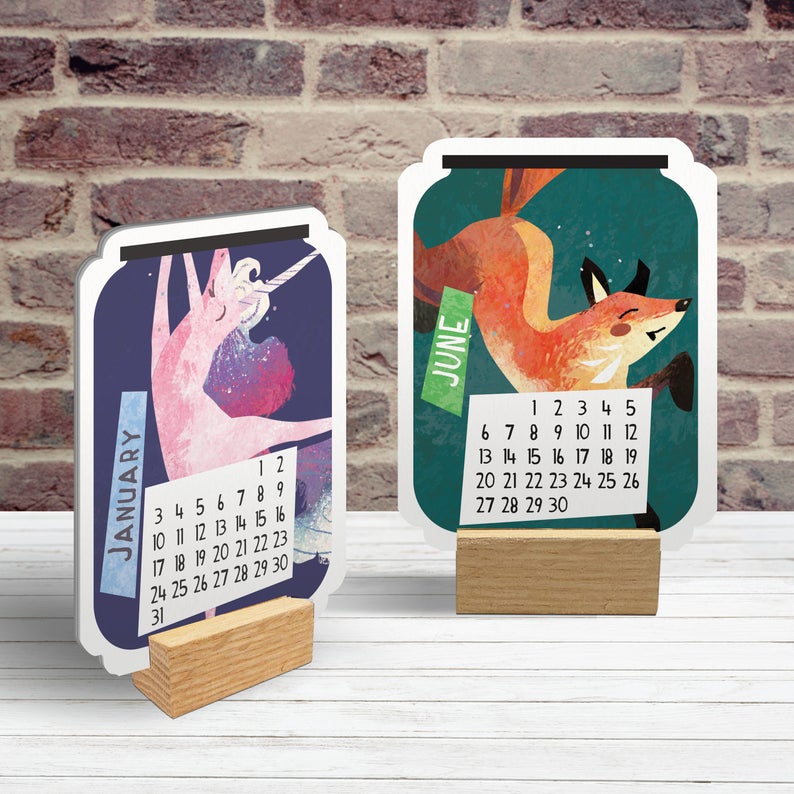 Last, but definitely not least, I was ecstatic when I saw this desk calendar from Megan Stringfellow. Megan's mission is to use her art and designs to inspire and make every day a little more magical, and that's just what she's done with this calendar. Each month features a beautifully illustrated animal who seems to be dancing and celebrating the month. The animals have so much personality! This calendar is 4.25" x 5.5" with rounded corners and is double sided. Check it out here.