Minted just released their new collection of fine art puzzles and I am absolutely smitten! With all of us having to spend so much time at home, I think these puzzles are the perfect gift for the holidays. According to the site: "Puzzles arrive in a patterned muslin drawstring pouch, packaged inside a beautiful hinged box with gold foil accents." With some of the puzzles, you can even customize them to include your own photos and text. They also come in a variety of sizes, which makes these fine art puzzles a perfect gift for children and adults alike. Some links used within this post are affiliate links, which means I will receive a small commission if a purchase is made on their site. Thanks for your support and I hope that you enjoy this product spotlight.
My Favorite Fine Art Puzzles:
Birthday Bouquet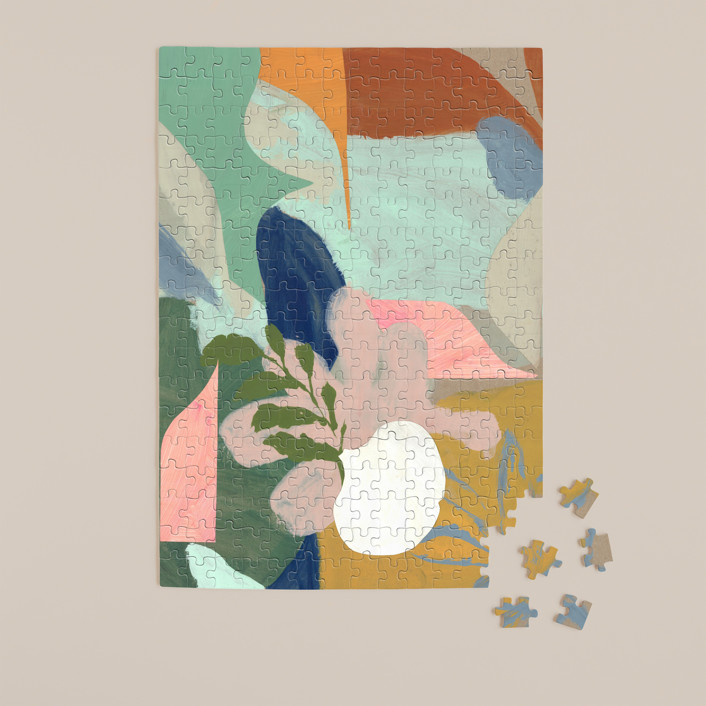 This stunner of a pattern is a Cyrille Gulassa design, who we have had the pleasure of welcoming to the Textile Design Lab on several occasions. I am quite drawn to this design because of its soothing color palette and comforting textures. So, grab your cup of tea and settle into this beautiful puzzle to reflect on 2020 and make plans for the new year. Shop Birthday Bouquet here.
Terracotta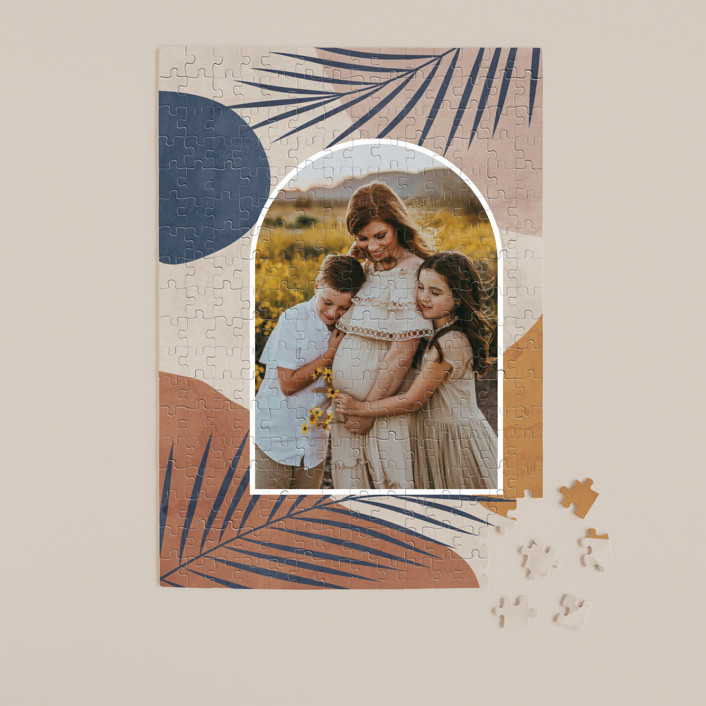 Looking for something personalized? I think "Terracotta" is a beautiful fine art puzzle. Terracotta was designed by Nam Bourassa, a designer based out of Ontario, Canada. I love the framing of the photo and how she incorporated modern colors and elements from nature into her design. Shop Terracotta here.
Underwater Sunset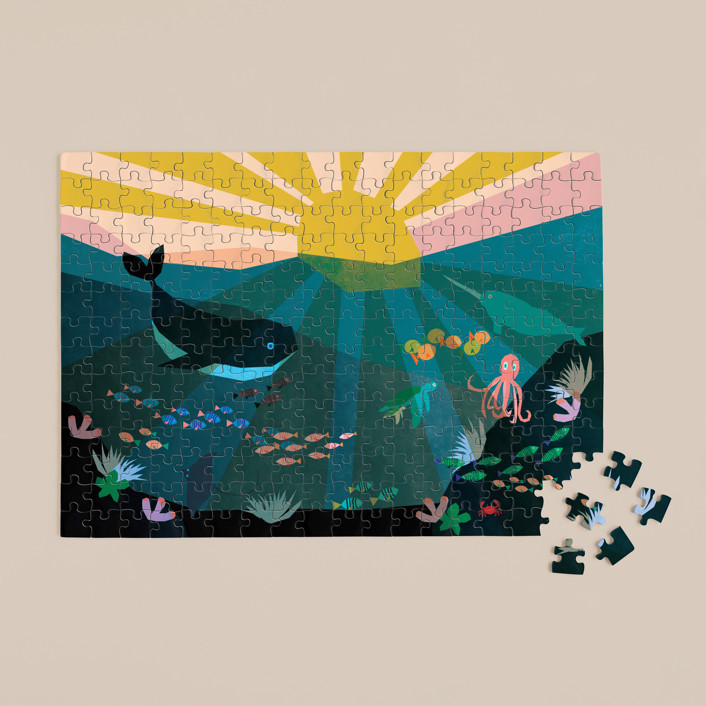 Underwater Sunset is a design by Portland, Oregon based designer Morgan Kendall. This beautiful puzzle is perfect for children, or anyone who wants to take time to explore the beauty of the ocean. Kendall chose a gorgeous color palette of blues and greens, which contrast nicely with pinks and yellows found in the sunset and ocean animals. Shop Underwater Sunset here.
In the Heights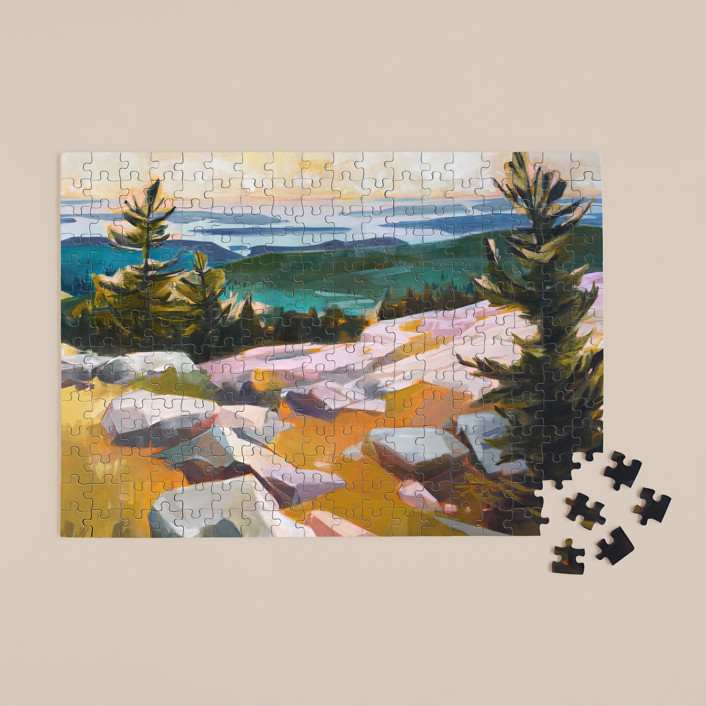 "In the Heights" is a fine art puzzle that was designed by Jess Franks and it is one of my personal favorites. This landscape scene is beautifully painted in a vibrant, modern color palette. It would be such a treat to complete this puzzle. Be sure to check out all of Jess's work and enjoy all the stunning pieces she has created! Shop In the Heights here.
Rainbow Castle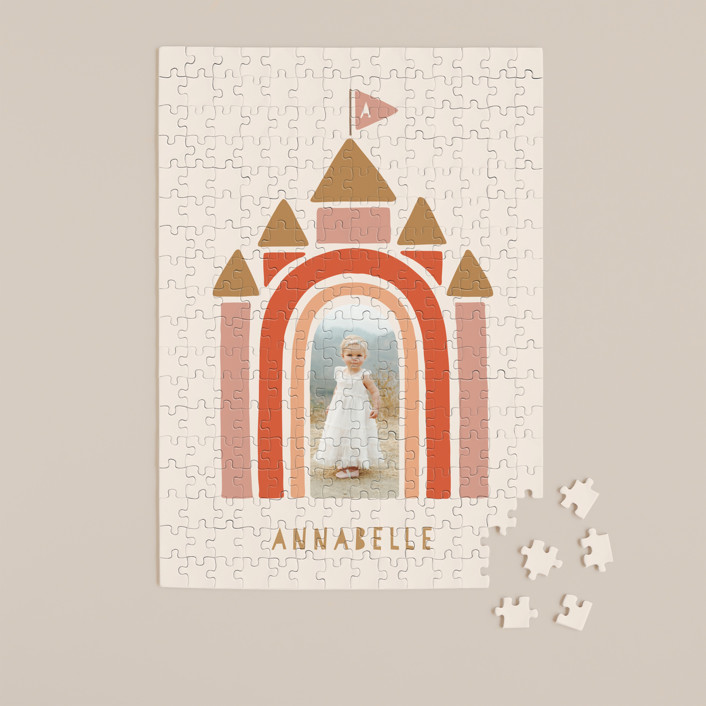 Looking for a special gift? Rainbow Castle by JeAnna Casper is a gift that would be treasured for years to come. It is a beautiful design, which frames the personalized photo in such a thoughtful way. It comes in a variety of sizes, making it a perfect for children of all ages. Shop Rainbow Castle here.
Hand Moth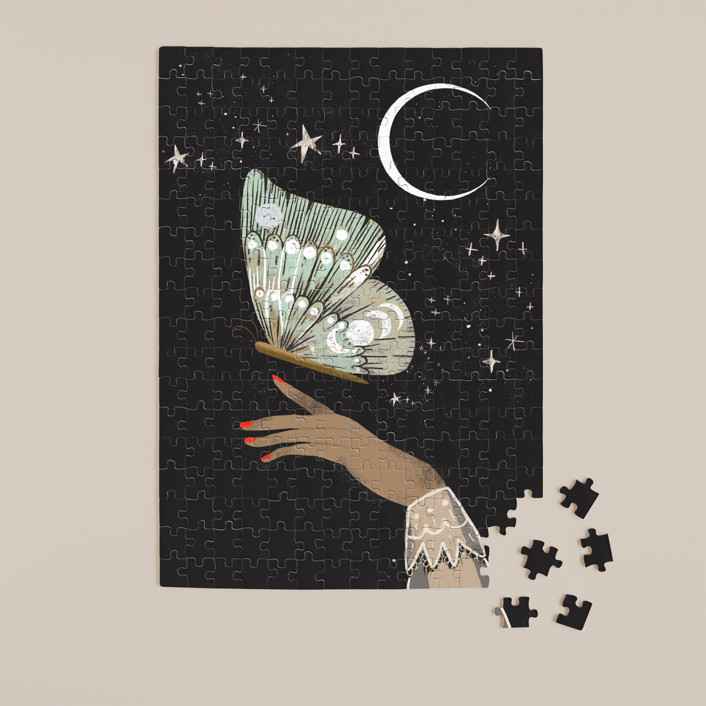 Hand Moth features a magical illustration that captures the peace and serenity of the night sky. It would be a fun challenge to complete and an opportunity to slow down and prepare for the coming year. Hand Moth was designed by Hannah Williams, who also designed another puzzle called "Adventurer's Guide," a beautifully illustrated map of the United States. Shop Hand Moth here.
Night Swim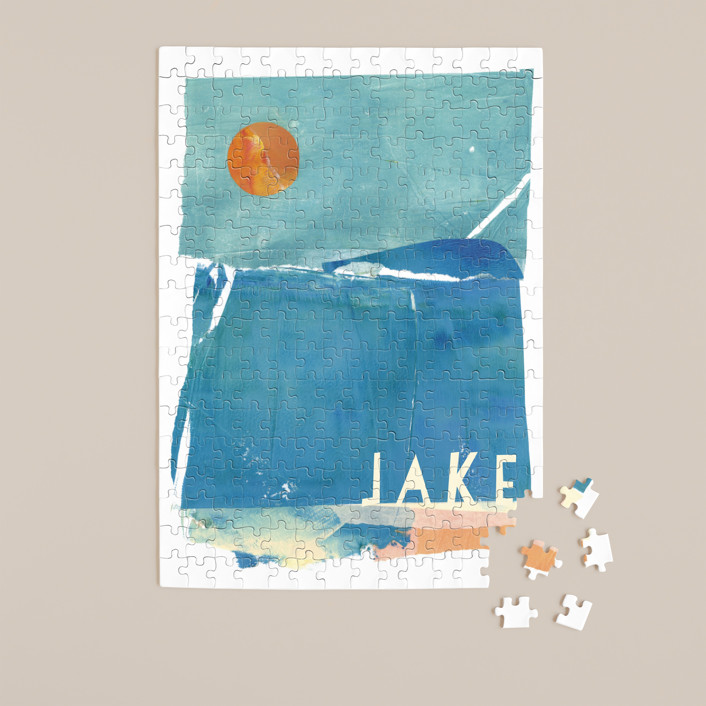 Last but not least, I was really drawn to Night Swim by Sue Prue because it's personalized with a name instead of a photo. It is a gorgeous design that celebrates the beauty of the ocean and features Prue's creative artistic style. Shop Night Swim here.