Our Textile Design Lab community recently had a design challenge based on maximalist design and I am thrilled to share some of the results in today's post. Members were asked to create pattern collections based upon a series of trend reports developed by Chelsea von Hasseln. The image that you see above was created by Julia Gałecka. You can read about her inspiration below.
Maximalist Pattern Designs
Designer: Anastassia Behnke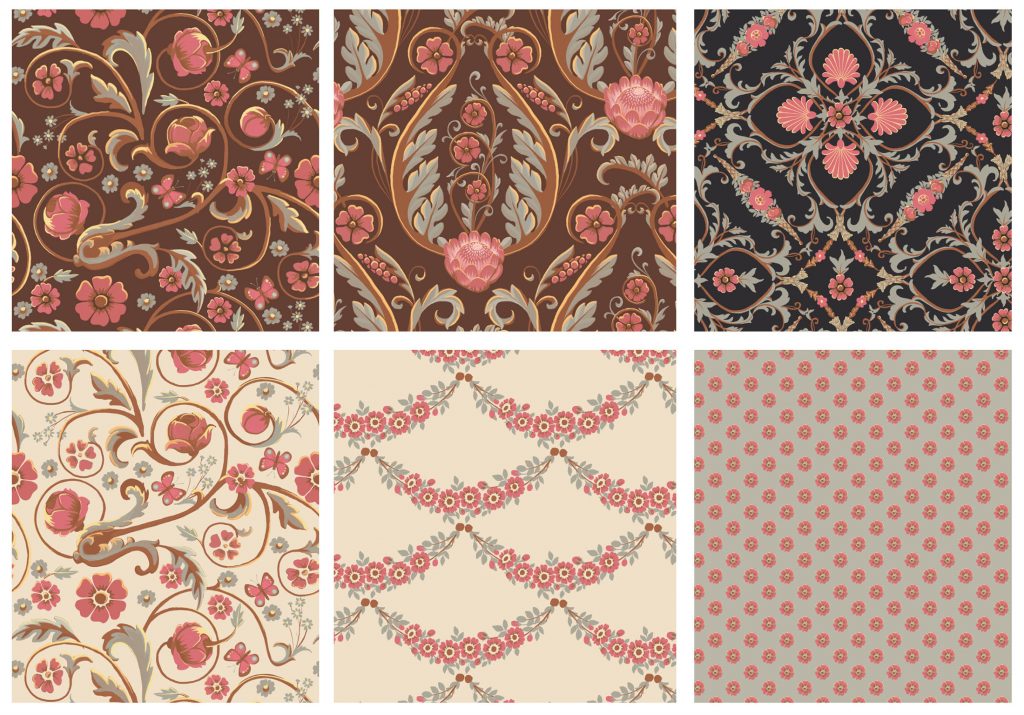 Maximalist Design Inspiration: This collection is inspired by the empire style from the 19th century. All patterns were created digitally. I explored dark backgrounds and opulent ornaments. A special challenge was to try out a complex symmetrical scarf like layout.
About Anastassia: I am a freelance surface designer based in Berlin Germany. I love to create pattern inspired by textures and objects you can find in nature. I also have an education in art history and enjoy mixing old art style with nature impressions .The maximalist trend had tickled my interests in art history. Connect with Anastassia here.
Designer: Michele Kellett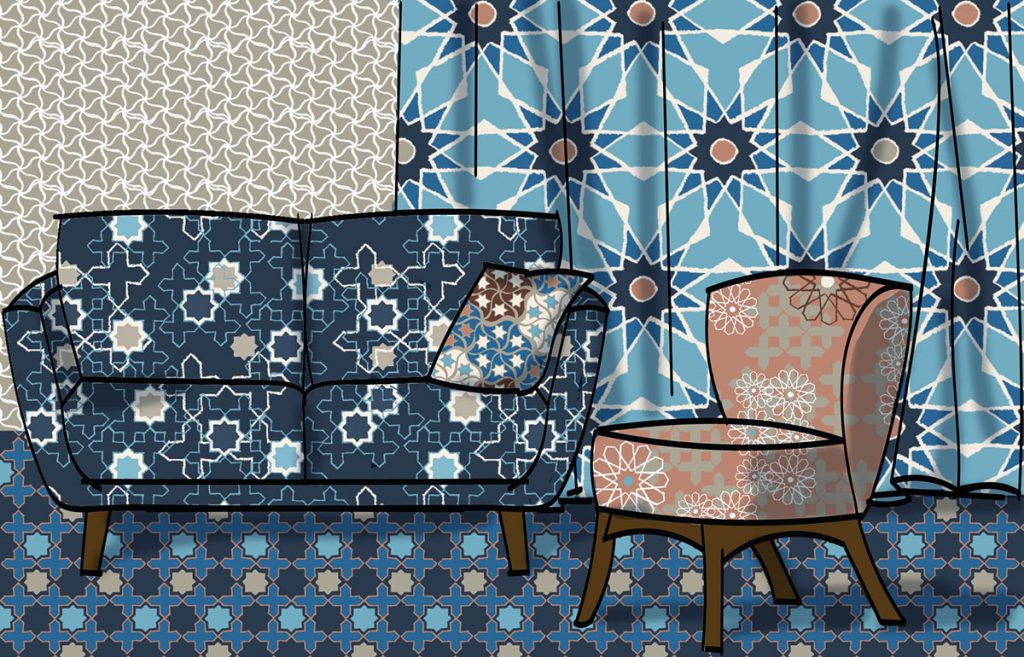 Maximalist Design Inspiration: The delirious abstract complexity of Moorish tiles inspired this collection. I drew precise vector-based geometric motifs in Illustrator in black and white, so that they would interlock correctly. I then traced the motifs in charcoal onto medium-rough paper, scanned them, and brought them into Photoshop for coloring and putting into repeat.
About Michele: I was raised by a dressmaker and have worked as a designer of one kind or another my whole life. Textiles are my first and most enduring love. Connect with Michele here.
Designer: Nadia Kronfli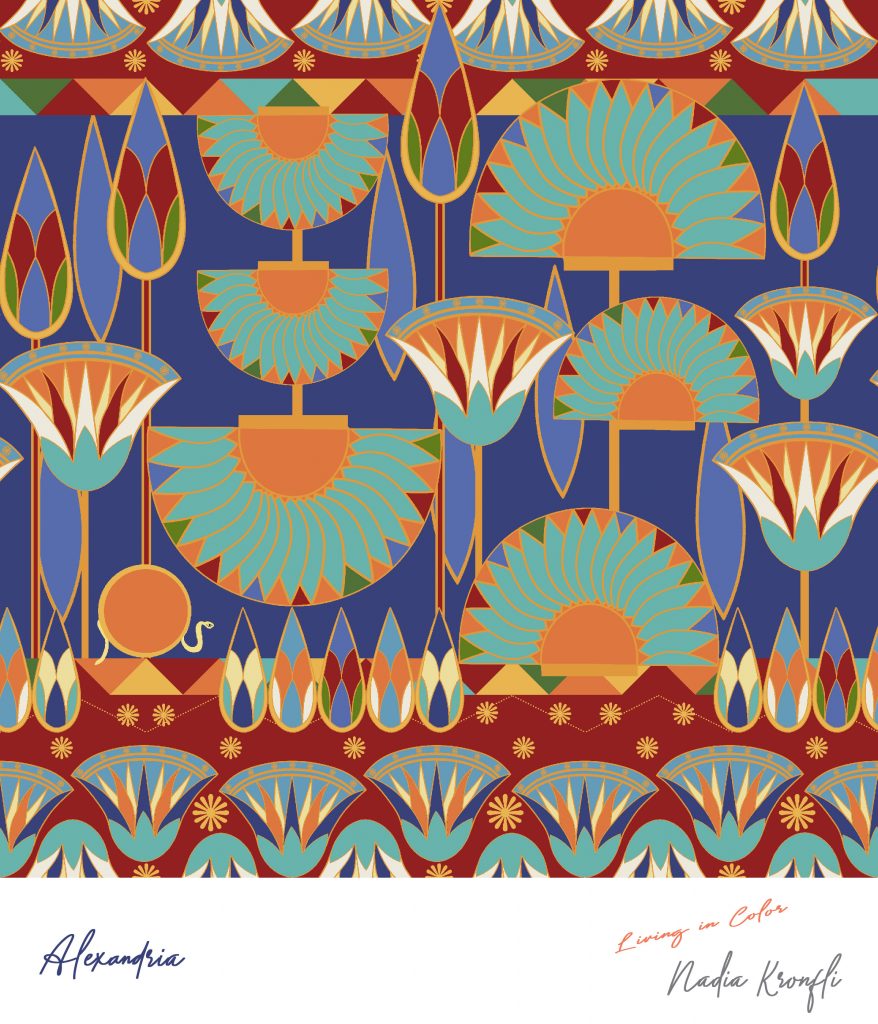 Maximalist Design Inspiration: This pattern, Alexandria, is from my Egyptian collection inspired by an exhibition of the treasures of King Tutankhamon that I attended last year in London. I created all the shapes & motifs in this pattern in Photoshop mainly using the curvature pen tool, which is one of my favourite tools in PS.
About Nadia: A self taught artist with a love of bold colors and patterns. Connect with Nadia here.
Designer: Nancy Carr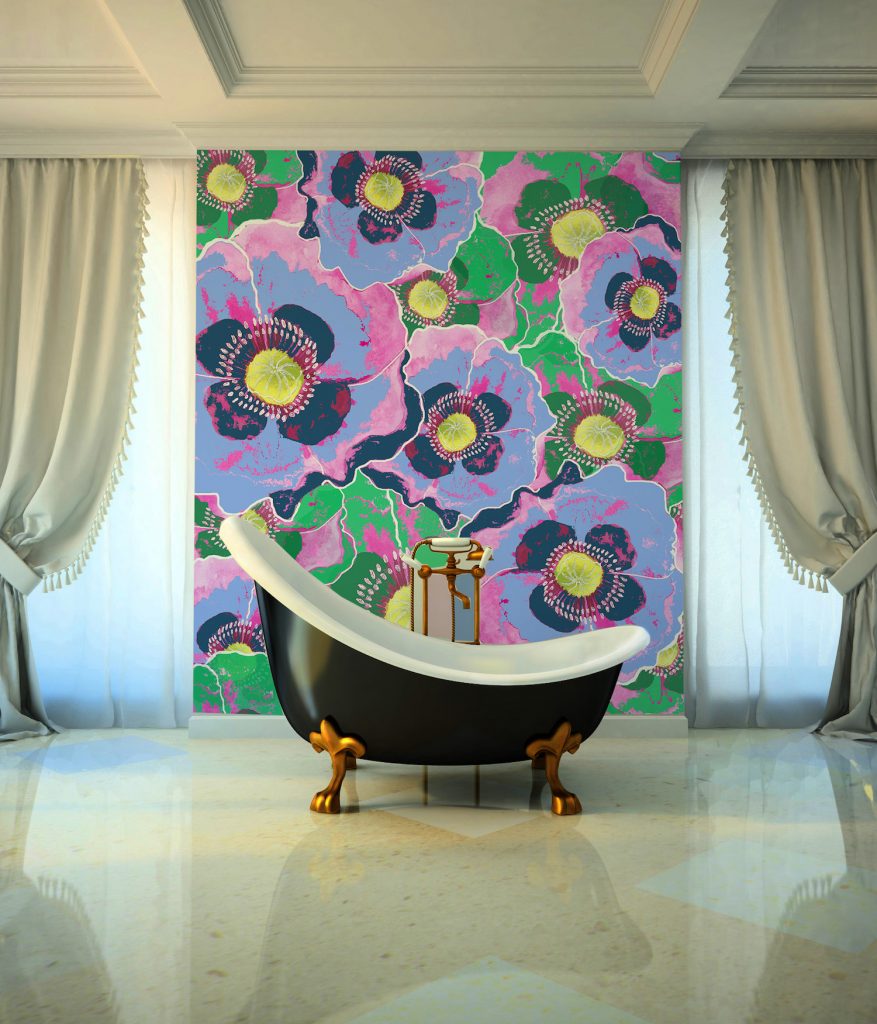 Maximalist Design Inspiration: I love Maximalist Interiors! So colorful, vibrant and fun to look at. The imagery of a giant poppy came to me right away. I saw wallpaper filled with poppies. I painted my designs with watercolors and then brought the scans into Photoshop to create the repeats.
About Nancy: I am a textile designer and watercolor painter who lives in Sonoma County, California. I find great inspiration from colorful multi-cultural motifs and imagery from all over our globe. Painting is one of my true joys and I love seeing a painting become a surface pattern design! Connect with Nancy here.
Designer: Valentina Tansley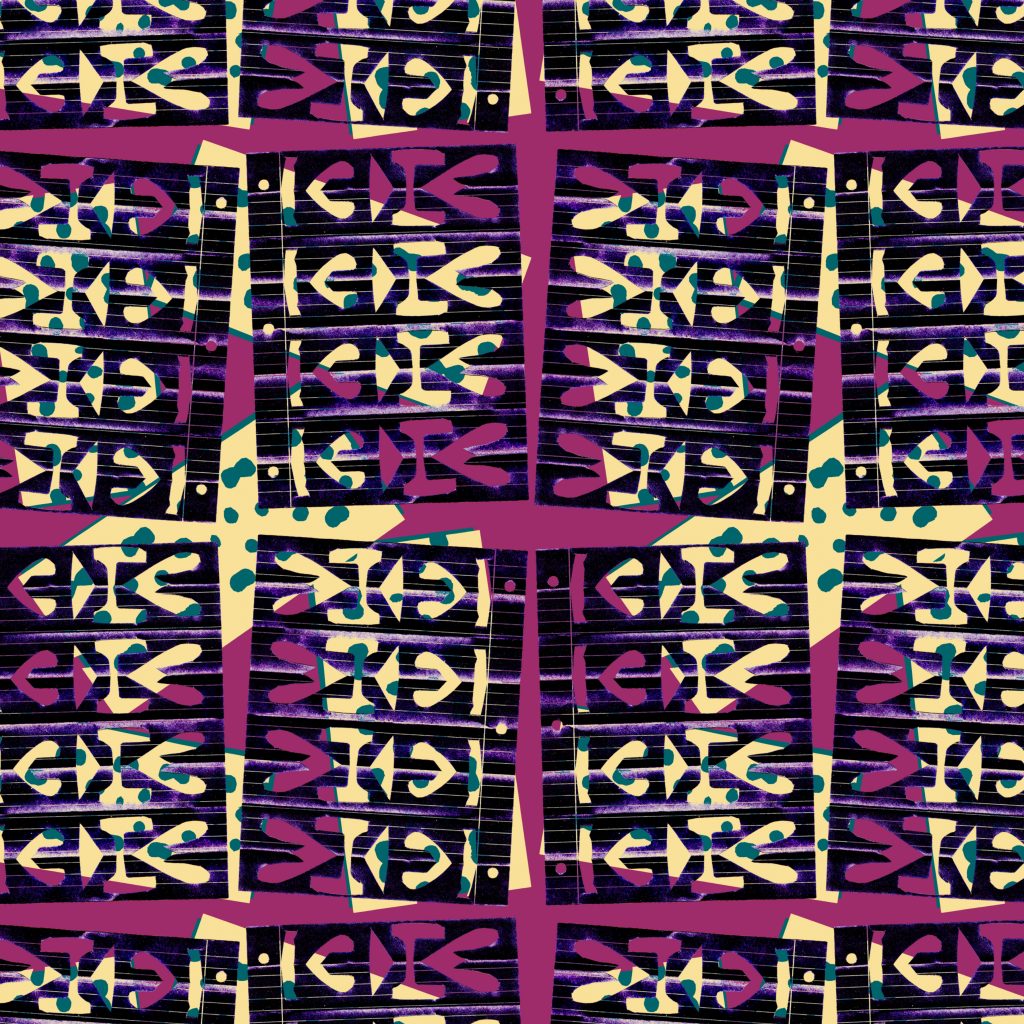 Maximalist Design Inspiration: Inspired by the maximalist trend, I created something a little bit crazy, bold and unexpected. I started out exploring the idea with paper cuts which then formed the basis of the design. I edited some of these in illustrator before importing into photoshop to complete the design.
About Valentina: I'm a surface pattern designer and artist from Melbourne, Australia. I create bold energetic patterns and dramatic designs inspired by my background in music and theatre. My vibrant designs always start out by hand or with a tangible physical connection. I often create handprinted monotypes, paper collage and abstract paintings, which I then manipulate into digital repeat patterns. Connect with Valentina here.
Designer: Teresa Reynolds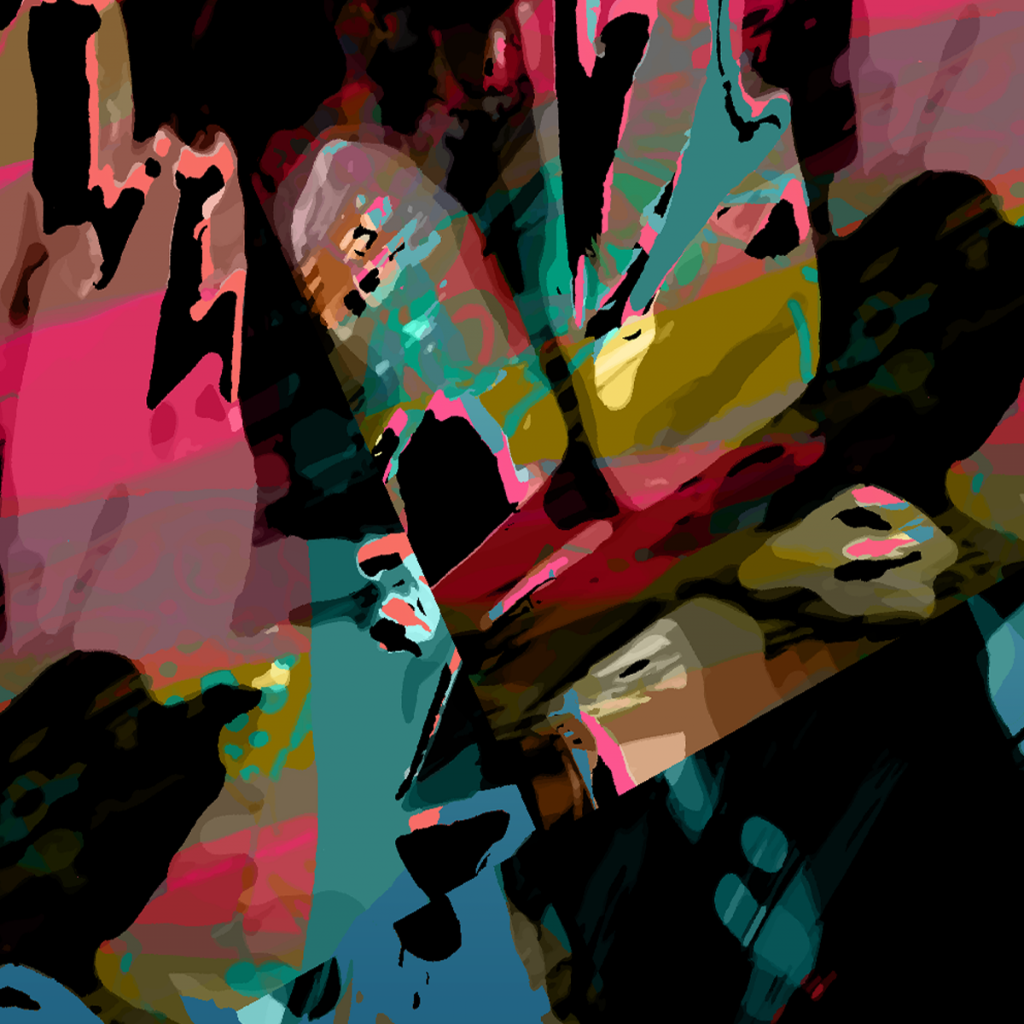 Maximalist Design Inspiration: I honestly don't know how it happens. My patterns just magically appear from my heart to the screen. I don't have to think about it. I paint how I feel in the given moment. I directly paint in photoshop freestyle like automatic writing. They fill my heart with joy and remind me not to give up or in and to live with Joie de Vivre.
About Teresa: Surface pattern designer living life in full technicolor both with pixel and paint in Oakland California. My days are filled with art, patterns, mindfulness and family. I am deaf but with technology can hear. I paint the way sound lives in my life, both connected and disconnected. I am so grateful to be a part of Pattern Observer community. Connect with Teresa here.
Designer: Karolina Sato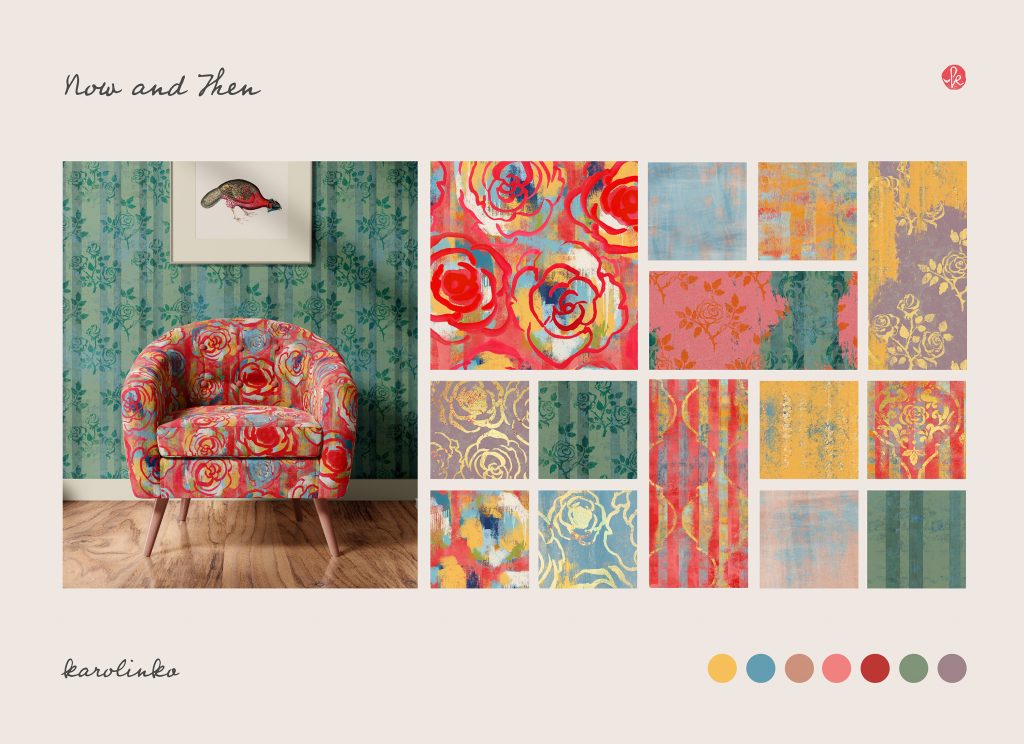 Maximalist Design Inspiration: "Now and Then" collection was inspired by an idea of a place's history, the story that is told by walls with layers of paint and wallpaper applied and reapplied by following owners. The patterns were supposed to be sort of erratic, depicting memories that cumulated in a place. The idea came from the walls I remember in my grandmother's house; she loved roses since this motif is omnipresent. The walls in her house were painted with a paint roller in floral motifs. I used watercolor to create the rose motifs, then worked digitally with the whole using different textures. It is a palimpsest, a clash of abstract art and traditional decorative motifs.
About Karolina: Karolina Sato ( Karolinko ) is an artist and designer based in Tokyo; she works in traditional Japanese painting, watercolor, ink, and digital media. Her works are whimsical, joyful, and vibrant. She is interested in cultural anthropology; her inspiration comes from the relationship between humans-nature, ethnic art, animals, plants, and carnival culture. She experiments with pigments, rich textures, and dynamic color. Her love for patterns started with the exploration of oriental decorative arts. Connect with Karolina here.
Designer: Julia Gałecka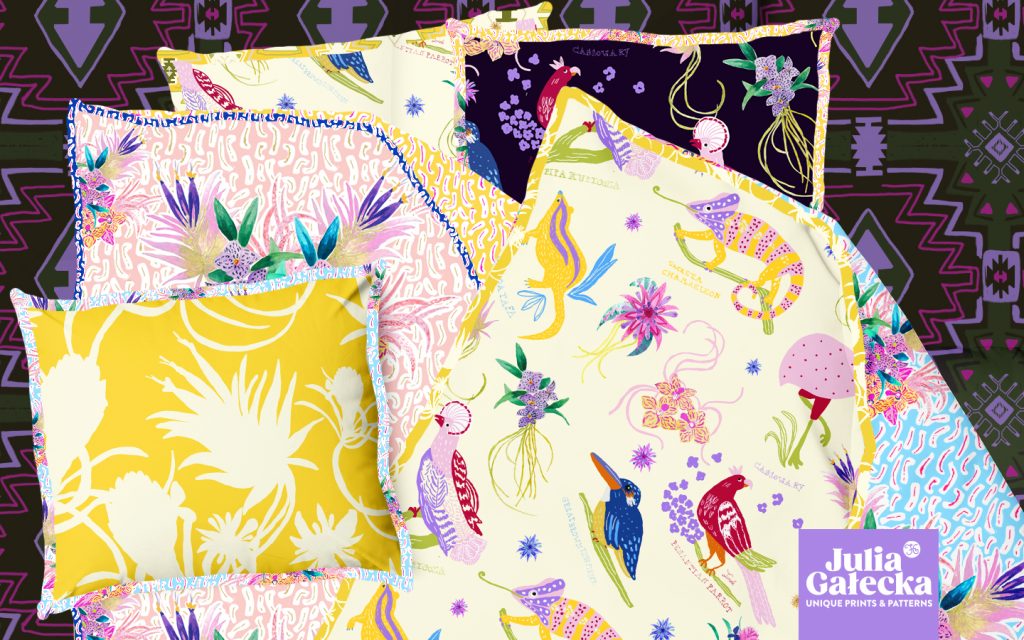 Maximalist Design Inspiration: In the "Natural Curiosities" collection, I tried to create something like a daydream, like a flashback, what if… I was a person who did the first draw of new species… I travelled to the end of the world… I saw incredible creatures & curiosities as flying flowers. Epifits – plants that have roots but are free, can live without ground, can fly. I was flying with them and collecting a little bit of rococo lightness & frivolity, a pinch of orient and landing in abstraction, a space of freedom.
About Julia: To experience the cultural melting pot and to be in journey makes me feel at my best. Alike, when I work I love to mix techniques and styles to build layers, apply and arrange patterns often in non obvious way.. My works are influenced by all my journeys, people I've met, the books I've read and most of all the Nature far away from which I cannot live. I use techniques learned at the Academy of Fine Arts drawing, painting, linocut and also digital techniques improved over the years of work as a graphic designer. What's of essential emotional and artistic value for me is not so obvious beauty, I collect colors, scents, moments. I can say I soak up the world and process it on my own way. Connect with Julia here.
Designer: Jill Craig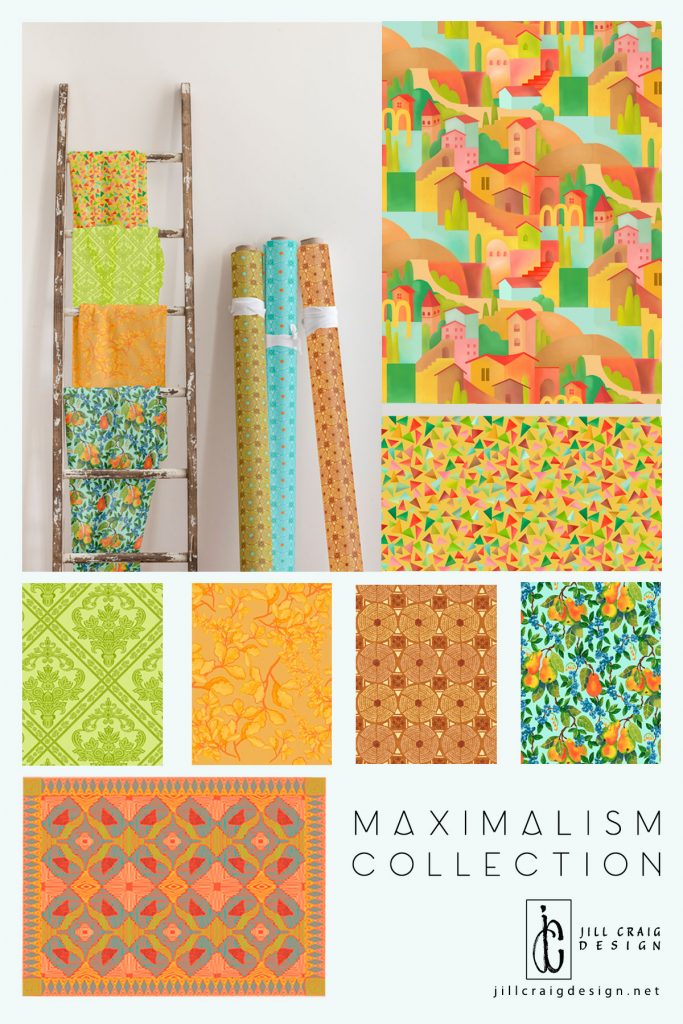 Maximalist Design Inspiration: The direction for this collection was based on combining patterns that would not necessarily match in style but would be cohesive in color and achieve a sense of place. My first pattern for the collection is a repeat pattern of an Italian Hillside Village which determined the place. To establish a sense of this area I wanted to include patterns that were textural with hand made qualities, evoked the climate, and included different cultural and historical pattern references.
About Jill: Jill Craig lives in Sonoma County in Northern California . Surrounded by the vineyards of wine country, being a short drive from the Pacific Ocean and the Sierras, her inspiration for design is abundant. Her style can be whimsical as well as realistic depending on the needs of her clients. Her past experience includes 10 years designing in-house for a ceramic dish ware manufacturer. Currently working as a free lance surface pattern designer she enjoys working collaboratively to provide innovative and successful designs for the marketplace. Connect with Jill here.
Designer: Erica Wiechers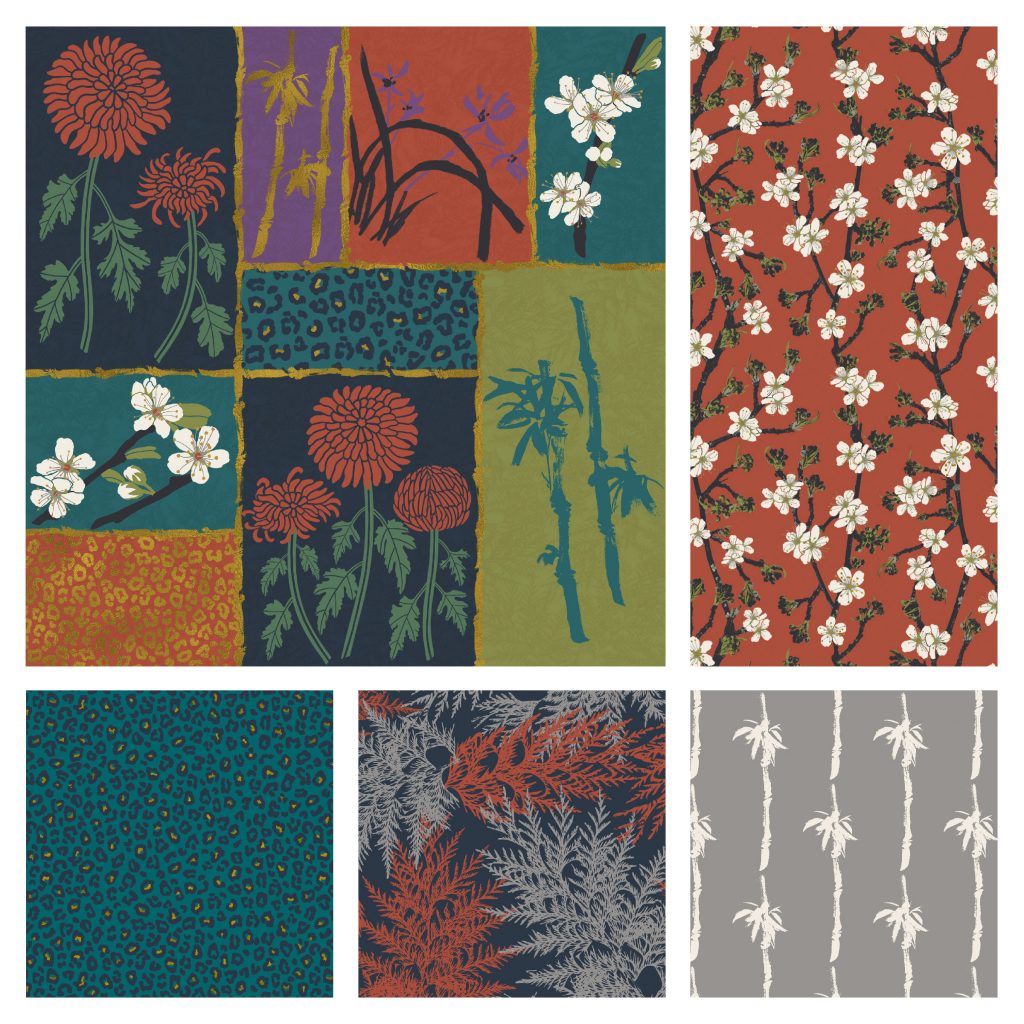 Maximalist Design Inspiration: I was inspired by the "old-meets-new" direction for this trend. I chose an interpretation of "Chinoiserie" and to focus on the "Four Gentleman" – the four common plant subjects used in Chinese painting that also represent the four seasons. The bamboo and orchids are scanned ink wash paintings I created decades ago, the plum blossoms are based on photos taken in my neighborhood, and the chrysanthemum were freshly created in Procreate. The cedar tree branches (also prevalent in our area) tie in to the chrysanthemum since both represent "strength and perseverance/resilience" – much needed these days! Throw in my love of leopard print and metallics and that's my collection in a nutshell.
About Erica: After 21+ years in the tech industry, I made a "leap of faith" a few years ago to pursue my dream of a creative career. Surface Pattern Design seemed a perfect fit, as I've always had a love for textiles (especially in fashion) and design. I've been enjoying learning the process and exploring different creative mediums. I also found I really love the problem-solving aspect of creating repeats! Connect with Erica here.
Designer: Sarah Nussbaumer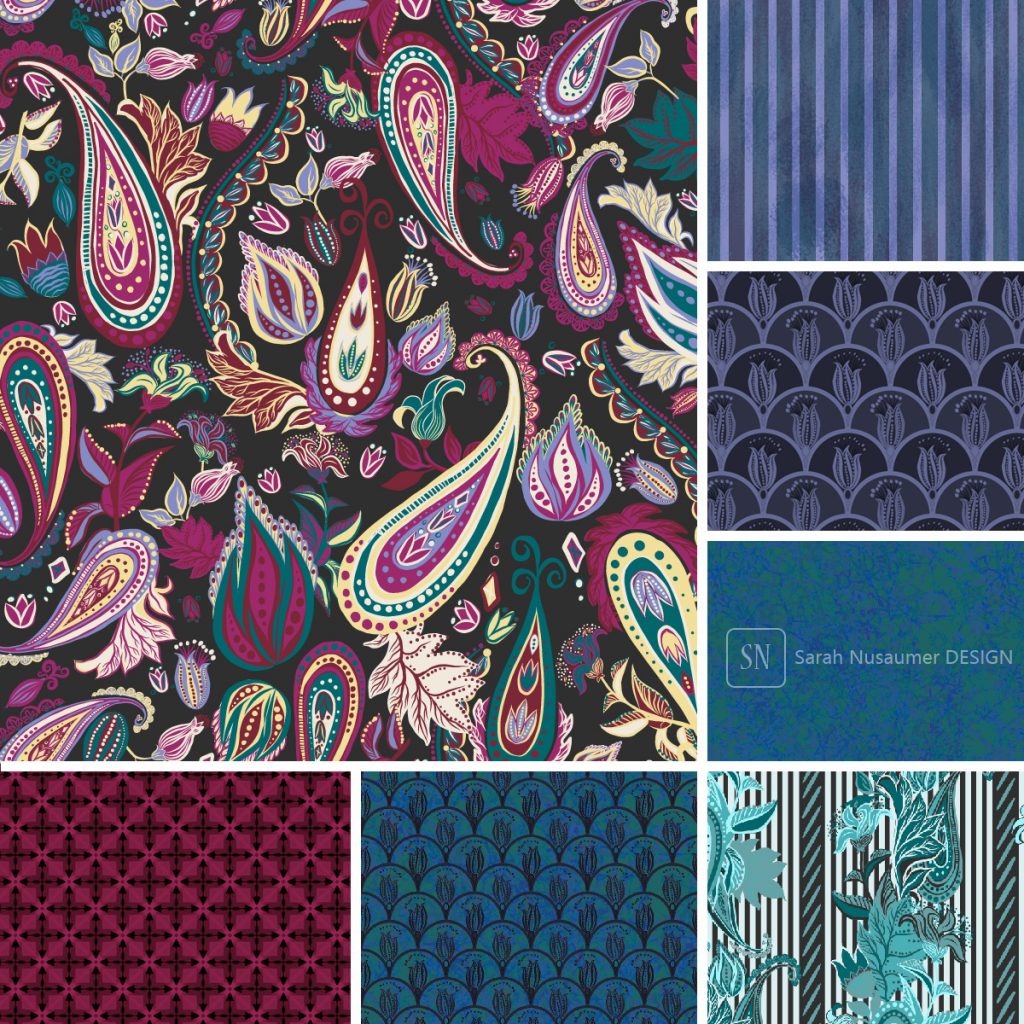 Maximalist Design Inspiration: This collection of prints was created for the Maximalist Dark Opulence direction that was part of the recent Chelsea's Challenge. The collection started with the paisley and then the other prints were built around it. It was truly a challenge to work with so many prints and to bring balance and interest without causing overwhelm. The collection would work well with bedding for a luxurious maximalist look.
About Sarah: Sarah is an independent surface textile designer who brings years of creative exploration as a printmaker and graphic designer to bear developing multi-layered patterns. The process of layering images, shapes and textures that are juxtaposed leads to discover interesting unexpected combinations. Working between hand drawn traditional mediums and digital methods further expands the range of visual possibilities available when creating patterns. Her style ranges from delightfully simple to richly complex. Connect with Sarah here.
Designer: Claudia Negru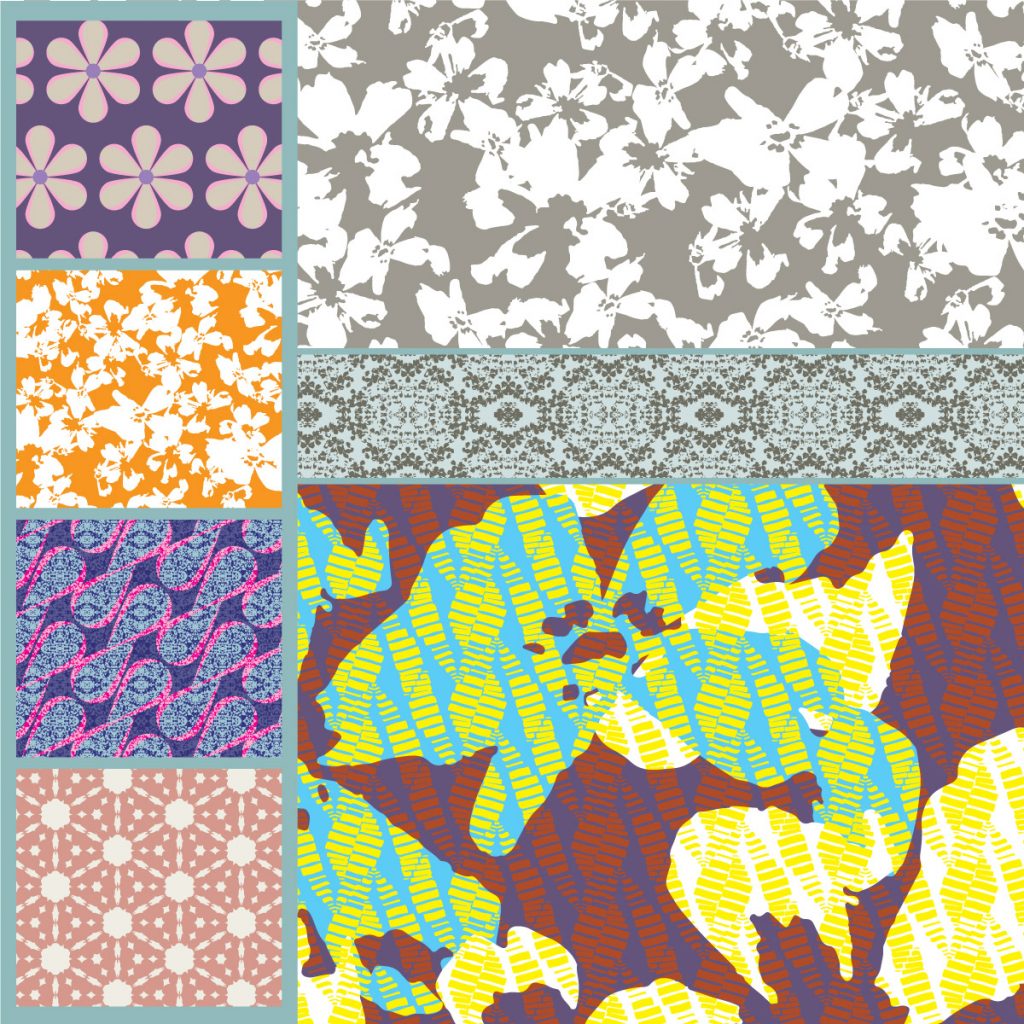 Maximalist Design Inspiration: This month's "Maximalist interiors" theme made me happy. Bold, maximalist patterns, and a mish-mash approach to patterns allow my imagination to run free. The collection was worked in Adobe Illustrator and I started by tracing one photograph from my personal library. I evaluated the result, selected and cleaned up the elements which I used to create the decorative motif for a 2-color pattern with organic feel. I then played with scale, added some color, texture and experimented with blending modes. Next, I went on and created a number of allover patterns with a set layout featuring simpler, geometric shapes. Finally, I evaluated all patterns I had available on a board, adjusted the scale as necessary, tweaked a color here and there, and curated a 7-pattern collection. The end result is a fun mix of colors and shapes which can be used together for a maximalist look or separately, as desired.
About Claudia: Claudia is using shape, color, size, repetition or randomness to create bold, vibrant and exciting patterns for fashion which make it meaningful, interesting, attractive, eye catching, easy to live with or just beautiful to look at. Is at her best when working on fashion oriented, bold and vibrant geos and abstracts in set, tossed, allover, and textural layouts. Always open minded and ready to be inspired, learn, and explore new techniques, markets, products and trends. Connect with Claudia here.
Designer: Tara White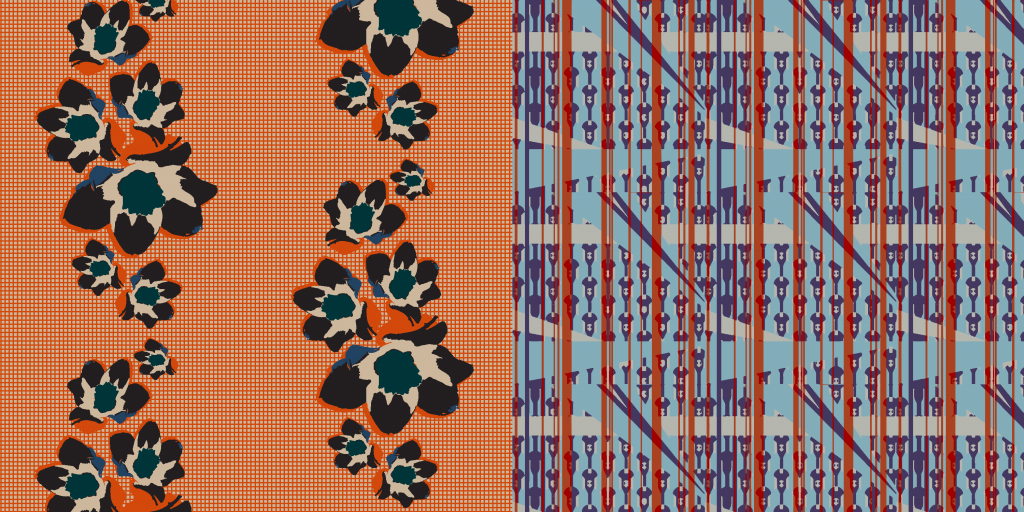 Maximalist Design Inspiration: For the Maximalist Interiors challenge, I picked up on the theme with the phrase, "bold lighting and geometric forms combine for a maximalist meets minimalist aesthetic". I like the balance of chaos and order that results from the mix of styles. Working between a photo, a hand sketch, and CAD, I combined multiple patterns in repeat using Illustrator. (Thank you, Laura Coyle!) With one of the patterns I submitted, I manipulated three layers of art deco motifs to achieve the end result. The other pattern marries color separated blooms with a fine grid. The orange tones of the color palette tie the two very different prints together.
About Tara: I'm an Atlanta-based surface pattern designer who is equally obsessed with bold textures, graphic florals, subtle digital landscapes, and precise geometrics. I like things that are 'perfectly imperfect', and I try to capture this quality in my designs, collages, and photographs. My process usually begins with a hand or digital sketch, a watercolor painting, or a photo, which I then transform using Adobe Photoshop and Illustrator interchangeably. I'm inspired by Japanese textiles, abstract expressionist paintings, Italian films, house music, and dappled light shining through the leaves of trees. Connect with Tara here.
Designer: Catherine Wilson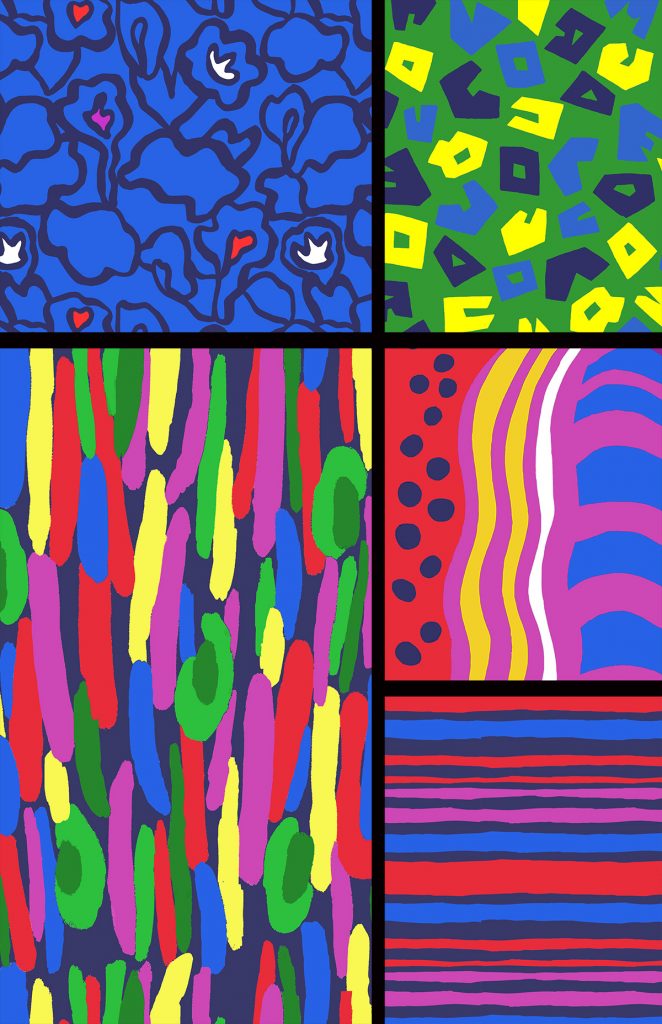 Maximalist Design Inspiration: I created these patterns using Fresco and Photoshop. I wanted to create a home textile collection for people who aren't afraid of some bold color!
About Catherine: I'm an artist and designer living in Chicago. Connect with Catherine here.
I hope that you enjoyed this presentation of Maximalist Design by our Textile Design Lab community. If you are interested in purchasing or licensing any of these designs please reach out to the designer. Thank you!