Mastering Your Market is our six week intensive workshop that begins on Monday, September 29th. In MYM you'll dig deeper into a market that you already love, explore new markets, try new artistic techniques and make new industry contacts. To celebrate the upcoming MYM we are delighted to feature some of our amazing alumni collections! Today's featured alumni are Lotta Hallenius and Stevie Black. You can read more alumni stories here, here and here. Want to learn more about what's covered in the workshop? You can read all about it and register for your spot here.
Charlotte (Lotta) Hallenius
The Collection
"In this Home Textile Collection aimed at Pink Light Studio I was inspired by the summer poolside and the watery colours of green and blue. The trend I choose was Stylesight's "impulse" for SS15.
I focused on simple graphic patterns with mostly white background. Young, fresh with a simple expression was the goal. I also like to combine patterns with a bit "retro" feel."
My MYM Experience
"MYM was a fantastic class which I really can recommend for both beginners and more senior designers. It gave me the a deeper understanding with a lot of "tech tools" in both Illustrator and Photoshop as well as a more structured way to work. I have worked in home textiles for some years in Sweden and needed new inspiration. The best part was the great feedback from both Chelsea and Michelle and all the other students. It was inspiring to see all the other students' work.
This class also released my fear of showing my things which I always had even if I worked such a long time…. I got new confidence. You will get a lot of positive and constructive feedback and you will grow in the way you think when being in the design process. But be committed and do all your homework!"
If you would like to learn more about Lotta's work, she can be reached at lotta.hallenius@gmail.com or her Linkedin page.
Stevie Black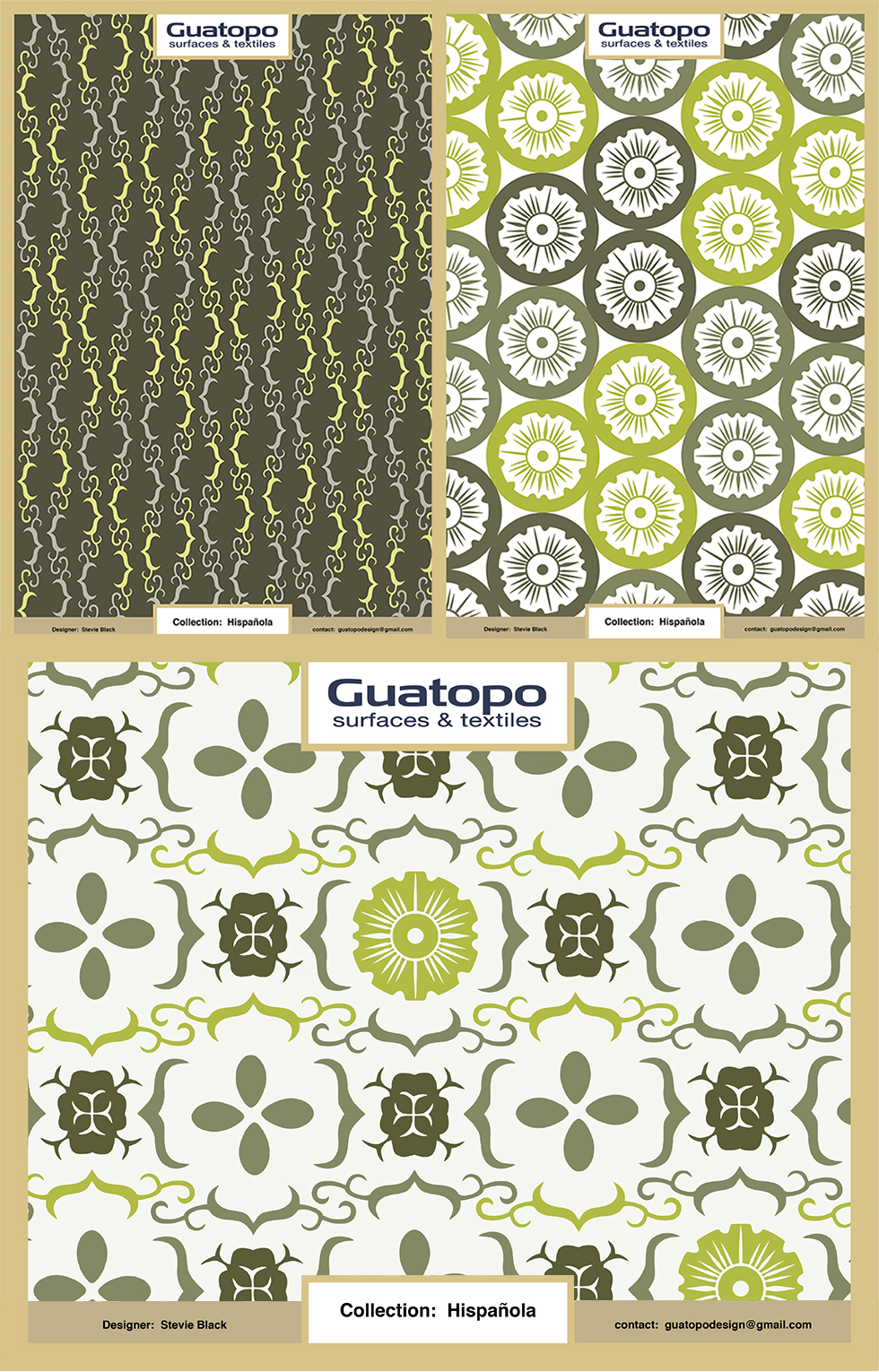 Inspiration and Goal 
"For the Collection – Hispañola, the target market was Home Goods/ Textiles. Emphasis in the class was for bedding, but I conceived my collection as having multiple uses. The goal was to use our original designs, cut from paper or hand-carved stamp patterns, while my inspiration was to narrate a story about the great cultural fusion that occurred when the "Old World" met the "New World" in 1492 in Hispañola. This corresponded to one of the Stylesight trends about "cultural merging."
The Main print is a tile-like design and has a Moroccan feel – because of the Moorish influence in design in Spain – another great cultural merging. The colorway came out of a desire to make the pattern youthful and contemporary without quoting water or colonial colors. The Coordinates were developed from shapes within the Main print and their colorways rise from the Main print, but don't reference it exactly."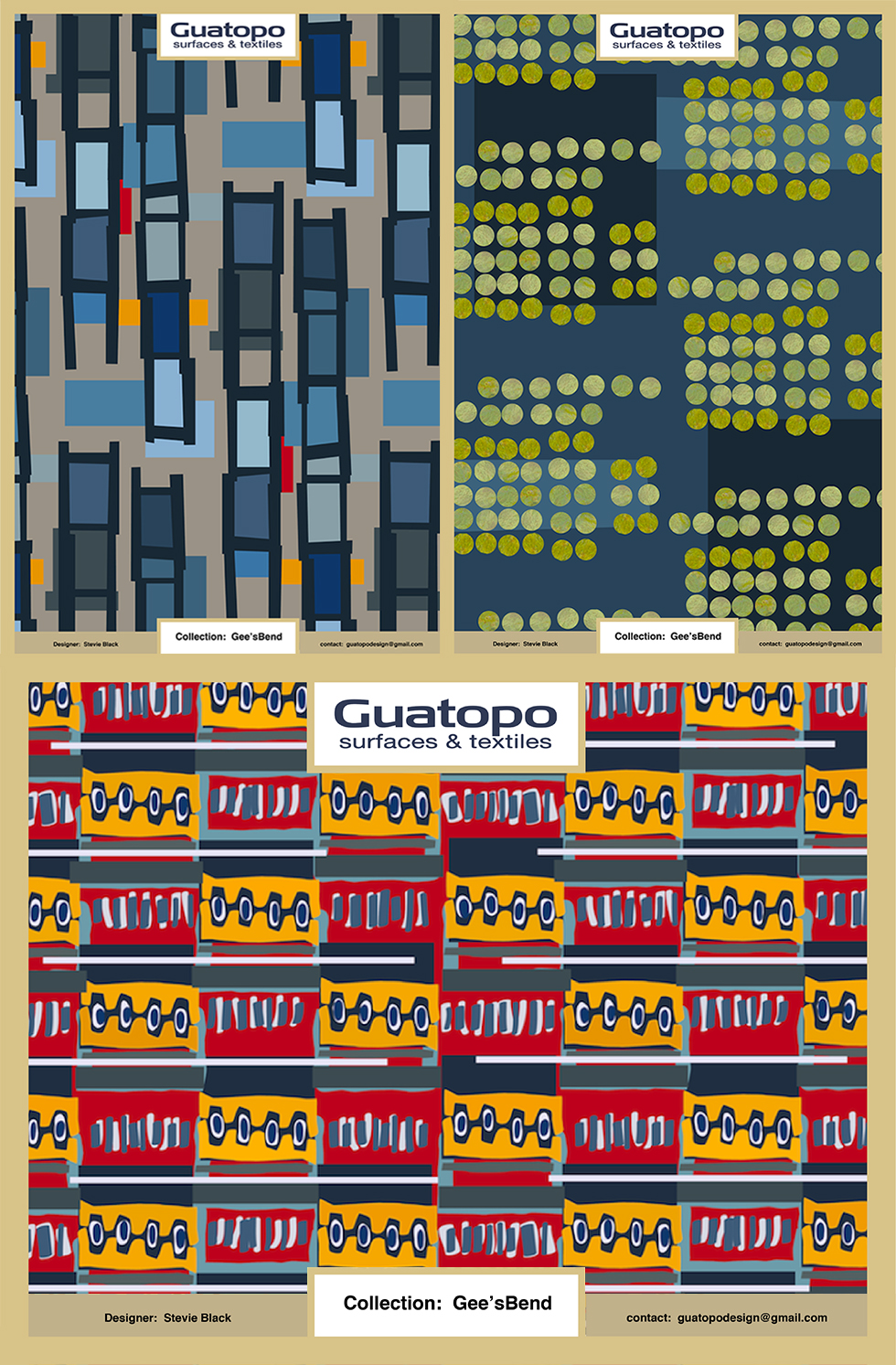 Inspiration and Goal 
"For the Collection – GeesBend, the target market was Quilt Marketplace. Our two company briefs were for P&B Textiles and Modern Yardage and I chose Modern Yardage because they seemed to lean more to the Geometric. My inspiration in this collection was to honor the genius of the Gee's Bend quilters and their beautiful quilted works without apeing their style or patterns. Their ability to carve abstract, geometric compositions from mathematically-imprecise angles and edges has always thrilled me. My goal was to create prints that would appeal to art quilters who wanted to take more risks.
The Main print comes from a hand-carved stamp in our collection. The colorway is pure Gee's Bend, bright, primary colors that pop. The Coordinates refer to others kinds of quilts from the Gee's Bend archives; each colorway pulled a nuance from the Main print."
My MYM Story / Experience
"MYM was truly an immersion class for me. It came along at exactly the right moment and really helped redefine what kinds of prints and patterns our studio is interested in making. Understanding more about how each industry changes and reinvents itself, and about the timetables they keep, was very important information; the experts for each segment were accomplished, honest and clear in their reviews. It was also a pleasure to see how the other designers were taking much of the same class elements and heading off in such different directions with equal success – that too was a very important component of the workshop for me."
Stevie has a new website in the works that will soon be available at www.guatopodesign.com, but in the meantime you can find him on Facebook or learn more about Guatopo / Stevie Black / Gigi Mederos (Stevie's partner in all things) at www.aquatrogallery.com.