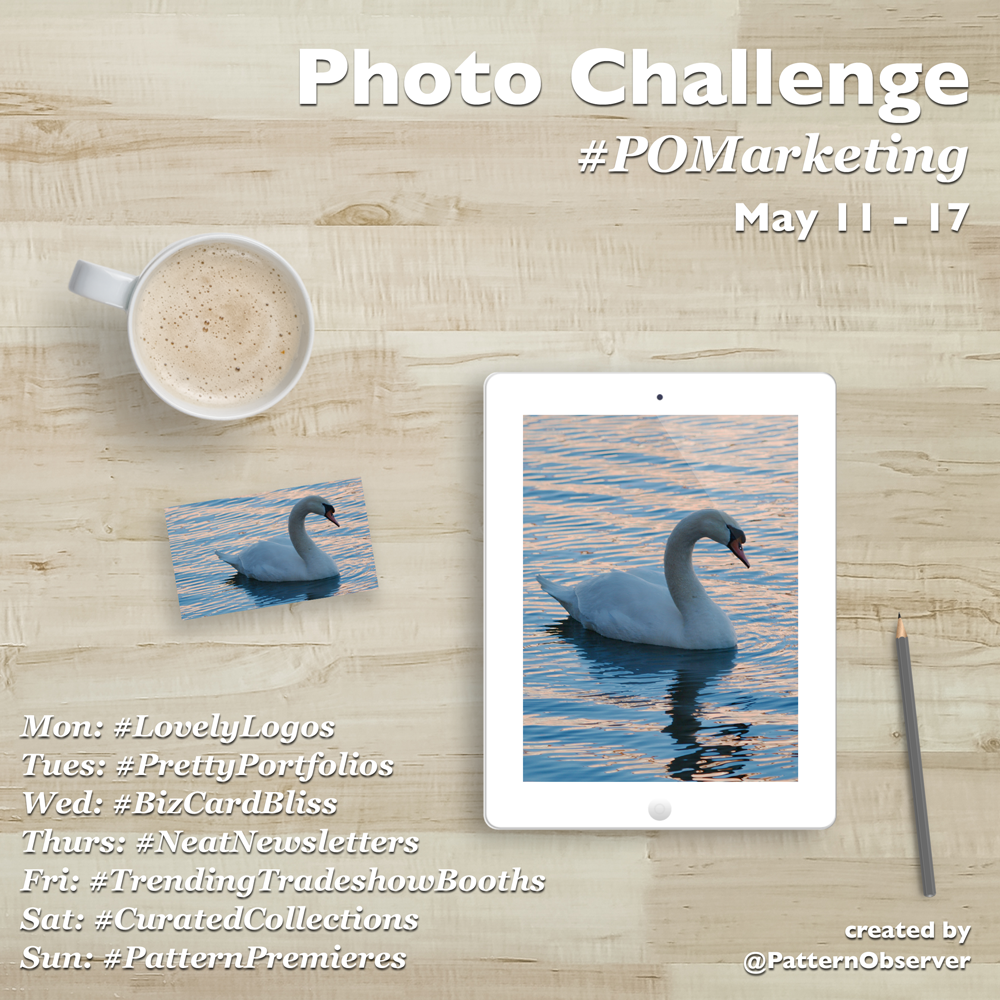 In anticipation of our upcoming marketing workshop, over the next two weeks we will be exploring how marketing can be both beautiful and fun! We are kicking things off with an Instagram Photo Challenge and the rest of the free events are listed below.
Our newest Instagram challenge focuses on marketing—and making it beautiful. This 7-day challenge is all about adding your personal artistic touch to your professional brand identity—logos, business cards, newsletters, and more. So join the fun. Share images of your own branding. Or repost images from the brands that you admire using apps like Repost for Instagram.
Be sure to hashtag your posts with #POMarketing and the daily prompt. Pattern Observer will do a blog post after the challenge sharing our favorites. There is no pressure to participate everyday. There are no rules here, just have fun and share your observations during the week. Check out the #POMarketing feed on Instagram to see what your friends are posting.
Monday, May 11th – Sunday, May 17th
Monday: #LovelyLogos
Tuesday: #PrettyPortfolios
Wednesday: #BizCardBliss
Thursday: #NeatNewsletters
Friday: #TrendingTradeshowBooths
Saturday: #CuratedCollections
Sunday: #PatternPremieres
Pattern Observer's Free Resources and Tutorials on Marketing
1. On the Pattern Observer blog this week, we will include posts with marketing tips for designers including how to create collection snapshots and Instagram videos.
2. Free 
Marketing Can Be Beautiful
 webinar on May 19th @ 10am Pacific, 1pm Eastern. Register for the webinar 
here
. In the webinar we're going to show you:
a. How marketing and running a successful business can be a thing of beauty.
b. How to grow your business naturally…without hype or high pressure tactics.
c. The four crucial elements of your design business and what you should be paying attention to as your business grows.
d. A sample marketing cycle developed just for the design industry and built to bring peace and simplicity to your marketing process.
This Instagram challenge has been organized by designer Chris Olson. Chris is a Colorado-based illustrator and surface designer known for her modern playful illustrations and designs that you can view at ChrisCocoMedia.com. She writes and sketches about all things design at Pattern Bliss blog. You can follow Chris on Instagram at @chris_coco_olson.