Photoshop for Designers is a six week workshop that begins on September 11, 2017. Today we are highlighting the work of two of our fabulous alumni, Kathy McGraw and Kirsten Katz. Enjoy!
Kathy McGraw

Kathy McGraw is a San Diego-based graphic designer who specializes in hand painted watercolor patterns, illustration, and packaging and branding design for Beauty, Health, and Wellness. She is particularly interested in the application of pattern design to beauty packaging and fashion.
Kathy is inspired by "the bohemian Southern California life style, fashion illustration, science, nature, and florals." When she is not designing, you can find her "outdoors enjoying the Southern California sunshine, hiking the canyon trails, exploring and collecting inspiration from all around me…"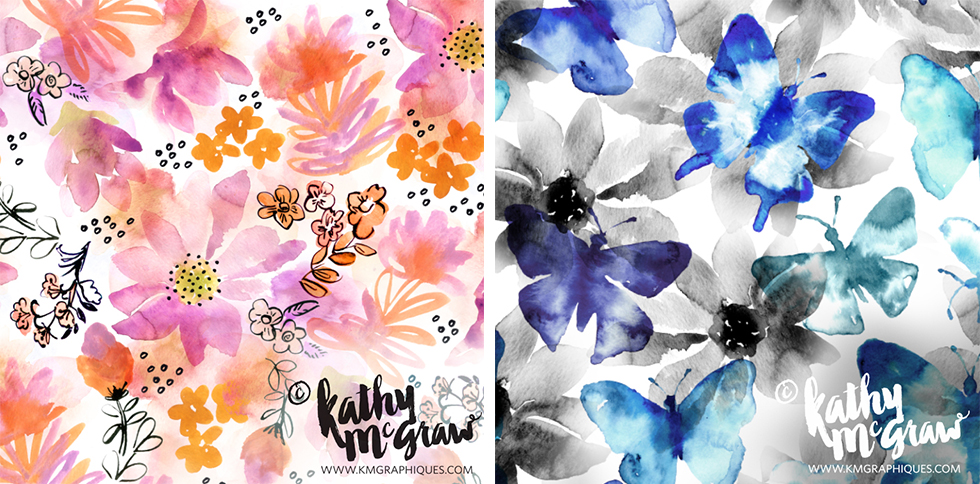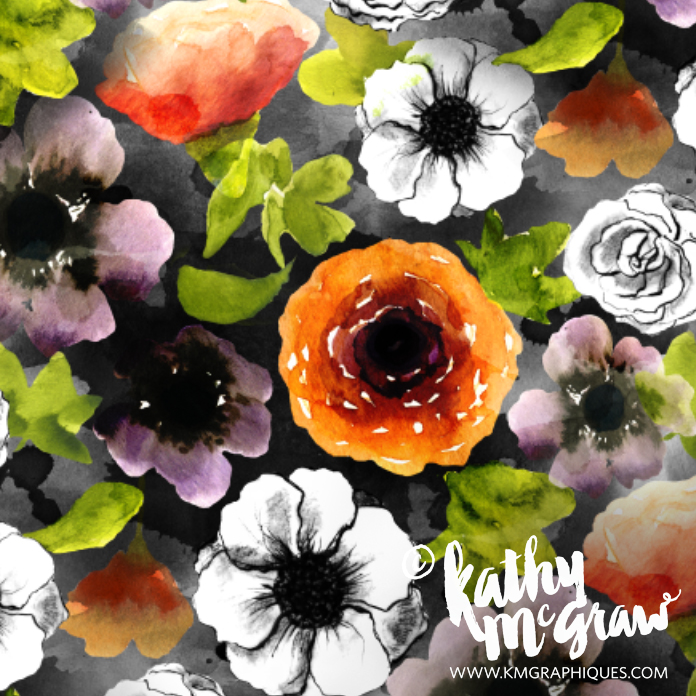 Kathy's PFD Experience
"I really love a hand done painterly look and wanted to be able to take my watercolors and maintain that feeling in pattern design. There were a few things really stood out in the PFD course that helped me with my workflow, and my ability to keep the look that I was trying to achieve. What was of particular importance to me was learning how to select and separate watercolor motifs away from their backgrounds. Another great take away I got from the class was learning how to create and use Smart Layers. They really simplified my workflow and I couldn't create my patterns without them. I also now use custom designed watercolor brushes which I learned how to create in the class and I absolutely couldn't live without the wonderful "Define Pattern" option that I picked up too. Photoshop is so complex and there is so much to learn in the PFD course. You can take away an incredible amount of detail but I mainly tried to focus on what could help me with my style in particular."
Visit Kathy online at http://www.kmgraphiques.com/, on Instagram, and Pinterest.
Kirsten Katz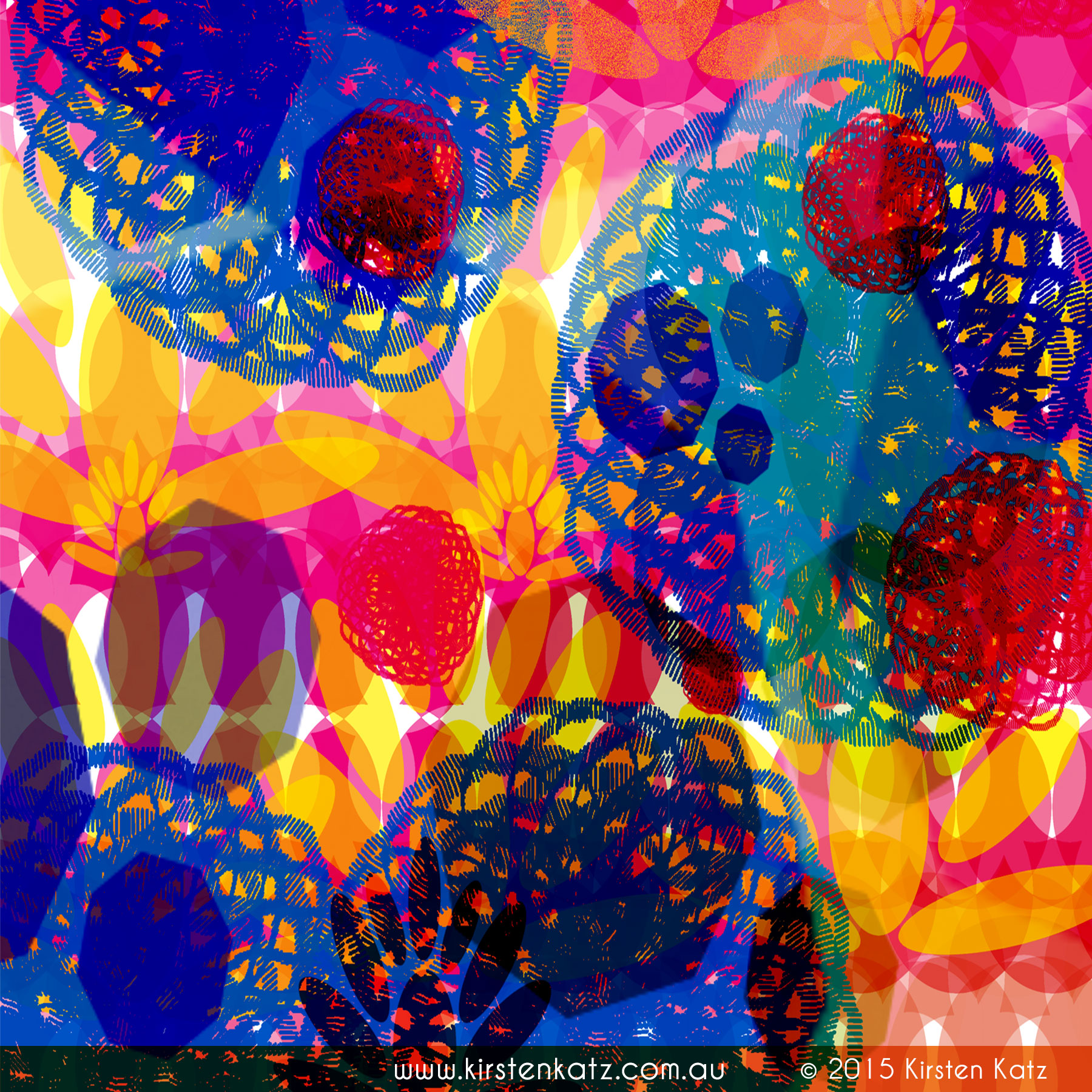 Kirsten's assignment from Week 1 – Brushes – learning how to make your own brushes and use them to create artwork, patterns and textures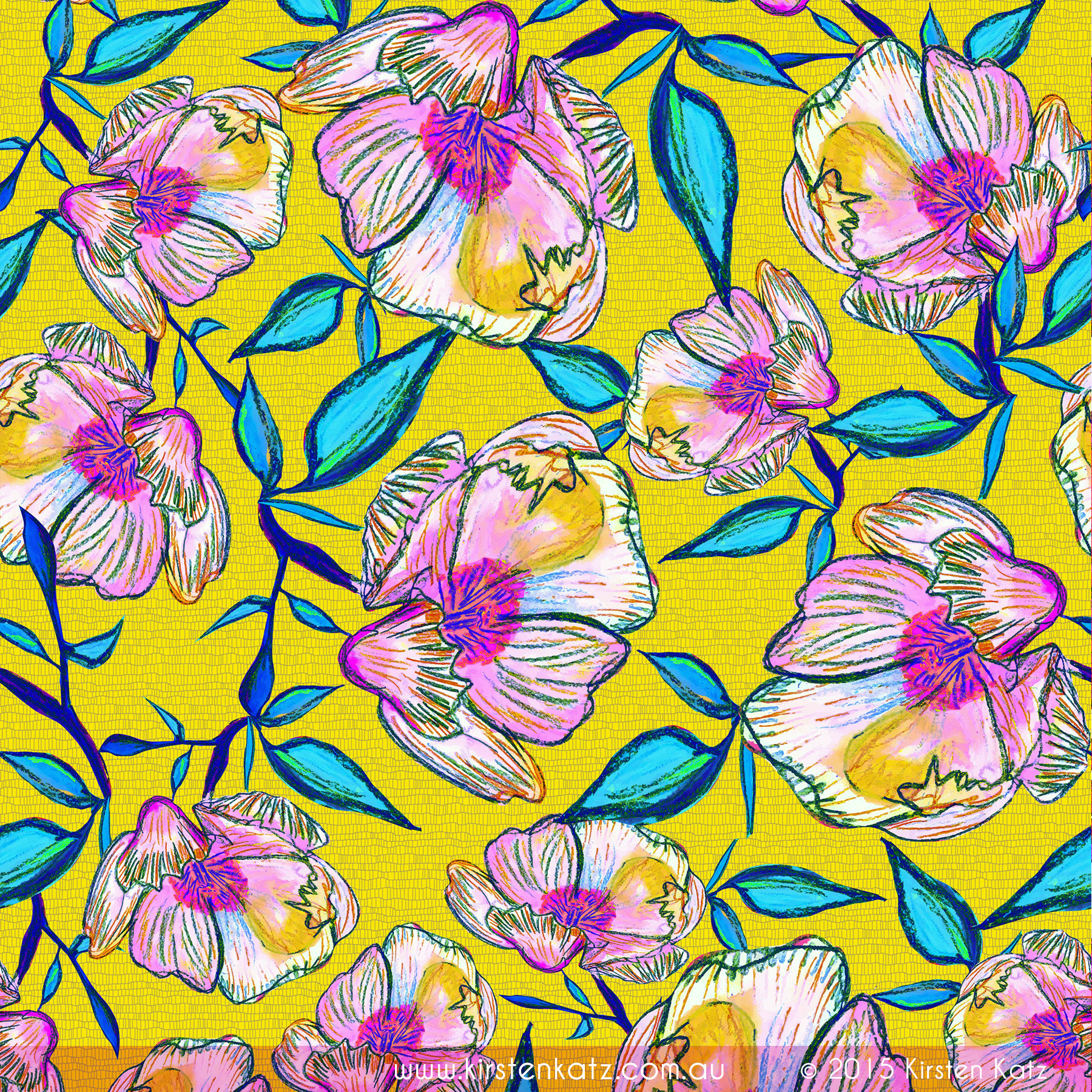 Kirsten's assignment from Week 4 – Working with Scans – scanning, editing, removing backgrounds, editing, using filters
Kirsten's Biggest Take-Away from PFD
"No matter what you think you may know about Photoshop there is always more to learn. Photoshop provides numerous ways to achieve the same result and in this course Sherry teaches so much. As a designer this course gives you the key to Photoshop Pandora's Box –  brushes, repeats, filters, effects, layer masks, non-destructive editing and the power of smart objects just to name a few of the things you will learn."
See more from Kirsten at www.kirstenkatz.com.au or visit her on Facebook or Instagram.
Photoshop for Designers begins on September 11th, 2017! Read what other alums had to say about this 6-week workshop on our PFD Pinterest board and check out a sneak peek at one of the 60+ tutorials from the course here.

Save