Every day in the Textile Design Lab I find myself stunned by the quality and scope of our members' work. From newbies to the world of surface design to experienced designers with long careers in this field, the Lab is a melting pot of creativity and ideas from a huge range of design backgrounds and design styles. Being the Community Manager for the Lab truly feeds my passion for this industry and I hope to share my excitement with you in our new monthly post series: the Textile Design Lab Member Spotlight. We are kicking off this series with a spotlight on Laura Muñoz Estellés, an amazing talent and one of the more than 300 members who make up our TDL community. Read on to learn what Laura has been working on inside and outside the Lab! -Chelsea
Tell us a bit about yourself. Where are you from? What is your career background and what drew you to textile design?
My name is Laura Muñoz Estellés, I'm a textile and surface designer, based in Valencia, a Mediterranean city on the east coast of Spain. Since I was a child I always had a creative spirit, I always needed to express myself through color, paintings, drawings, collages, pictures… Now I do exactly what I was born to do. My work is the result of a multidisciplinary learning process through fashion, fine arts and textiles and it is mainly focused on handmade illustration and pattern design, to make common things more beautiful. I'm graduated in fashion and fine arts and I worked for several fashion brands in order to expand my practical knowledge and it was when my love for patterns appeared because I always worked as a pattern designer. One day I decided I wanted to be a professional textile designer and I saw the opportunity, I applied on the last day for a scholarship contest and I was awarded with a scholarship by the Istituto Europeo di Design (Madrid) in order to study the "Master of Arts, Surface and Textile Design" and from then on I threw myself into textile design.
What courses have you taken in the Textile Design Lab? What is your favorite aspect of the Lab?
I took two courses from the Textile Design Lab for the moment: "How to Sell Your Artwork" and "The Ultimate Guide to Repeats". There are some aspects of the Lab I love, first of all is the confluence. I was looking a place to find support, to get a positive critique and to talk about patterns, because I think sharing your designs with others and getting feedback is the best way to learn, from professionals and designers who belong and enrich this wonderful community. I think there is always something new to learn about techniques or digital tools because things change so fast and everyone does things so differently, you should never stop learning. The second thing to stand out from the Lab are the tutorials and challenges, the tutorials give you technical methods to develop professional repeats and patterns, and the challenges continuously stimulate your creativity and make your work better.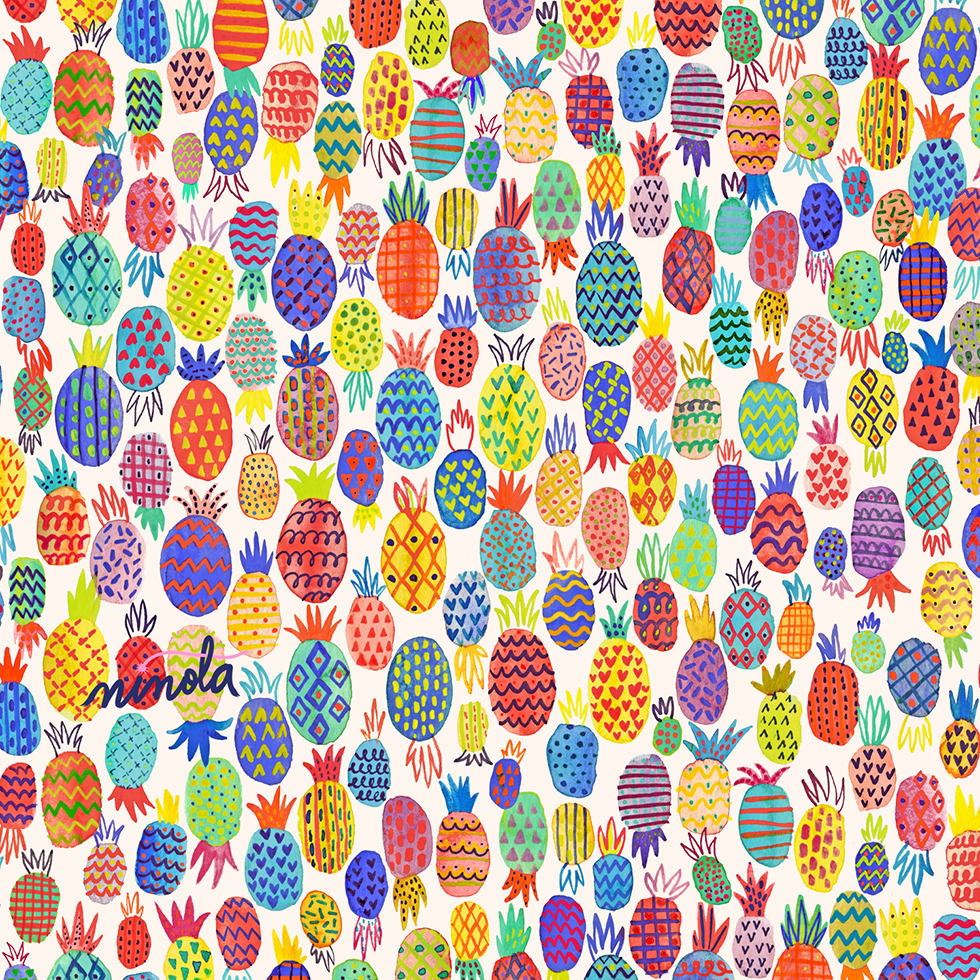 What projects are you currently working on? 
On the one hand, nowadays I sell my pattern designs for the fashion industry through Hunt+Gather studio in the US and I work as a freelance designer making bespoke designs for fashion and home decor manufacturers and companies, and on the other hand I love to take time to create new artworks and sell them under the pseudonym Ninola, through POD sites like Society6, Nuvango or Estampable. Recently my designs were selected for Nuvango's new apparel line. Also, recently I'm joining creative platforms like Jovoto, and submitting some designs to launched projects, and I was one of the winners surprisingly.

Where do you find inspiration when creating a pattern? 
Patterns have to me two things I've always enjoyed, trends that come from the world of fashion, which influence many different industries, and moreover, the creative process, I love to make artwork always using handmade processes. Usually I do hand-drawn and hand-painted artwork, where I begin from to create patterns. Watercolors and inks are my most beloved way of expression and it gives my work its own singularity, I love their randomness, the inherent element of luck and surprise, making each work unrepeatable and spontaneous… Where the colors flow. But I can work between manual and digital, because I am constantly learning and it keeps me motivated. Also I'm always inspired by abstract art, wonderful nature, the arts & crafts movement and pop culture.
What do you do if you're stuck in a design rut or feeling uninspired? 
I have two ways that help me if I am stuck in a design or I feel uninspired. The first thing is every day I paint watercolors, I do drawings or I make collages, and although I don't use immediately, I keep it in a folder, and when I need artwork to create patterns, in many cases, I have something to begin from. The second thing is that wherever I go, if I'm traveling or taking a walk down my street, I take pictures of everything that fascinated me or called my attention. I have a library of a thousand images I really love and inspire me and I look it up when I have to start a new project or a new collection, from ice-cream colors to feathers of a bird, a texture of a wall or a water drawing, in the world there are a great many beautiful things to observe.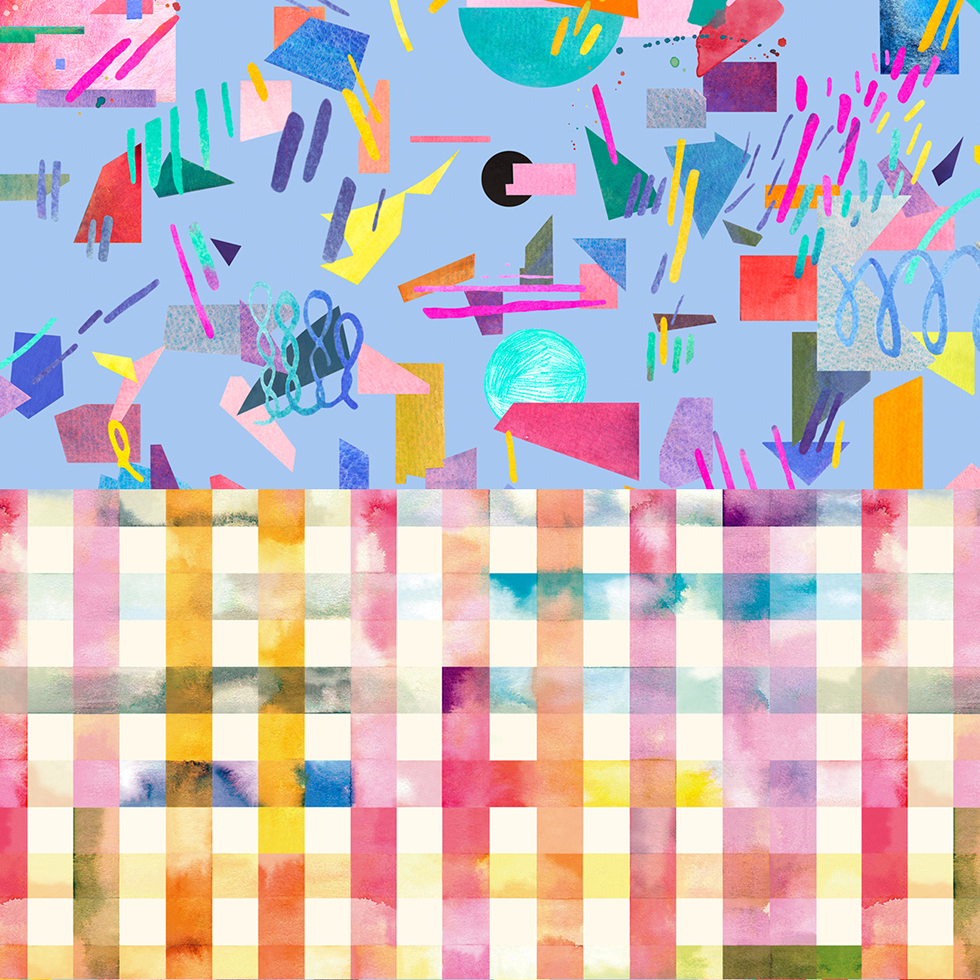 What do you hope to achieve as a textile designer? What are your goals for your career/business?
What I hope is to keep improving my designer skills every day and being a nice person. Maybe in a future I'd would like to have my own studio or I would like to create my own apparel line, also if I dream I would love to collaborate with companies I admire, for example Marimekko or brands such as Mina Perhonen or Gorman.
You can find Laura around the web at:
Ready to transform your talent into a thriving career in textile design? Become a member of the Textile Design Lab today! Membership is just $49/month and includes seven different e-courses, a private forum, weekly live artwork critiques, guest expert tutorials, fun design challenges and lots more exciting and helpful content to get your textile design career off the ground. Visit textiledesignlab.com to learn more!