For our third Textile Design Lab member spotlight (previous posts here and here) I am delighted to introduce you to Crissie Rodda. Crissie created the patterns above as part of her collection for our Sellable Sketch e-course in the Lab, and I just love the quirky color palette and the fun hand-drawn details in her work. Learn more about Crissie and her journey into the world of surface pattern design in our interview below!
Tell us a bit about yourself. Where are you from? What is your career background and what drew you to textile design?
I live in the beautiful rural city of Hamilton in New Zealand, with my husband and our two lovely little girls.
I have a Bachelor of Media Arts, majoring in Photography, but have spent much of my working life as a graphic designer in corporate marketing and publishing. I've also spent the last few years dabbling in wedding stationery design.
For as long as I can remember I've been a creative soul. Right from when I was a little girl I loved to make and create things – be it miniature gardens, music, drawing or painting, surrounding myself with beautiful things both found and hand made.
I only discovered the practiced art of surface pattern design in June of this year, when I was looking at doing some online creative classes. It was like a little spark was ignited in my belly – I knew this what was I wanted to become a part of and I've been totally immersed in this wonderful world of patterns, textures and colors ever since.
What courses have you taken in the Textile Design Lab? What is your favorite aspect of the Lab?
I've just finished The Sellable Sketch course and I'm about to start the Ultimate Guide to Repeats. Even though I've only just scratched the surface, I know the Textile Design Lab is an ideal place to learn, grow and connect as a textile designer. The Lab is such an amazing place full of amazing resources, tutors and mentors, not to mention the abundant level of support you receive from the tutors and fellow participants alike. Feedback and encouragement is really vital, especially when you're just starting out and I think its been my favorite part of being part of the Lab so far.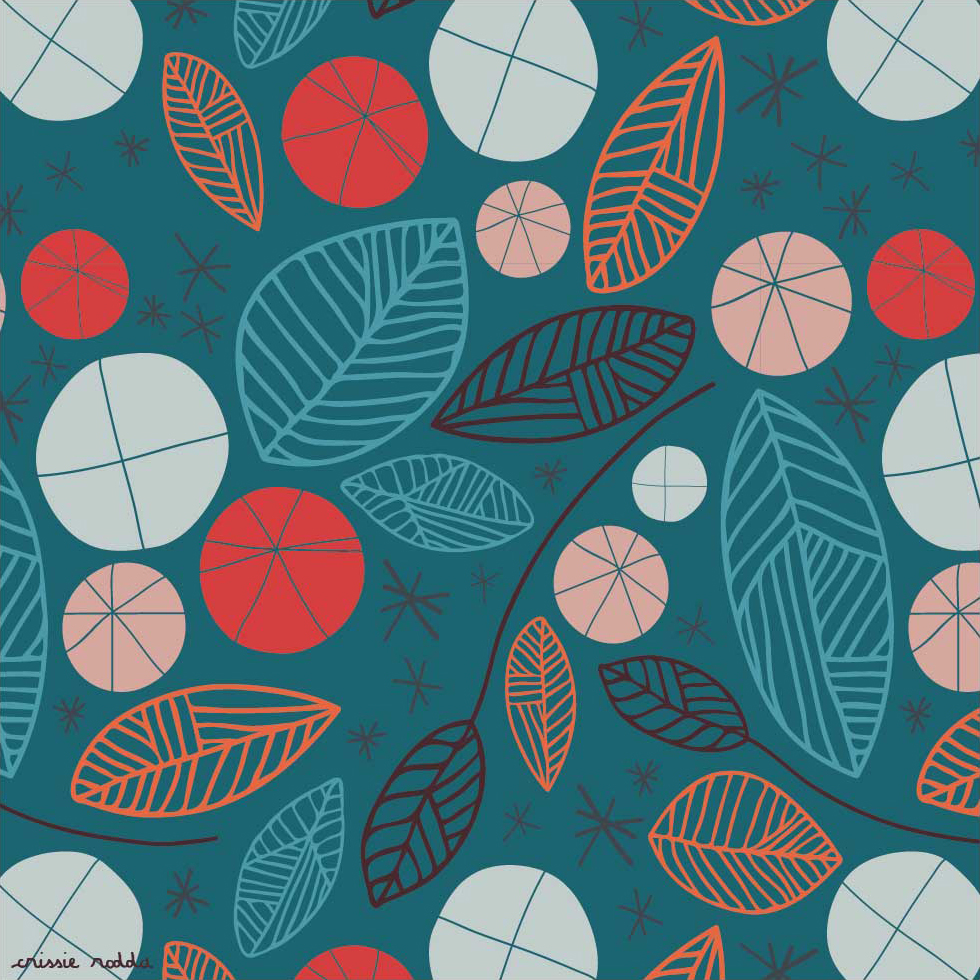 What projects are you currently working on?
As a relatively green textile designer, I'm all about learning, experimentation and prolific creation at the moment. Taking in as much technical and industry information as I can, entering design competitions and gaining experience while I build up my portfolio and create more collections.
It's early spring in New Zealand, so with the days getting longer and warmer there is a burst of activity everywhere – especially in my garden. So my next body of work will be based around the feeling, colors and scenes that 'spring fever' evokes.
Where do you find inspiration when creating a pattern?
As a naturally artistic person I've always looked at the world a little differently, so for me inspiration can come from anywhere and everywhere: Magazines, shop windows, quotes, posters, photographs, walks to the park, literally anything that catches my eye and makes me go "ooh". But being in the great outdoors and nature has always held a great deal of wonder and fascination for me and is always a place I seem to look to when creating something – even when I worked in photography and wedding stationery.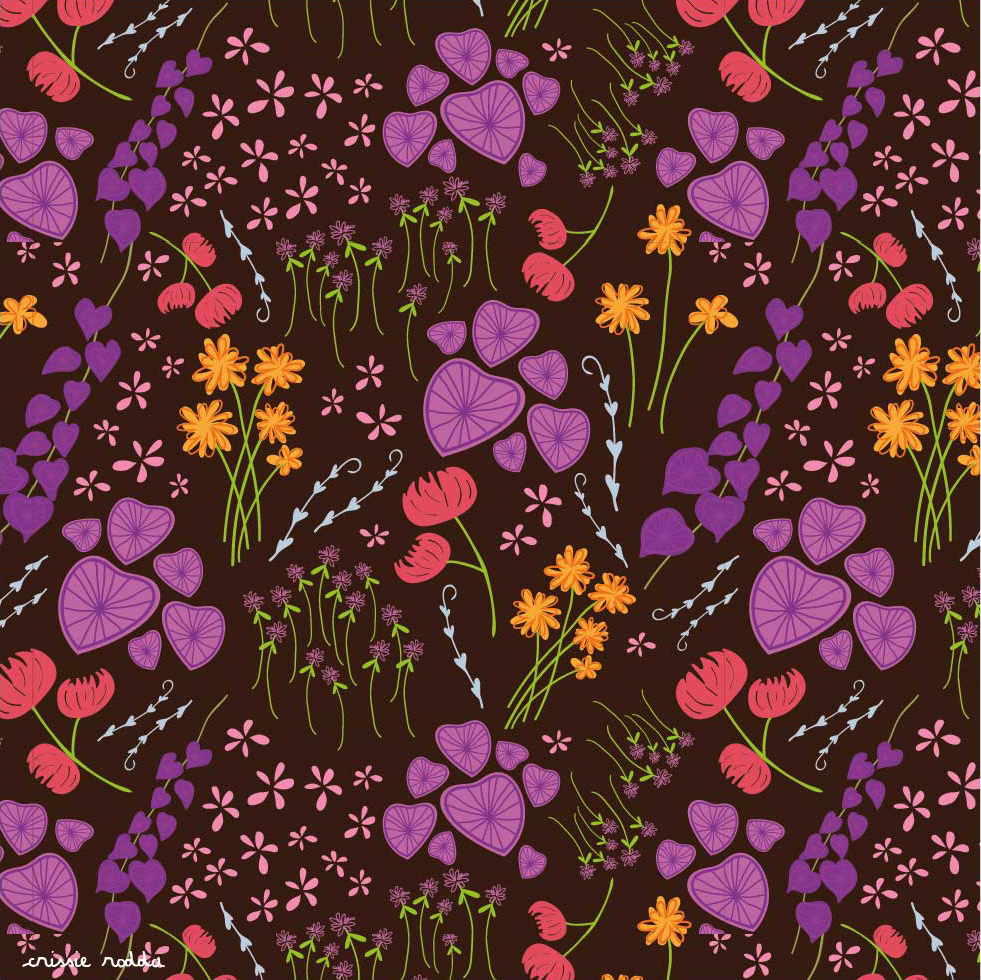 What do you do if you're stuck in a design rut or feeling uninspired?
I get outside. Go for a walk, run, go to the park or just sit out in the sunshine. There's something about fresh air that really soothes me. We have amazing botanical gardens here in Hamilton, so whenever I can I take my girls on a picnic there and we explore and wander taking in the sites, smells and colors all around. I also take loads of pictures or collect a few specimens from our outings, take them home and start to draw. I also find Pinterest a great source of inspiration. I find scanning through the images a great tool in looking and thinking about things differently. Like the way to approach sketching something, color combinations or a new technique to try out in a repeat.
What do you hope to achieve as a textile designer? What are your goals for your career/business?
Like everyone I guess I want to be a successful and sought after textile designer. I've always wanted to be my own boss, not because I don't like working for other people, but because I wanted to set my own schedule to make the most out of my best times of the day rather than following someone else's 9-5 timetable. I love to meet people and grow good relationships, so having my own design label as a platform to pursue contracts with my favorite fabric; home décor and stationery companies would be a great first step. Then to see my designs in my favorite local and international stores would be next and ultimately attending and having a booth at a big trade show like Surtex or Printsource one day would be pretty amazing – especially for someone tucked a way down at the bottom of the world.
But for me success is more than making a good living from what I do – that's the bonus. I love to design and so I'm really excited to have other people love and engage with the designs that I create; be it some one just like me or an art director at a global company. I guess that's the luxury of being new to something – the future and possibilities it seems are endless.
Connect with Crissie via Linkedin or see what's currently inspiring her on Pinterest.
Ready to transform your talent into a thriving career in textile design? Become a member of the Textile Design Lab today! Membership is just $49/month and includes nine different e-courses, a private forum, weekly live artwork critiques, guest expert tutorials, fun design challenges and lots more exciting and helpful content to get your textile design career off the ground. Visit textiledesignlab.com to learn more!