Yesterday we had the honor of welcoming Evonne Cook into the Textile Design Lab. She shared her experiences with vintage textiles and how she turned her passion for vintage quilts into a thriving business. It was an inspiring chat and needless to say, quilting and craft fabric have been on my mind.
Movement and perfect motif placement are so important to fabrics used in the quilting industry. This is because the fabrics are often cut into very small pieces and then pieced together to make the final quilt. If motifs or colors are spaced too far apart they risk being lost in the piecing process.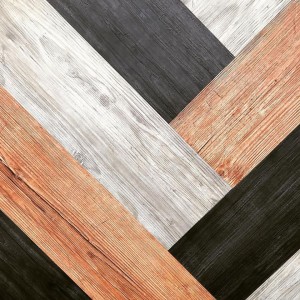 In fact, piecing and color blocking are trends we're seeing across many markets, such as home decor and apparel. Sometimes color blocking is done with solids – for example, piecing a bright blue with a bright red – but often times you'll see textural patterns pieced with solid fabrics or solid fabrics pieced with detailed patterns, such as florals or geometrics.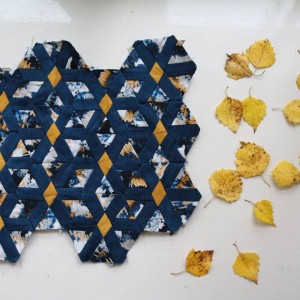 This idea of piecing subtle textures together to create a final product that is definitely not subtle is what drew me to this found pattern by Maryana ButarButar, a menswear designer in Jakarta. I love the bold color contrast that we see between the grey, brown and black, that are then softened by the detailed woodgrain textures. This idea of creating an extremely bold pattern, only to soften it, or make it slightly more understated in some way, is interesting to me.
The same concept can be seen in this piecing work by Kritsa in Finland. She is using a very bold radiating diamond quilting pattern alongside solid fabrics that have a great deal of color contrast. She then softened the overall feel of the quilt by using a gorgeous textural fabric. Take note of the way it blends the two solids together in a more cohesive manner. This would be such an interesting concept to try within a textile or surface pattern design.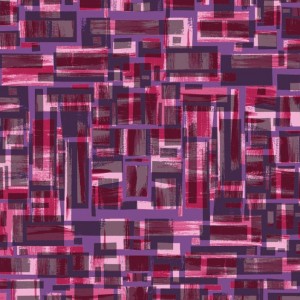 I love how Textile Design Lab member Miksa Designs explored this idea of piecing and combining textures with solids in this pattern. She created this after watching one of our recent pattern design tutorials and I think it is a beautiful concept for the quilting market.
Are you interested in quilting and craft fabrics? If you are, you likely realize that the International Quilt Market is right around the corner. For those of you who have the privilege of attending this event I encourage you to stop by Booth 2416 and see all the stunning collections created by Monaluna. Monaluna is a small, independent organic fabric company based in Walnut Creek, CA. The company is owned and operated by Jennifer Moore and her husband David Miguelucci, with assistance and inspiration from their young daughter Anabelle.
Monaluna was started in 2010 by Jennifer, a designer and textile artist, out of a desire to bring more sustainable alternatives to the fabric marketplace. "I have always loved sewing and creating with fabric", Jennifer says, "but as I learned about the environmental impacts of fabric production I became committed to making more environmentally-friendly options available to sewists and quilters."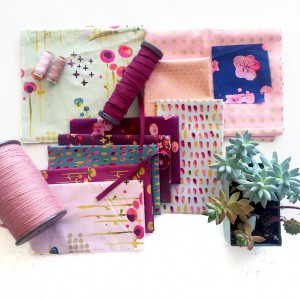 In addition to being a more sustainable option, the colors and patterns are gorgeous. The type of prints that you just want to wrap up in and forget about all the troubles in the world. They are comforting, rich, and inviting. And who doesn't need a little more of that in the world right now?
Quilting is such an exciting craft and it's easy to see why those who prefer it are so passionate about it. A story, a life, and a beautiful piece of artwork can all be relayed through the creation of a quilt. This past week, in particular, I have held the world of quilting and craft fabric close to my heart in honor of Jane Lewis. If you haven't already had a chance to do so, I encourage you to download her insightful PDF training on creating fabric collections for the quilting marketplace. It is free for all to share and enjoy in her honor. Just click here to download, and please make sure to sign up for our newsletter to be the first to hear about our next repeat downbeat post!
Save
Save
Save
Save
Save
Save
Save
Save
Save
Save
Save
Save
Save
Save
Save