This past Fall, I had the wonderful opportunity to work through the Textile Design Lab's first "Print Studio Workgroup."
Textile Design Lab members who had a professional online portfolio developed—and who were interested and ready to work with print studios and agents—were invited to join me for this four-week journey. We met once a week during that time and the participants went through the process of:
Researching studios in the marketplace;
Making small updates to their website;
Preparing marketing materials;
And, eventually reaching out to print studios for representation.
The workgroup was a wonderful experience for many, and many of the participants were also able to land freelance positions with the studios they contacted.
Here are just a few of the Textile Design Lab members who took part in the workgroup and stayed active and engaged throughout the entire process!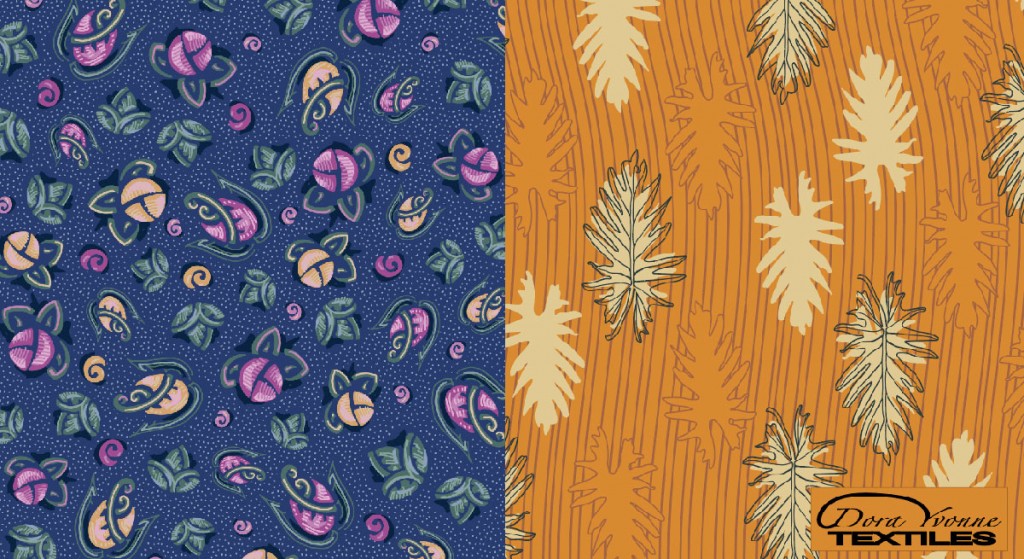 Anni Wernicke
Anni Wernicke has a background in fine arts and graphic design, which has trained her eye for color, form, and composition. Her design process usually begins with hand painted or drawn elements, and she uses a wide variety of techniques, which are developed further into textile patterns with Adobe Illustrator or Adobe Photoshop. While trend driven, her designs are inspired by folk art, vintage design, and nature. They are elegant, often with a touch of whimsy. Anni's focus is women's fashion, but she is happy to design for other markets.
Anni is continuing her search for the perfect agent or studio for her work. You can learn more about her work here.
Dora Font
Dora Font, founder of Dora Yvonne Textiles, is influenced by the lush tropical plants and nature that surround her, as well as the diverse culture in south Florida.  "I love using lots of texture and color, as well as playing with negative and positive space. When I am working on my art, I am in the moment, which is very meditative." Dora combines hand drawn art, doodles, and photos in her work, using digital tools on the computer.
Dora was formerly trained in textile design at the University of Massachusetts and has committed to extensive continued education at the Textile Design Lab. During high school in Massachusetts, she had the opportunity to work under batik artist Betsy Johnson for several years, using the wax and dyeing process to create silk and cotton scarves.
This last year she won two competitions with her pattern designs and also had her designs featured in several advertisements.
Dora is continuing her search for the perfect agent or studio for her work. You can learn more about her work here.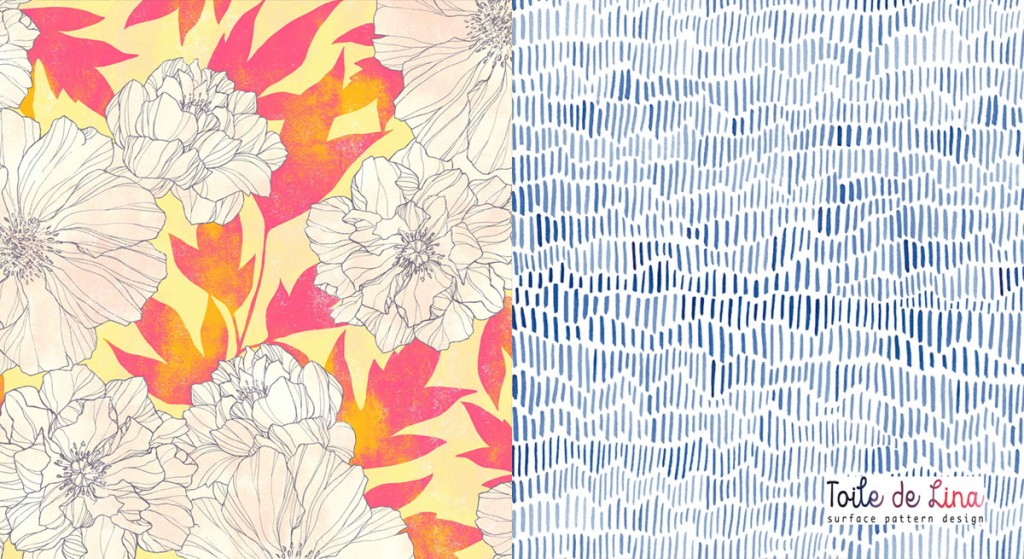 Elena Skvirskaya
Elena Skvirskaya is originally from Russia. After finishing school she moved to Israel, where she studied Art History (BA). Art theory made her curious about the process of making art. That's when she took her first drawing classes. This hobby became more serious and brought her to New York to study Painting (MFA).
"About 5 years ago I had become interested in Textile Design in attempt to find more commercial application for my painting skills. I really fell in love with creating patterns and I was looking for ways to become more professional and turn it into a career. That's when I joined the Textile Design Lab, which helped me to gain the necessary technical skills and get inspired. I felt supported and encouraged by a big community of talented designers. Recently, I signed with the print studio as a freelance designer. This is my first experience of being out there and trying to find my place in the real world of textile design. Very challenging…but hopefully I will find my way."
Elena is currently working with White Buffalo Studio and you can learn more about her work here.
Lina Thuresson
Lina is a Swedish surface designer building her personal brand in the South of France after living in Providence and Boston, USA.
Having spent most of her career in Travel IT, she followed her dream to become a surface designer. After taking art classes and two online Textile Design courses with Central St. Martins, and various Creative Bug and Skillshare classes, she knew that patterns was the perfect path for her. Lina says that after signing up to the Textile Design Lab her designs and process were dramatically improved and she continues to find the lab continuously helpful. What she enjoys most about Textile Design Lab is the indispensable constructive feedback and support from experienced professionals and peers. This has made all the difference in her progression.
The endless possibilities of creating, the world of motives to draw, and different mediums to explore is what Lina loves the most and she finds the whole processes to be a true joy. Continuously learning about design and exploring creativity has given Lina that extra spark in life.
The stunning nature in the South of France combined with her Swedish heritage reveals itself as key influences in her work. Lina's cheerful patterns are a mix of hand painted and Photoshop motifs, and she masters repeats.
Lina's brand, Toile de Lina, is a French play on words of "toile de lin", meaning a linen canvas. Lina continues to search for the perfect agent for her work. You can explore her portfolio here.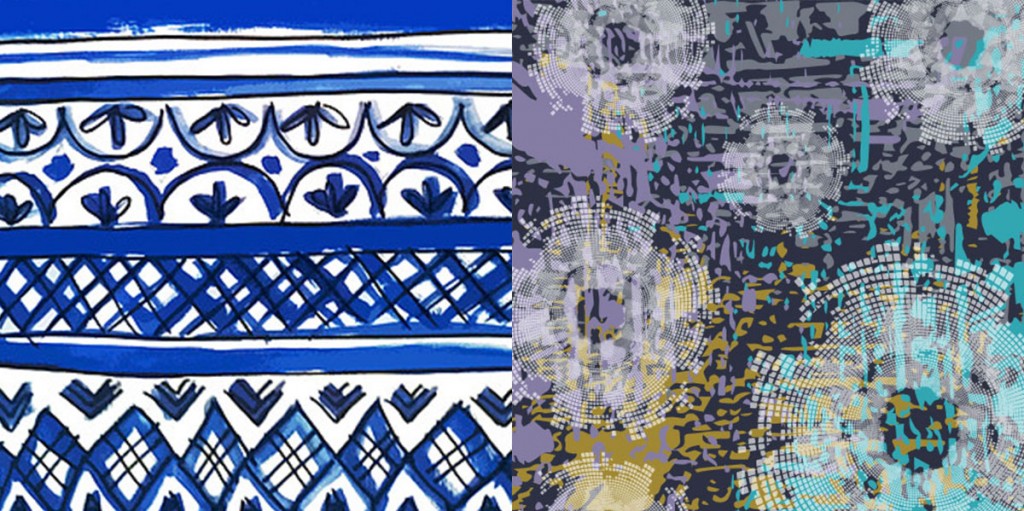 Poonkuzzhali PK
Poonkuzzhali PK is a Fashion and Textile Designer from Bangalore, India. She focuses on designing for women, kids, and home decor. Apart from surface design she also designs for womenswear, lifestyle,  interior products, and makes tech packs.
​
After graduating from Istituto Europeo Di Design, Milano, and with a decade of working with various fashion companies and designer labels, she continues to pursue her passion for art and design under her name PKP.
​
She now creates exclusive surface pattern designs for fashion and home decor. She is also available for custom and commissioned work. Poonkuzzhali PK follows trends closely and stays up to date on the international runway trends. Since she is from a country that has multitudes of cultures, she draws inspiration from the various customs and rituals of her home land.
​
She creates each and every design from scratch, experimenting with different techniques, hand drawings, paintings, and craft. To summarize, she loves her work and she always strives to the fullest to deliver artwork with the highest quality!
Poonkuzzhali PK is currently working with a studio, but continues to explore new opportunities in our marketplace. You can see more of her work here.
Renea Gallagher
Renea Gallagher is a graduate of the Illinois Institute of Art with a BA in Communication Arts. She has worked as an Art Director for several years in design studios around the Chicagoland area.
Her love of design and fashion has drawn her to textile design. Renea's designs have a strong modern palette and feel. She loves experimenting and mixing traditional techniques with modern digital effects to create unique eye-catching looks for the apparel market.
Renea resides in a suburb of Chicago with her husband Steve and two sons, Declan and Colin. In her free time she enjoys working out at barre classes and taking an occasional ballet class.
Renea is currently exploring all the different options available in the textile design marketplace. You can learn more about her work here.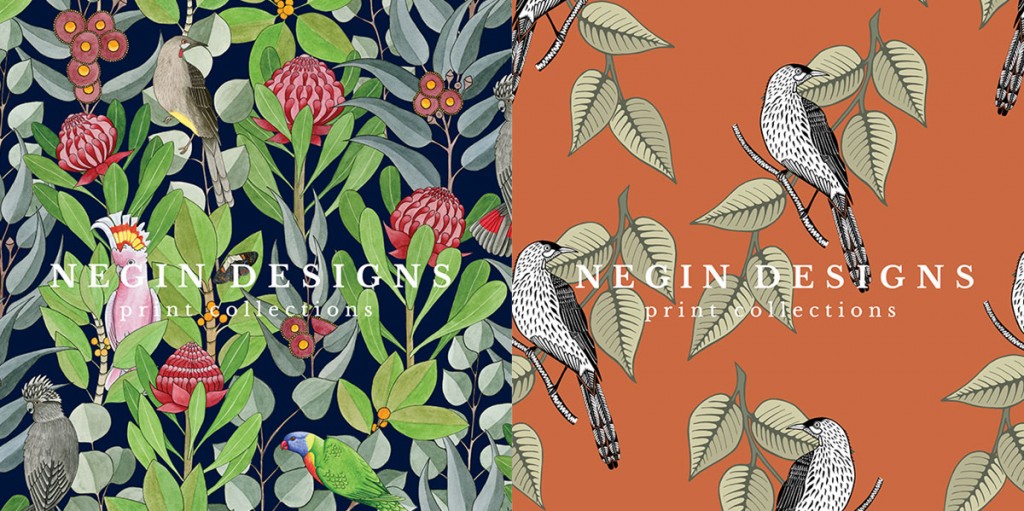 Negin Maddock
Negin Maddock is an illustrator, surface designer, and printmaker from Sydney, Australia. She designs wallpapers and textiles for the interiors market, specializing in bespoke large scale murals, depicting botanical paintings, birds, and other animals. She also creates illustrated art prints, patterns, and handmade cards that she sells on Etsy. Her other passion is printmaking, anything from stamping, to linocut and etching. All of her work is beautifully hand illustrated with painstaking attention to detail. She takes a very technical approach to her art making, believing a deep understanding and knowledge of the subject matter are key to a successful design.
Negin is continuing her search for the perfect agent or studio for her work. You can learn more about her work here.
How about you? Are you ready to market your work to agents and studios, but are unsure of how to go about it? You're not alone! When marketing your work to the right parties, your first step is to have an amazing portfolio of original artwork. But knowing how to curate and present this artwork in your online portfolio is also an essential part of the process. If you are unsure what you should include in your online portfolio, get started with our free Portfolio Development Guide Checklist. The information in here will give you an idea of what comes next—and from there, you can take the steps to achieve your goal!