Missed Part One? Check it out here.

Surtex is an annual print show held at the Jacob K. Javits Convention Center in New York City. This year's show will feature over 300 exhibitors from around the world who will be selling and licensing artwork and patterns for a variety of markets. The show runs May 18th-20th and today we are highlighting a few of the many talented designers who will be exhibiting at the show. If you are an art buyer or licensee attending Surtex be sure to stop by their booths and check out their amazing offerings!
bella caronia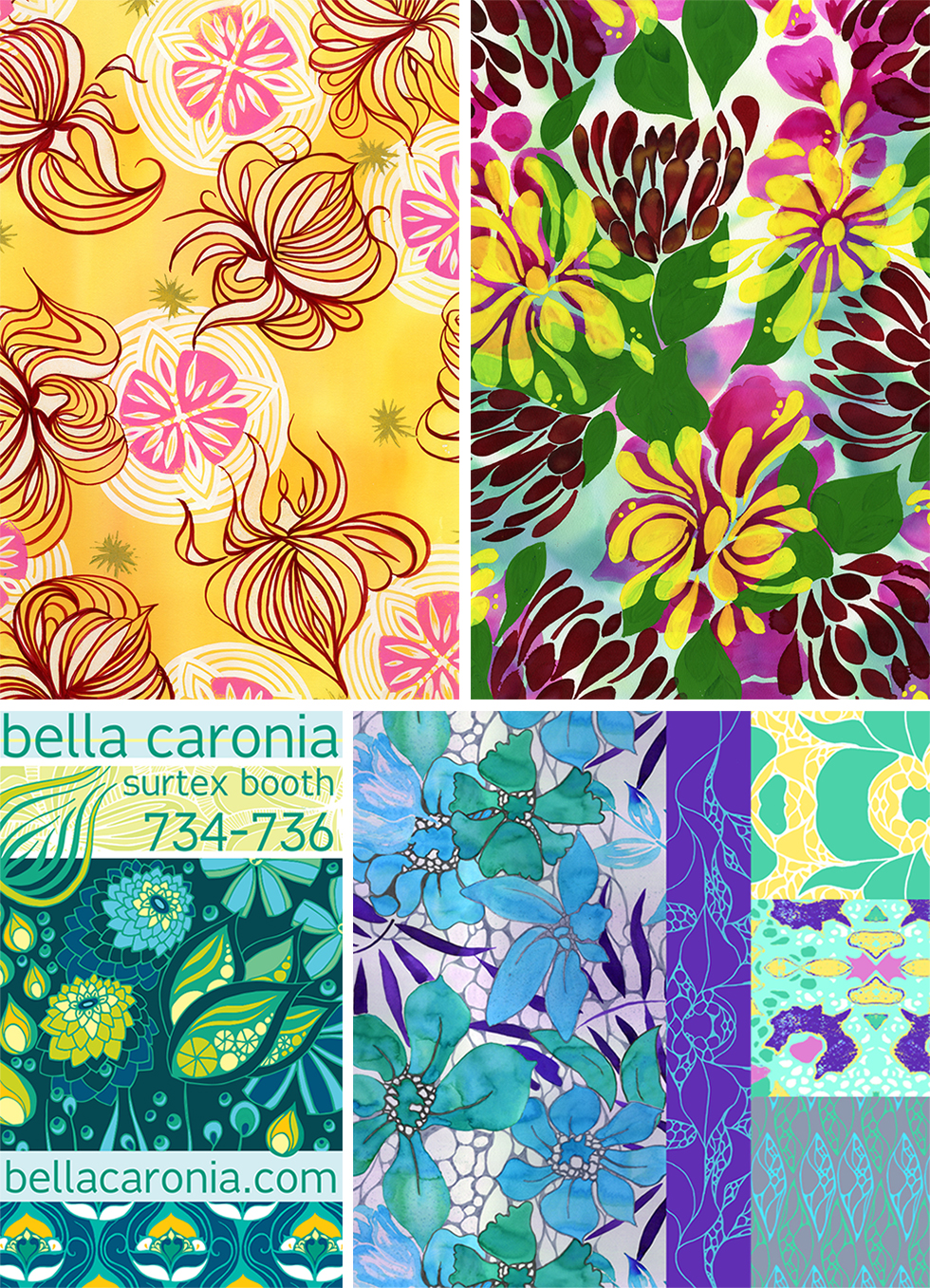 "bella caronia is a surface design brand created for those who love nature and color. Artist Amanda Caronia specializes in hand paintings and drawings. "I love to experiment with color and new drawing styles to get unexpected results," Amanda says. In fact she likes to mix traditional textile design principals with her bold modern style. Her signature look is layers of saturated color and organic motifs.
Growing up in the country outside of Chicago she has always created art inspired by the natural world. Having earned a BA in Studio Art from Colorado College she moved to Los Angeles to further her design career in costumes and illustration. In 2012 she earned a certificate degree in textile design from Otis College of Art and Design.
The inspiration for the brand comes from a love of all things outdoors. Amanda searches out the vibrant color palettes and varied textures and patterns in the natural world. She believes that living a healthy and balanced life with a good dose of natural beauty around you is key to fulfillment. Her favorite activities are in the mountains or at the beaches in California where she lives with her husband.
Since launching bella caronia in 2013 she has already started working on several collaborations for 2015 and will be exhibiting at Surtex in May with Art Licensing LA in booth #734-736. For a look at her online portfolio contact Amanda at bellacaronia.com."
Kelly Ventura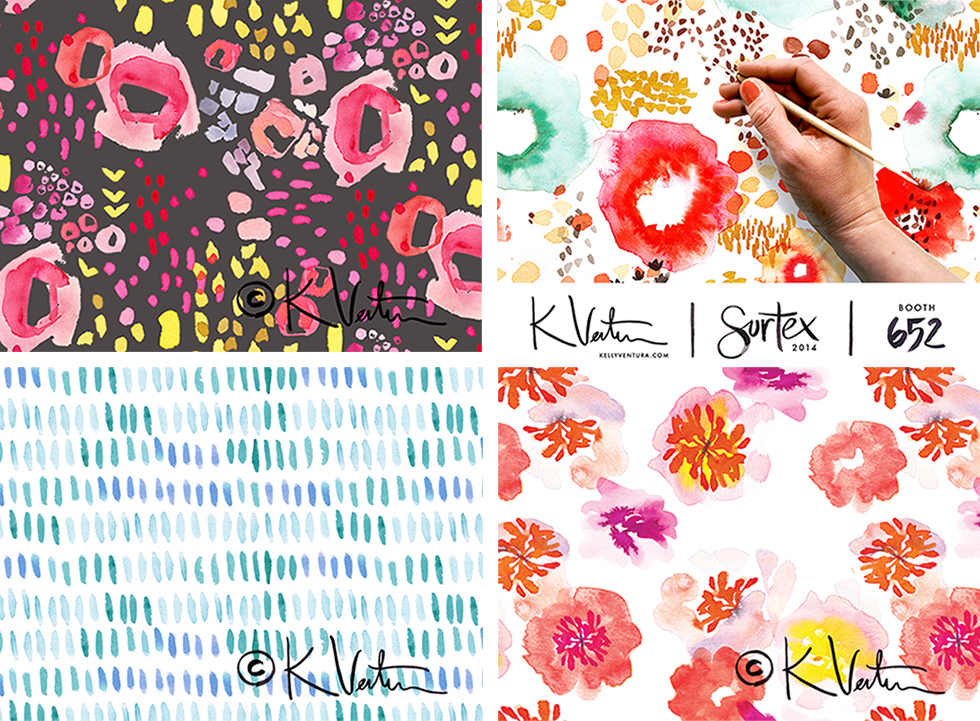 Kelly Ventura Design Surtex Promo Video 
"Kelly Ventura is a Michigan-based surface and product designer leaving her unique mark on the home, gift and apparel markets with her fresh florals, playful prints and organic hand-painted patterns. With over eight years' experience designing for both wholesale and retail gift and home companies, she has a clear understanding of the manufacturing process, seasonal time lines and mid to mass market design appeal.  This experience has led Kelly Ventura Design to make its Surtex debut in May 2014 where Kelly would love to share her creative perspective with you. Kelly has current product collaborations with Bloomingdale's, Crate and Barrel, Kohl's, Minted, Paperproducts Design, West Elm and many more in the works for 2015!"
See more at kellyventura.com and be sure to visit booth #652 if you are attending Surtex!
Printed Hues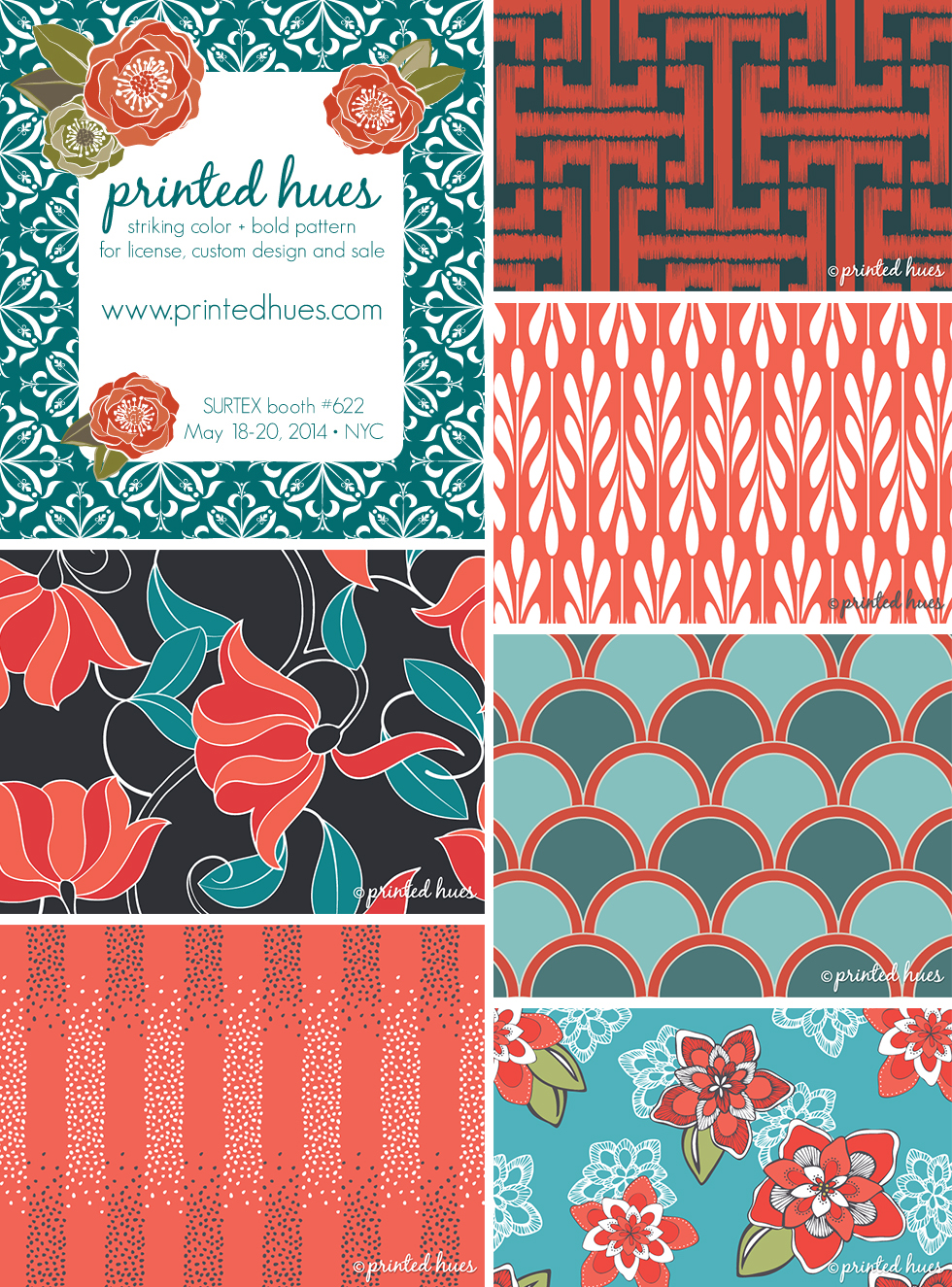 You may remember designer Laura Lobdell of Printed Hues from our feature back in September 2013, just a few months after her first time exhibiting at Surtex. Since then Laura says, "it's been a wonderfully busy year, and I'm looking forward to heading back to Surtex. I'll be exhibiting in booth #622 this year, please be sure to swing by and say hello!"
As "an avid designer with a fine arts background in printmaking, Laura has spent well over a decade honing her graphic design skills in the industry; working in advertising, marketing and in-house design." Laura's specialties are "striking color palettes and bold patterns, bright, modern florals, and fresh takes on traditional geometrics."
See more of Laura's cheerful yet sophisticated work at printedhues.com.
Two if by Sea Studios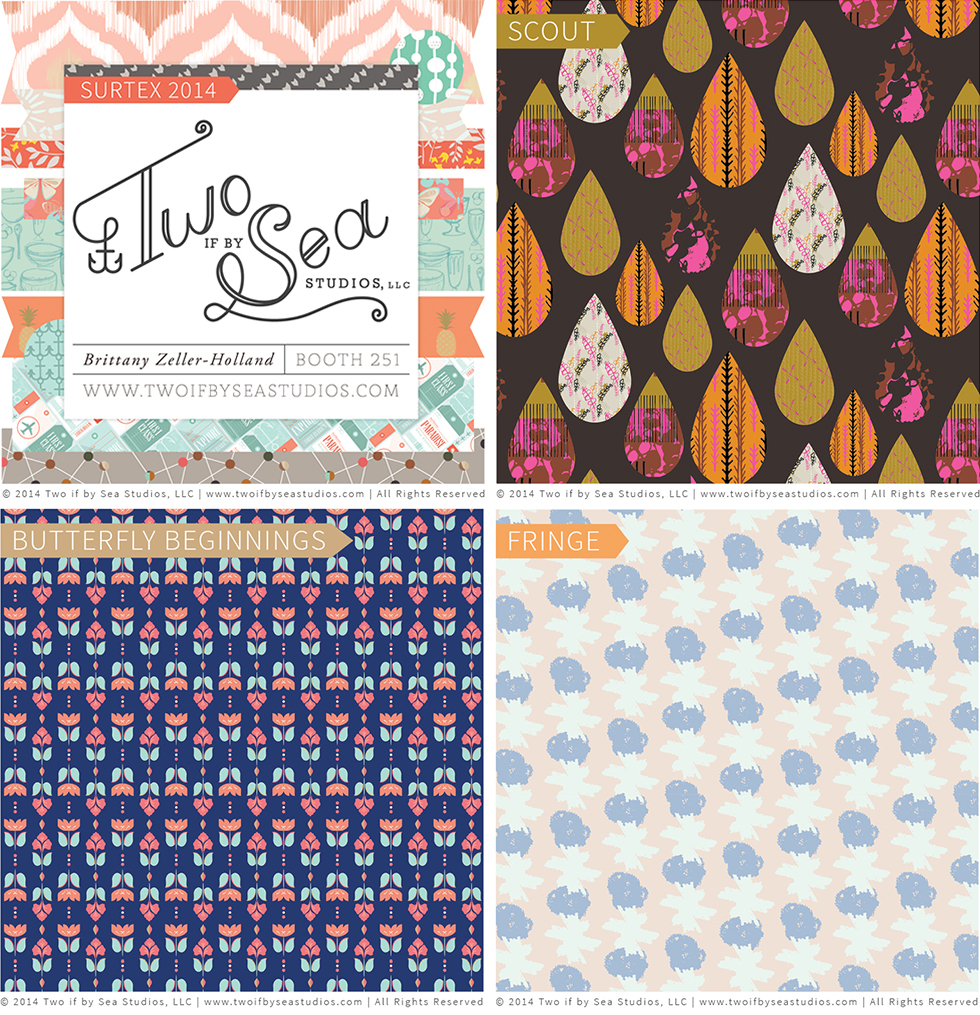 Two if by Sea Studios is "a multidisciplinary studio that works from a small desk, but has an arsenal of big ideas!" The studio is run by Detroit, Michigan-based designer Brittany Zeller-Holland, and will be debuting over 300 patterns at Booth #251 of Surtex! 
"In 2013, I took the leap and quit my full-time design job after 7 years in the greeting card, stationery, craft products industry, as well as a year honing my graphic design skills at an agency. I subsequently launched my brand, Two if by Sea Studios with a focus on surface pattern design!"
Brittany's designs have been featured in many large national retailers such as Target, Walmart, Michaels, Jo-Ann Fabrics and World Market. Her pattern designs feature "lively palettes, geometric shapes and modern interpretations of traditional subjects and seasonal celebrations."
Learn more about Brittany and her work at twoifbyseastudios.com or peruse her lovely lookbook!
Want to view more great designers who will be exhibiting at Surtex this weekend? Check out our Surtex '14 Pinterest board! -Chelsea
Are you exhibiting at Surtex? We would love to help spread the word on our Pinterest board! Feel free to send us your promotional flyers, which we will pin in the hopes of generating some pre-show visibility for all you lovely designers! If you are interested in sharing, email Chelsea at info@patternobserver.com with a jpg of your flyer, your booth number and a link to your website. If you would like to be a contributor on the board, send us your Pinterest username as well and we will add you as a pinner to this group board.