Chelsea's Challenge is a monthly post series in The Textile Design Lab, in which we share design ideas and inspiration to help our students create new work and build their portfolios. The goal of these challenges is to provide a jumping-off point and help spark ideas for prints that may be outside of their usual go-to themes or styles. You can read more about the Challenges
here
, and more about the other benefits of Textile Design Lab membership
here
. For now please enjoy two of the stand-out collections created by our members this past month, in response to our Jungle-themed challenge.
"Rainbow Jungle" collection by Magda Bardzinska-Frank (Magda Lena Designs)
Summary of the collection:
"When I think about jungle, the first thing that comes to mind are the images of incredibly colorful and exotic birds, flowers and lush green trees. When doing initial research for this collection, I came across this beautifully colored parrot, Rainbow Lorikeet, and I knew instantly that I want to design my collection around this amazing bird and its habitat. The first step in the design process encompassed preparing lots of sketches, which I then scanned in and colored in Adobe Illustrator. In my designs, I like to combine the hand drawn elements with digital feel. Designing the "Rainbow Jungle" collection also gave me the perfect opportunity to live out my passion for strong and bright colors!"
See more of Magda's work on her Facebook page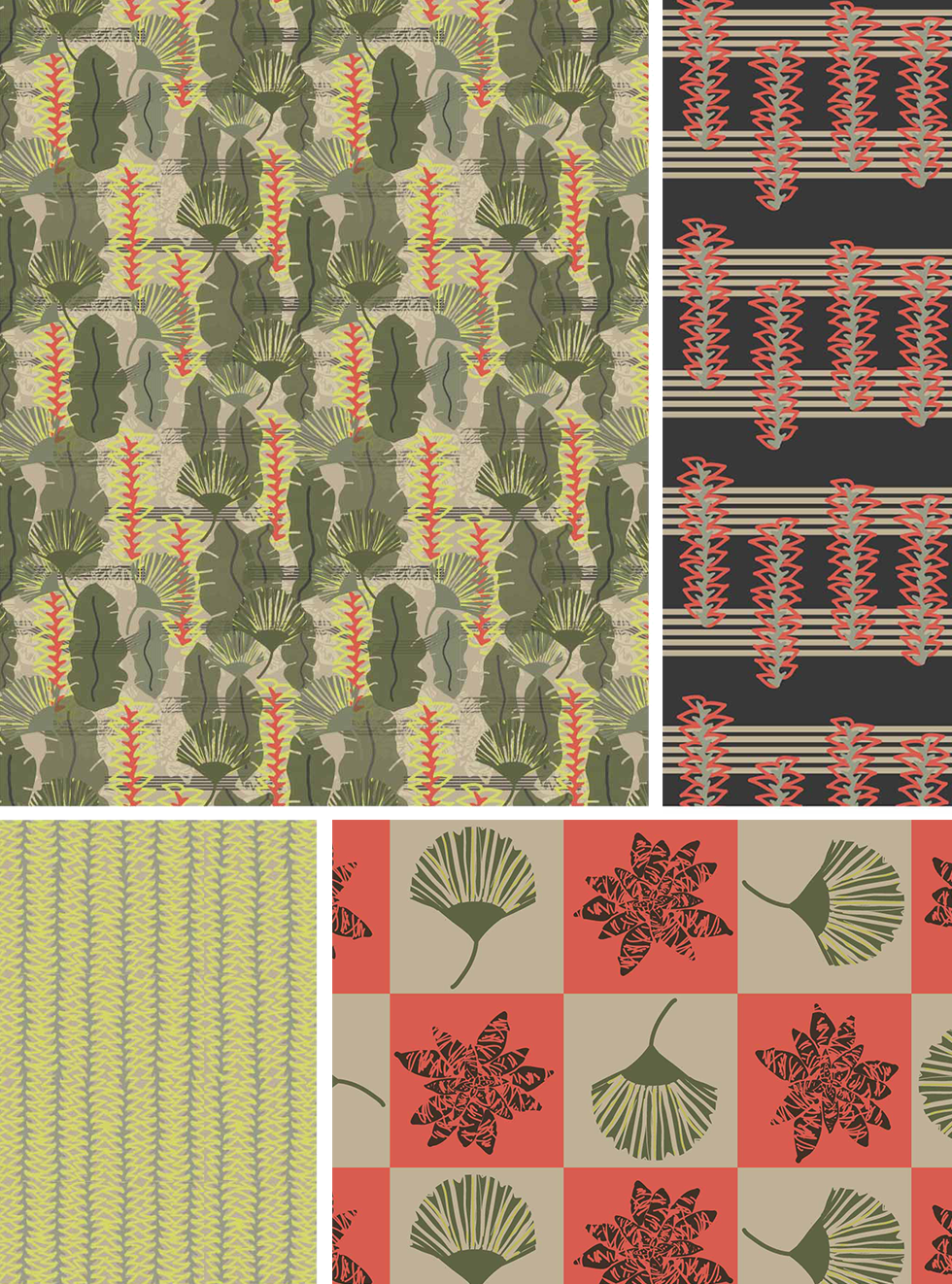 Jungle collection by Mary Strachan
My story:
"I wanted to design for home soft furnishings and my inspiration came from images of the jungle theme that I googled. (There were some pretty outrageous jungle themed decor on the web which I steered clear of!) I usually form a picture in my mind's eye and randomly research those images and then set to. My best friend at the moment is the blob brush in AI and this collection was totally designed digitally. Working out the colours was probably the hardest part as from the infinite variations you have to choose the right mix. I tried to get a balance of neutral vs colour in the designs. I think I managed a calm but interesting design for use on curtaining/ bed linen. Thanks for viewing!"
You can see a few more of Mary's designs by visiting mezzones at Spoonflower.
Check out other student responses to this challenge on our new Pinterest board!