Chelsea's Challenge is a monthly post series in The Textile Design Lab, in which we share design ideas and inspiration to help our students create new work and build their portfolios. The goal of these challenges is to help spark ideas for prints that may be outside of their usual go-to themes or styles. You can read more about the Challenges here.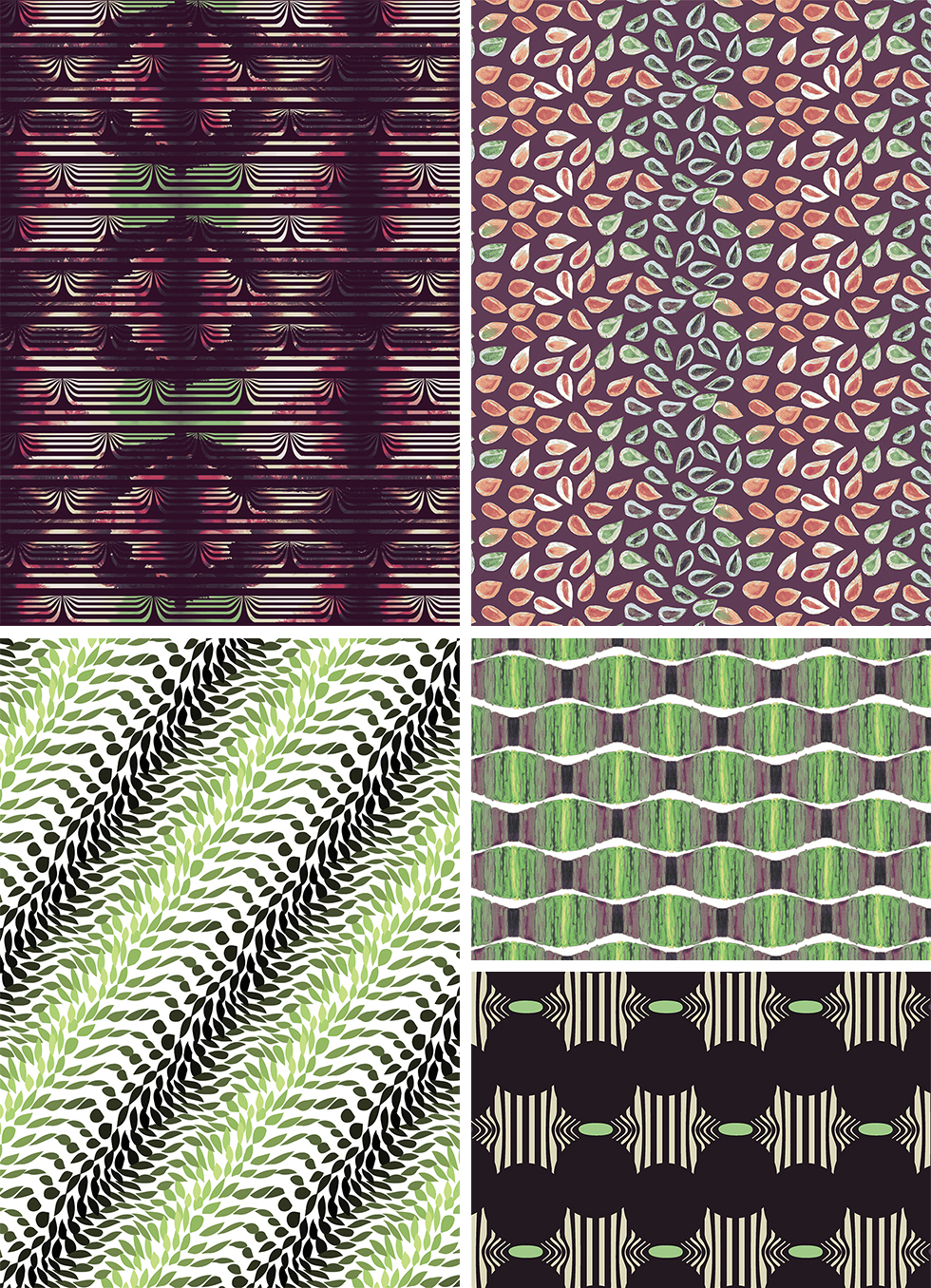 Earlier this month, TDL member Agnes Somogyi created this stunning collection in response to our future-themed challenge. In contrast to our normal challenges where trend research is an important element, for this particular challenge I encouraged students to use their imaginations to "predict" future trends. This allowed students to use every ounce of their creativity to experiment with new techniques (both digital and hand-done) and to just go wild without filtering their thought process. Since none of us know what patterns are going to be "in" 5+ years down the line, there was no right or wrong way to go about this challenge! The key point I stressed was to try to honestly stretch yourself and reach beyond your comfort zone, trying to create something truly different that would make a buyer say, "wow! I've never seen anything like that…I need these prints!!" Well Agnes did just that. Not only did she create the beautiful patterns seen above, she also created two gifs "just for fun to see how moving prints could be in the future."
Agnes writes, "my intention for this collection was to play with the idea that with new technologies sooner or later we will have smart textiles. I imagined the future, with moving patterns, mirror-like, or touch reactive surfaces and everyday DIY print applications for everyone. So I investigated to express movement. Op art, and the work of Victor Vasarelly was my main inspiration. I used hand painted watercolor images, one of them I cut by hand and stuck to a paper, scanned and finished in Photoshop. I mixed photographs with vector files I made in Illustrator. I played with lines in movement. With all I tried to imitate movement. I created this collection for the apparel market. I chose colors which fit my chosen customer's style. And tried to create a wearable collection even though it was about the future. I really enyojed the whole process! Thanks for this great challenge!"
You can connect with Agnes on Pinterest here.
Join us for our next challenge which will be posted today in The Textile Design Lab! We also have a group study coming up in The Lab for our Sellable Sketch e-course, starting Monday Jan. 26th. The Sellable Sketch method has helped hundreds of designers bring clarity and focus to their collection development process, and is the same method that we use for Chelsea's Challenges. We look forward to helping you build your portfolio!